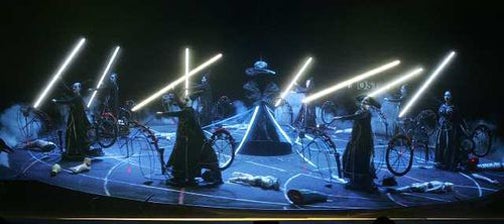 If you are in LA and like opera, Star Wars and Tron, check this performance of Richard Wagner's Die Walküre. Looks amazing, but Wagner always makes me want to invade Poland.* I prefer Chuck Jones:
(Please, allow me to ramble for five minutes.)
While I'm sure this space age version is amazing, Chuck Jones' parody—which also nails Fantasia's Night on Bald Mountain and chops it to bits—is without a doubt the best interpretation ever released this side of Apocalypse Now helicopter attack. Not strangely, it has been considered repeatedly as the best cartoon of all time by critics and animators since it was released in 1957. If you having seen it yet—or if you can't remember it—enjoy:
But if you are in LA and still insist in watching tenor Plácido Domingo playing Elmer J. Fudd dressed up as a neon Darth Vader in the real The Valkyrie, you can do so at the Dorothy Chandler Pavillion for the rest of the week.
Or you can spare yourself the pain and see some images right here. [Beautiful Decay]
* Woody Allen dixit.