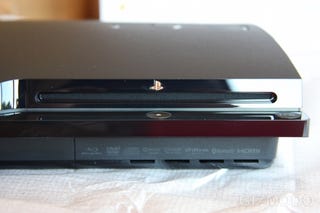 Well, it's smaller, it also holds some unexpected surprises. The matte finish won't scratch or fingerprint like the original PS3 fat. The Slim is definitely noticeably lighter, but it's still kinda big.
Physical comparison vs. original PS3:
The shape is relatively unchanged, as you saw from the pics this morning, retaining the George Foreman grill top and the same ports on the back. We thought Sony shrunk it down by moving the PSU outside the body, like the Xbox 360, but no, it's still the same. There's no power brick.