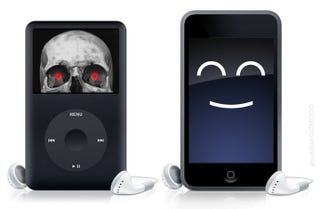 The portents have hung in the air for a while, but it's clear now that the traditional dumb PMP is dead, like a dull and rusted Swiss army knife. In their stead we'll have...smart PMPs.
Not to put too fine a point on it, but yeah, we're talking about the iPod touch model: It's about platforms. That run apps. That people can develop awesome little programs for. In other words, a good PMP won't just have great codec support and be able to push HD video, it'll get you on Twitter or Facebook or tell you what's good to eat nearby.
Not convinced? Check out the new Archos 5, which dumps the old OS for Android. Or the Creative Zii, also allegedly launching with Android. If you're in the second tier, grabbing a popular app-friendly platform is not a bad way to compete.