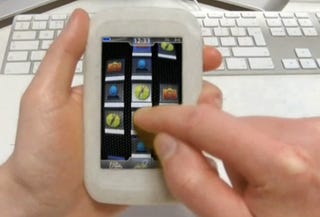 Fuse is what Synaptics—who probably made the trackpad you're swirling your finger on, and maybe your phone's touchscreen—says the next generation of touch phones will be like: You'll be squeezing, touching and stroking the phone, all over.
The more three-dimensional interface is designed by The Astonishing Tribe, who also designed Android's UI, as well as interfaces for Sony Ericsson and pretty much every other phonemaker at one point or another.
The major thing here is a couple of new gestures: A squeeze gesture, which is detected by additional accelerometers, and a seamless touchpad embedded in the back, so you can scroll by stroking the back of the phone, where you're not hiding the screen. Tilt also gets a lot more play here, the idea being that you can more easily use it one-handed.
The phone's a concept, led by Synaptics and using hardware like their ClearPad 3000, but I wouldn't be surprised to see the basic concepts show up in phones from LG and others, since a lot of companies use Synaptics' tech in their phones.