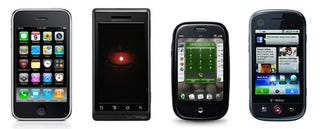 The moment you unpackage a new smartphone is a magical one. Don't let the moment right after that, when you realize that it's practically useless out of the box, cancel that out. Here's everything you need to know:
What You Need to Buy
There are plenty of smartphone accessories that are worth considering, and a few that you actually need. Proceed with caution, but don't be afraid to treat your new smartphone, and yourself, to a few goodies.
A Case: They look goofy, Jason hates them, and they screw with your device's carefully designed curves. But here's the thing: smartphones are fragile. They aren't like dumbphones, and a single fall—especially with devices with a glass screen—can poop all over your new smartphone party. Until you're trained, play it safe. Wrap your unit. Case brand isn't important, so just take your pick from your local Best Buy or wherever. Just make sure your device's corners are covered, because it's edge impacts that break the most glass. Just remember, you're stuck in a multi-thousand dollar contract with this device, which itself would costs hundreds of dollars to replace. It's actually kind of terrifying! Pretend it's a baby, if that helps.

Headphones: Your smartphone is now your primary media player, too, so you're going to need to ditch the headphones or headset it came with. Yes, they all suck; no, your phone's aren't the one exception. If you don't care about a microphone, treat yourself to a decent pair of in-ear headphones. If you do, get a midrange wired headset.