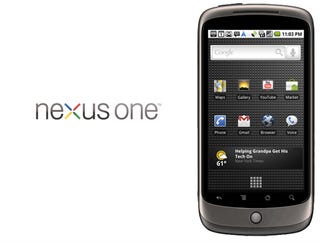 The Nexus One, the Google Phone, is really here. And everything you need to know about it? Right here.
What Is It?
It's the latest, maybe greatest, Android phone. Google calls it a "superphone" that's an "exemplar" of what you can do with Android. It was designed by Google and HTC, who designed the G1 and the Ion.
How Much Does It Cost and Where/When Can I Buy It?
At Google's new web store, where you can shop for Android phones and do live demos of them over the internets to see if you like it. You need a regular Google account and a Google Checkout one to actually buy the phone.
You can buy it today on T-Mobile for $180 with a new 2-year contract. Or you can buy it unlocked, without any service, for $530. Shipping's free.
Also, from the official pricing FAQ, if you're an existing T-Mobile customer, who's adding a data plan, it'll run you $279. If you're upgrading a data plan, it's $379.
The standard plan T-Mobile is offering for $80 a month includes 500 voice minutes, unlimited messaging (SMS and MMS) and unlimited internet.
UPDATE: Reader Ryan points out that if you buy an unlocked Nexus One, you should be able to sign up for a non-contract "Even More Plus" plan from T-Mobile. This offers the same 500 voice minutes, unlimited messaging and unlimited internet as the above contract plan, saving you about $150 in the 24 month long haul.
Oh, and you can get it custom engraved.
It's Coming to Verizon in a Few Months
Verizon's getting it in 2010, though we don't know for how much yet. (Probably $200.)
The web store is launching today in the US, and will be shipping to test markets: UK, Singapore and Hong Kong. The Nexus One is just the first phone Google's selling with this new model, with more phones, operators and countries coming in the future.
Will It Work on AT&T?
Yes, but you won't get 3G, because it only supports the bands for T-Mobile's 3G in the US: UMTS Band 1/4/8 (2100/AWS/900) and GSM/EDGE (850, 900, 1800, 1900 MHz).
What's Inside?
A really fast 1GHz Qualcomm Snapdragon processor, with a 3.7-inch, 480x800 AMOLED screen. The camera's 5 megapixels with an LED flash—it also shoots MPEG-4 video with one-click YouTube upload, which should be quick over its wireless N Wi-Fi. The trackball's got a multicolor LED for different notifications, and of course it's got a compass, GPS, stereo Bluetooth, 3.5mm headphone jack, two mics for "active noise suppression," light and proximity sensors, and an accelerometer onboard. It's got a 1400mAH battery, from which they promise 5 hours of 3G browsing and 7 hours of 3G talk time. Oh, it's skinnier than a #2 pencil.
And did we mention Android 2.1? And Flash 10.1?