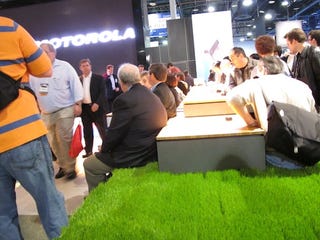 Through the photonic assault, I saw a patch of green in a booth. I walked up and touched it. The grass, it was real, and cool and fresh for the moment. I could not have smiled more broadly. Happy Moments...
...at CES are rare for attendees, in my experience. It's hard work and a monumental commercial achievement at the expense of sanity, holiday vacations and sleep. But these moments of joy do exist.

Dell showed a 5 inch Android tablet. It's too small to be more useful than a smartphone, and can't be pocketed as easily, but for some reason, I found it sexy. And that one of the most mainstream makers of PCs made something so cool, well, I was impressed. I'm not sure I would buy one, but it made me happy.