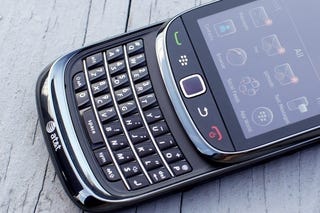 Research In Motion needed a miracle. It needed a fresh-faced BlackBerry and an operating system that made people say "whoa." Yet when it took the stage to unveil the BlackBerry Torch and the BlackBerry 6 operating system, one thing became clear: These were not heaven sent. This could very well mean the end for the BlackBerry.
If you've been paying attention to RIM lately, you'll know two things: 1) That it sells more smart phones than anyone else in the United States, and is second only to Nokia worldwide. And, 2) it is experiencing slowed momentum and increasing consumer indifference in the face of dazzling competition. In short, RIM's in a mid-life crisis.
The BlackBerry's saving grace used to be its physical keyboard, something no iPhone would be caught dead with. But now that Google's Android platform has taken off, it provides plenty of options that meet that simple requirement. And while businesses still buy BlackBerrys by the truckload, they don't always buy premium models, and they don't upgrade them every year.
BlackBerry devotees the world over may be excited by the Torch and BB6 news. There are plenty of improvements over the older BlackBerry models, and RIM is promising to roll out the new OS as an upgrade for many popular models. Although appealing to the tens of millions of content BlackBerry owners is important, RIM's announcement Tuesday needed to excite the legions of disgruntled BB owners who are currently exploring other options, and even catch the attention of people who have already stood in line for iPhones or Droids. Alas, it did not.
Hardware not so hardcore
Most flagship smart phones have a 1 GHz processor and a high-resolution screen, 480 x 800 pixels or greater. It's what you might call the price of doing business. BlackBerry's new flagship has a 624 MHz processor. Because of this, interface and software sluggishness was immediately observed by reviewers such as Laptop's Mark Spoonauer and Engadget's Nilay Patel at the New York launch event. To carry it back to the mid-life crisis metaphor, as other phonemakers - Motorola, Samsung, HTC - hid their insecurities in Corvette convertibles, RIM chose the Sebring.
And the screen? At 360 x 480, it isn't even close to the baseline. Apple calls its 960 x 640 iPhone 4 screen Retina Display, since it has pixels so small the eye can't see them. The BlackBerry Torch's display has one third as many pixels in almost the same space. As All Things D's John Paczkowski said on Twitter, "They should call it Cataract Display."
As for the slide-out keyboard, opinions varied. BlackBerry's trademark is a physical keyboard, and consumers have generally disdained the keyboard-less Storm line. Gizmodo's Matt Buchanan said it was "a marvel … exactly what you'd expect from a BlackBerry." Spoonauer wasn't so enthusiastic, saying it was "not that great," and a "toss-up" compared to the doomed Palm Pre Plus.