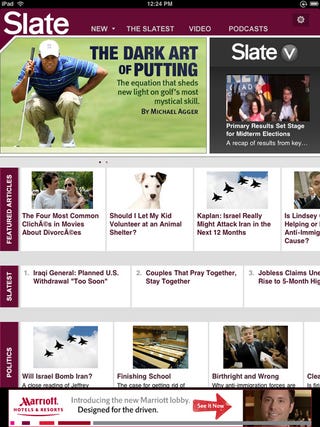 Slate: Web magazine Slate has rolled out their official iPad app (I heard you like slates so I put Slate on your slate, etc), featuring the publication's blogs, videos, and articles and focusing on readability in lieu of bells and whistles.
The app, which is free and currently sponsored by Marriott (as you'll be reminded, from time to time, by kinda-annoying full-screen ads), largely lets the text stand on its own, which is a good thing. The main page has NPR app-style rows for different sections, each of which you can flick through independently.
Once you're reading an item, you can drag your finger vertically to scroll through the text but also horizontally to slide from article to article. If you ever were intimidated by the complex navigational systems of some of the glossier iPad magazines, you'll welcome Slate's simple approach.
Slate itself wasn't too hot on that first wave of magazine apps for the iPad, contending that it was ultimately easier and more satisfying to read those publications' websites in Safari. But by focusing on simplicity and legibility-as well as giving readers the ability to peruse previously-downloaded content when they don't have an internet connection-Slate's app is a fine complement to their site.

Times for iPad: The iPad version of the popular visual feed reader for iPhone and Mac is no less beautiful than its counterparts—Times lays out RSS feeds into a nice personal newspape—and in terms of design the attention to detail is impressive. But hardcore feed demons will be disappointed that there's no Google Reader integration whatsoever. A bit on the expensive side but for a certain type of user, the one who prefers perusing feeds as opposed to jackhammering through them, it could be just the ticket. $8

Madden 11: Here's my tale of how Madden 11 turned around a lifetime of football game embarrassment: