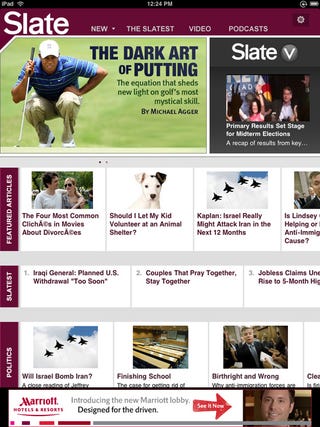 Slate: Web magazine Slate has rolled out their official iPad app (I heard you like slates so I put Slate on your slate, etc), featuring the publication's blogs, videos, and articles and focusing on readability in lieu of bells and whistles.
The app, which is free and currently sponsored by Marriott (as you'll be reminded, from time to time, by kinda-annoying full-screen ads), largely lets the text stand on its own, which is a good thing. The main page has NPR app-style rows for different sections, each of which you can flick through independently.
Once you're reading an item, you can drag your finger vertically to scroll through the text but also horizontally to slide from article to article. If you ever were intimidated by the complex navigational systems of some of the glossier iPad magazines, you'll welcome Slate's simple approach.
Slate itself wasn't too hot on that first wave of magazine apps for the iPad, contending that it was ultimately easier and more satisfying to read those publications' websites in Safari. But by focusing on simplicity and legibility-as well as giving readers the ability to peruse previously-downloaded content when they don't have an internet connection-Slate's app is a fine complement to their site.

Times for iPad: The iPad version of the popular visual feed reader for iPhone and Mac is no less beautiful than its counterparts—Times lays out RSS feeds into a nice personal newspape—and in terms of design the attention to detail is impressive. But hardcore feed demons will be disappointed that there's no Google Reader integration whatsoever. A bit on the expensive side but for a certain type of user, the one who prefers perusing feeds as opposed to jackhammering through them, it could be just the ticket. $8

Madden 11: Here's my tale of how Madden 11 turned around a lifetime of football game embarrassment:
As someone who never watched much football, I was never very interested nor very good at football video games. But the eminently touchable new iPad Madden makes it easy even for casual pigskin fans to jump into the action.

For the tactically clueless like myself, wasting all that time picking plays I didn't really understand that well was a big sticking point for enjoying console football games. Then, once the play started, my general unfamiliarity with controller button configurations often kept me from delivering passes to their intended receivers.

Madden 11, in conjunction with iPad's touch screen, solves both of these problems. The former is addressed by GameFlow, a new football-smart algorithm that chooses plays for you without you having to go into your playbook. It speeds the game up appreciably and keeps the stuff I find fun-namely, the spin move-coming fast and furious. Of course, you can turn GameFlow off if you do know what you're doing.

The other great revelation here is the iPad's touch screen. Passing is as easy as tapping on a player and you can draw routes with a flick of your finger.

And, of course, the game just looks great all around. Even among EA's generally well-polished titles, Madden 11 seems like one of the fullest, most thoroughly-realized iPad games I've come across. At $12 it's probably not something you'll just pick up on a whim, but even if you're more of an iPad gamer than a football one, Madden 11's experience is fun and intuitive enough to make for an easy conversion (like the two point ones they have in this sport, see).

Hopefully that means you'll be all ready to go, with your touch-screen hot routes drawn and your facepaint painted on, when multiplayer support arrives in September.
Hike! $12

Chaos Rings: A new original RPG from Square Enix (you may know them as the dudes who make Final Fantasy), Chaos Rings is a largely successful effort at putting a fullly-realized, console-style game on the iPad. The graphics, for the most part, are excellent, and the game play (especially the turn-based battles) is fun and satisfying. And you get something that's relatively rare for the iPad: a story! With characters! Who develop. It's not cheap, but for fans of the genre it's worth checking out. $16
Discover: Take it away, Kat:
Why bother downloading iBooks when there's a wealth of free information on Wikipedia just gagging for your brain to wrap itself around? Discover is a cool app for the iPad that arranges Wikipedia articles into magazine articles for easier reading.

While it's only available for the English version of Wikipedia for now, the developer has plans to port all the other languages over to Discover at a later date. That's just as well, as I'd hate for Italian users of Wikipedia to miss out on seeing their 500,000 articles rendered in the style of a glossy rag.

Just a shake of the iPad brings up a random article on Wikipedia, and swiping left on an article page will bring up any maps, statistics or facts buried within the article. Little tricks like that just make this free-app sound well worth checking out.
Discover's free, just like knowledge.

CineXPlayer: Native playback for Xvid files on your iPad? For free?! What are you waiting for—go go go.