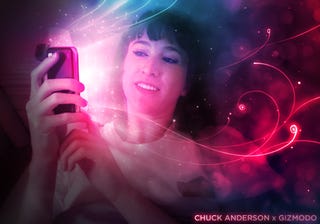 FaceTime was the first thing I tried when my iPhone 4 arrived. The screen being small—like any phone—I expected its video chat to be a novelty, nothing of real value to love or sex. Was I ever wrong.
The first thing that strikes you about FaceTime is that the image quality is incredible. Instead of some blurred-out cluster of pixels, your partner looks touchably real. You can see small movements and subtle expressions quickly flitting across faces. The second thing that subtly blows your mind is actually something you don't notice: Because the screen and camera are essentially in the same place, you end up looking at your partner directly, skipping that weird sensation that you're both staring at some point off in the distance. This leads to gazing, to intimacy, to locked eyes searching for glimmers of love, sadness, hurt, or mischievous excitement. And we all know where that leads: It's a direct flight to Gettin' Busytown.
That's when you start to realize another previously unrevealed truth: Size matters.
Ever bring a laptop to bed? It's weird. It's bulky. It dictates where you can move, and only your mood (or bed buddy) should have that privilege. But taking a phone under the covers feels normal. Not only is it considerably easier to maneuver, it's wonderfully familiar, evoking many of our first memories of love. You remember: whispering quietly under the covers while your parents were asleep. Talking about anything at all, just to keep the conversation going. Imagine if you had a camera back then...
And imagine if you could take that experience anywhere. FaceTime's easy mobility makes that kind of spontaneity possible. If you're looking for some chat love on a computer, you basically have to wait until you're back at home or your hotel room. But if you're packing an iPhone 4, you can call someone from a secret garden in San Francisco (I know one that picks up WiFi) to show them a flower or a sunset. Or, if the garden's empty, you can show them something naughtier. Nothing says wish you were here like that kind of call.
Ready to try it? Go ahead and sneak off to a quiet corner. But here are a few tips to consider before dialing.
Be playful.
Call it a FaceDate. Or FaceTime sex. But don't get too cute with the nicknames-"FaTi Sex?" Not much of a turn-on.
Gather your things.
Before you begin, get everything out that you might need (vibrator, lube, an old gym sock) so you don't have to move out of the frame later on.
Dock it.
The phone, silly! Use any standard iPhone dock that lets your phone stand, ahem, erect. Placing it on your lap could get in the way of touching or showing off the star attraction. Prop it against your nightstand or alarm clock, and you might accidentally knock it off and shatter it. And forget holding the thing; you're gonna want to use both of your hands-unless, of course, you're simply playing voyeur.