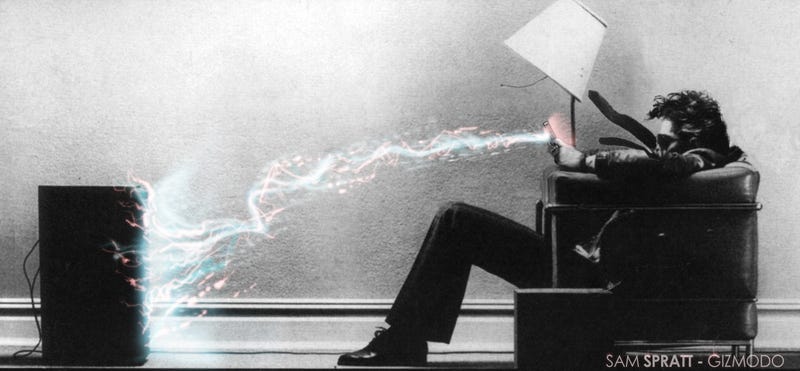 It was almost a footnote. AirPlay, the audio streaming protocol once known as AirTunes, got just one minute of keynote time last week. But it might end up as the backbone of Apple's assault on the living room.
What Does AirPlay Do?
At its most simple, AirPlay streams music from one Apple device to another. Extending the potential of its predecessor AirTunes, AirPlay will also stream video, photos, and metadata.
In short, connect your iPhone to your Apple TV and you can watch movies from your iPhone on your television. Connect your iPad to your stereo and play Pandora on your nice speakers. Load photos from your iPod Touch to an AirPlay-compatible digital photo frame.
While the types of media you can shoot around will definitely be constricted by Apple's closed ecosystem, the number of devices that will be able to speak AirPlay's language are more or less limitless—provided approved manufacturers pay a license fee to Apple.
How Does AirPlay Work?
There's a long history of Apple music sharing, starting with the device discovery service we now known as Bonjour almost ten years ago. Bonjour lets compatible devices on the same network say hello. "I'm here," says each computer,"And here's what I can share with you."
Bonjour is the reason you can see all those other laptops when you're sharing a coffee shop's Wi-Fi network or other students using a dorm's Ethernet network. In general, Mac OS X users use Bonjour to share files or iTunes libraries—or more accurately, they use Bonjour to let other computers know what protocols to use to share things, such as the Digital Audio Access Protocol used by iTunes to share its music library with computers and audio streamers.
AirTunes sends an encrypted stream of packets that sync up every couple of seconds, as well as some basic controls—play, pause, skip a track, the like. Although there aren't actually any AirPlay devices out yet, it's pretty reasonable to presume that they use the same (or relatively) protocol. Except now AirPlay can also send video, photos, and related metadata like titles, artist info, and playcounts between any AirPlay-compatible device.
Apple has partnered with a company called BridgeCo to provide the hardware that other electronics companies can use to integrate with AirPlay. Previously, the only real AirTunes hardware was Apple's own AirPort Express Wi-Fi base station (and other Macs). One nice perk with partnering with BridgeCo: Their streaming system—basically some chips and a software platform wedded to Wi-Fi—also supports other standards like UPnP
When Steve Jobs demoed AirPlay at the tail end of the new Apple TV presentation, he moved a movie, Pixar's Up, from an iPad's screen to a television with an attached Apple TV. The iPad itself displayed a television icon in the Video app instead of the video, while onscreen controls still functioned.
While we can't know exactly how AirPlay video will work until we actually have devices in hand that support it—and the iOS 4.2 update that's coming in November—it appears that it's actually streaming the content from the iPad to the AppleTV, not passing on a token to the Apple TV, authorizing it stream directly from Apple's servers. Perhaps it does do that—or will in a future update—but the upshot is the same for now: You can "beam" content from any support iOS device to any AirPlay device, but you won't be able to use your iOS device for other media playback. (Hopefully other functions like web browsing and apps will work while the content streams in the background.)
Why AirPlay Isn't As Closed As It May Seem
Andrew Orlowski is worried that AirPlay is just another Apple attempt to sell a closed version of something that was previously open. That's Apple's iOS (and before that, iPod) business model.
But the difference this time is BridgeCo, the company with which Apple developed AirPlay. They've been around for years developing a streaming media solution that's already being used by hardware manufacturers.
BridgeCo CEO Gene Sheridan told me this morning that the company really only makes one product, the "Jukeblox Platform." JukeBlox isn't the sort of thing you're going to see on a product bullet list or in a sticker on the side of a box at Best Buy. What you will see on those bullet lists are the things that JukeBlox enables: media streaming capabilities in a variety of formats, including UPnP, DNLA, and Windows 7 streaming.
That means that all AirPlay-enabled hardware also supports the industry's previously most popular streaming formats. So if you're the sort of person who wouldn't use an Apple product if your life depended on it, it's possible that more AirPlay products will mean more options for your preferred media streaming platform.
Even better, at least one manufacturer has already announced a firmware update that will add AirPlay support to a product already on the shelves. It's hard to know if a company is selling a product already using BridgeCo's hardware (and thus able to be upgraded by software to AirPlay), but hopefully those that are will release new firmware instead of leaving older customer behind.