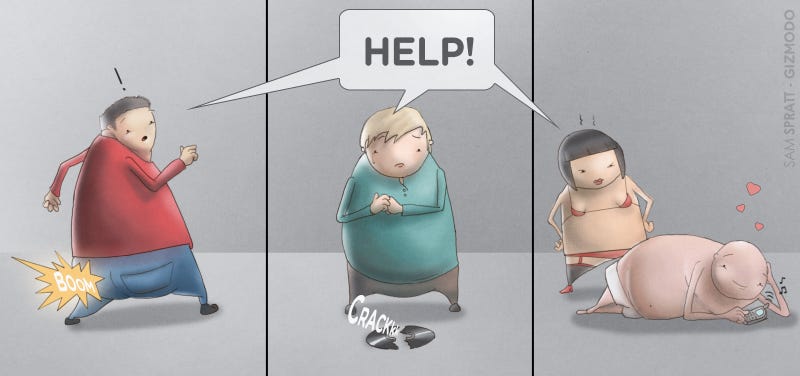 An unfortunate electronics-based ass explosion. A confused lad with dirty vinyl. A relationship doomed by a ringtone. This week's questions tortured us for minutes, but we recovered. And we came up with answers.
First in our inbox: a foreign student in need.
I am a messy student living in Belgium, and I love listening to LPs on my moderate/shitty audio system: It's comprised of a 10-year-old, 80-watt amp, a $40 preamp, and a 30-year-old Panasonic turntable I inherited. Some weeks ago a given Grooteclaes fell off my wall and onto the turntable while it was playing a valuable LP. Glass was everywhere, but the record looked OK. I cleaned up, and tried to play the record again, but the needle kept bouncing off the disc. I sprayed some compressed air on it, but nothing changed. Here's my question: Since there might be some glass particles inside the grooves, would it not be dangerous to wipe it down?

Grooteclaesed in Geraardsbergen

Grooteclaesed—
At first we thought a Grooteclaes was a mythical creature, but then we actually looked it up. Translation for the rest of you: artwork. Hubert Grooteclaes was a Belgian photographer of some regard. So we're guessing that our Belgian buddy had a framed photo fall on his record player.
Dude, you must have been CRANKING that TC Matic.
Anyway, the question at hand is whether the student in question should wipe his record down. Uhm... who cares. First off, Groot, you're right that wiping down the record could damage it further. If you really wanted to clean it, we'd suggest running it under water to rinse the glass out. After that, some enthusiasts recommend attaching it to a drill bit and spinning it dry. Seriously!
But dude, it's a record, and you live in Europe. You have Spotify! Let go of the past and wise up: You have a golden opportunity here. Literally.