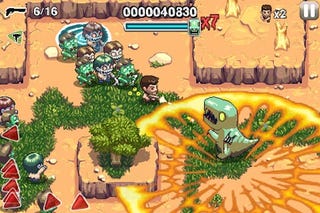 Age of Zombies: Age of Zombies was a game on the PSP and it's bringing its 16-bit zombie killing awesomeness to the iPhone. You play as Barry Steakfries and travel through time to prevent the bad guy from releasing zombies that want to kill the world. It's a twin-stick shooter that looks really good and is perfectly retro to be a hit. At only $2.99, it's a pretty good deal for a great game.

NBA Gametime: NBA Gametime gives you scores, stats and a play-by-play of all the NBA games going on that night. It also offers in-app purchases for league pass mobile ($44.95) and Game Time Plus ($9.95). If you spring for both packages you'll be able to watch nearly every NBA game throughout the season, listen to radio broadcasts, and view highlights all on your iPhone. The app is actually a little buggy right now (stats are wonky and it takes a long time to load) but I'm hopeful the NBA will update it before the Heat start destroying everyone in their way.

Mental Killer: It makes your iPhone the key component of the magic trick. The classic "guess the card" trick is technologified by dialing out on your iPhone and having it stun your audience when your iPhone magically tells you what card you pick. The trick is really effective (though sorta simple), I've already got my friends thinking I should join up the Ministry of Magic. Who knew the iPhone made for such a great magician's assistant? $19.99

Foodspotting: Foodspotting doesn't just tell you where to eat, it literally shows you, with user uploaded pictures, what you'll be eating. Actually seeing how fatty that pork belly is going to be makes you never want to read a menu again. The app is pretty slick and very easy to use (though a teensy bit gaudy). You can easily take pictures and upload them to Foodspotting straight from the app and even follow specific guides for the most deliciousness around you. Now you know why everyone's always taking pictures of their food.