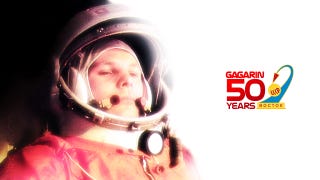 It happened when Earth was still in black and white: 50 years ago we stepped outside our home planet for the first time. This is the tale of the beginning of an adventure that hasn't ended yet, the biggest, most dangerous and rewarding quest ever embarked on by the human race—the fascinating story of two men who took us to a new level.
Together, they pushed the world in a way that nobody imagined before them. One was a scientist. The other, an optimistic hero loved by his people and everyone who has read about him, including myself. And after reading this, you will love him too.
The scientist's was Sergei Pavlovich Korolev, a genius who dreamed of rockets that could take us to the stars. He was almost killed by Stalin's crazy purges at the end of 1938. After years in prison, he became the head of the Soviet Union's space program. He designed the vessel that took our hero where no human have gone before.
That hero was a very young man, the son of a poor family, born in rural Russia: Yuri Alekseyevich Gagarin.
The launch
It was April 12, 1961. Sputnik, humans' first spacecraft, had reached orbit just four years earlier. Four years. It was nothing. The rockets and the spaceships were all highly experimental. The men and women who stepped into them knew that everything could go wrong and, in fact, did go wrong too many times.
But April 12 was not going to be one of those times. It was a cold clear morning at Baikonur Cosmodrome's Site 1, in Kazakhstan, one of the socialist republics under Moscow's iron fist. That morning, at 4:10 Universal Time, Yuri Alekseyevich stepped into his Vostok 1 spacecraft after enjoying breakfast with his backup pilot, Gherman Stepanovich Titov.
Gagarin started pre-flight checks. Forty minutes later, the hatch closed and he waited for the final countdown to start, strapped to 150 tons of highly explosive kerosene and liquid oxygen.
He was going to be the first man in space—or die trying. And yet, inside his tiny spherical metal capsule, Gagarin was calm. Vostok-1, his ship, and Vostok-K, his rocket, were humming with him. I can imagine his subtle smile. He knew he could be reduced to tiny particles in a few minutes. Yet, he was optimistic, chatting with ground control, his pulse going at only 64 beats per minute.
At the other side of his radio was Korolev—chief designer of his spaceship. He was so nervous that he had to take a pill after feeling chest pains, fearing a heart attack. I can imagine him lighting the next cigarette with the one that was still burning on his mouth.
At 06:07am, Gagarin heard Korolev's shouting on the radio: "Preliminary stage... intermediate... main... LIFT OFF! We wish you a good flight. Everything is all right."
Gagarin exclaimed just one single word, as the world roared around him: Poyekhali!
"Off we go!"
And off he went. A few minutes later, Gagarin was in orbit. In awe, he muttered one of the most beautiful phrases in the history of civilization: "The Earth is blue. How wonderful. It is amazing."
"The Earth is blue. How wonderful. It is amazing."
And amazing it was. It maybe was an obvious thing to say, but it was spoken from an honest heart, touched and humbled by the breathtaking view of his true home. Born son of a peasant in the village of Klushino near Gzhatsk, Russia, Gagarin was the first man to reach space and the first to orbit Earth. And to him, the experience resonated at the most basic level, in every fiber of his being.
When he said that phrase he was orbiting from an altitude of 300 kilometers over Gaia's skin, expressing the exact same feeling that every single astronaut has had ever since. A sentiment of total awe at the beauty of our little but magnificient home. Feeling small, a tiny speck of organic material reaching for the stars, Gagarin and the rest of humanity realized how unique and precious Earth was. And, in that process, it elevated us to a whole new level.