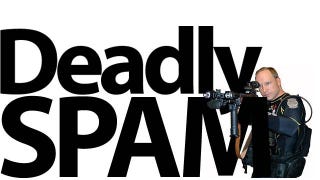 That bloody bastard Anders Breivik sent his plan to kill people in Oslo and Utoya to more than one thousand recipients one hour and 17 minutes before the first explosion. His deadly spam even contained a 1500-page attachment.
The list of recipients go from Norwegian ex-congressman Jan Simonesen to about 250 anti-islamic grous in the United Kingdom, Jewish anti-Muslim Sweden Democrat Isaac Nygren, and a Tanguys Veys, an extreme right Belgian politician.
The email—which the sicko described as "a gift" to Western Europe patriots—was sent at 2:09PM local time. It contained a 1500-page manifesto called "2.083. An European Declaration of Independence" as an attached Word file, as well as a link to the YouTube video you can see here. He even included a few paragraphs detailing why he used Microsoft Word for his inane volume.