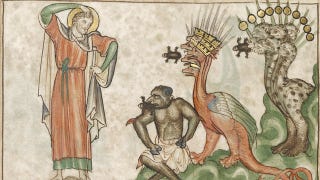 Michele Bachmann's easily one of the GOP's most prominent candidates. She also has scientific views from the 15th century, claiming both earthquake '11 and Irene were divine warnings. That's insane. She's not alone. And that's absolutely terrifying.
Let me be clear up front. To be a Republican is not to be a philistine, or against science by default. There are conservatives across every field of every science, and I mean no indictment against them, because there's no grounds for one. There are plenty of doctors and scientists who also vote GOP. But as an institution, the Republican Party of today is determined to subvert the progress of science, to subordinate it to the interest of shareholders instead of the brilliance of researchers.
Bachmann's disaster bleating was frantic and crazy, yes:
"I don't know how much God has to do to get the attention of the politicians. We've had an earthquake; we've had a hurricane. He said, 'Are you going to start listening to me here?'"
But it's also vehemently anti-scientific. Hurricanes and earthquakes are phenomena of the natural world. We don't always predict them correctly, but we sure as hell understand why they happen. And it isn't to terrify Congress.