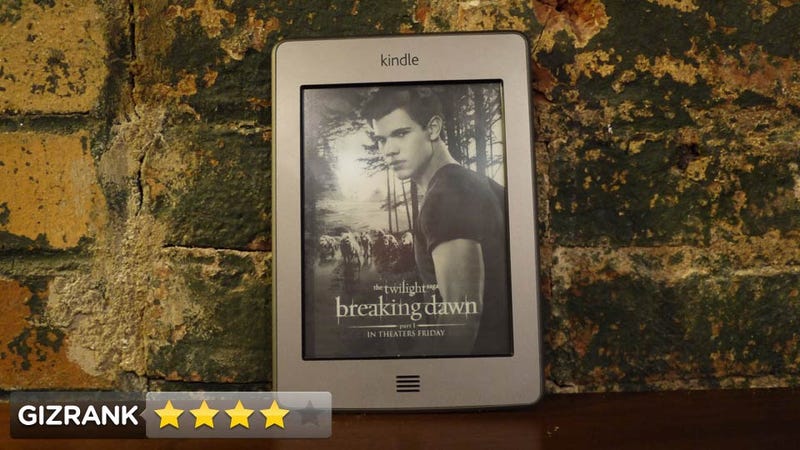 We've more or less accepted e-readers as the best way to read a book digitally, but there's still a whole lot that gadgets can do that e-readers suck at—literally anything you own with a screen is better at this stuff than an e-reader. The Kindle Touch is the first to really bridge that gap in a way that makes sense.
What Is It?
An ebook reader with an IR touch screen that lets you read, buy, search, and skim books.
Who's it For?
Anyone who wants to do more with their e-reader than just read words on a non-backlit screen.
Design
It's a lot like the already-released non-touch Kindle—just a little taller, a little wider, a little thicker, and a lot heavier.
Using It
Tap (or swipe) to turn the page. Thanks to an oversized touch target for moving foraward, you can basically read one-handed with either hand. But touch does more than turn pages: press on a word to add a note, highlight it, or look it up in the dictionary. And don't worry too much about charging it: It's got the same two-month battery life (with all its wireless settings off) that you expect from an e-reader at this point.
The Best Part
How easy it is to do anything that has to do with a book: shopping, borrowing, research, reference, skimming, note taking. You don't have to supplement the Kindle Touch for anything book-related.
Tragic Flaw
The design isn't what you'd call hand-friendly—especially when compared to the Nook Simple Touch, with its large bezel and indented back panel.