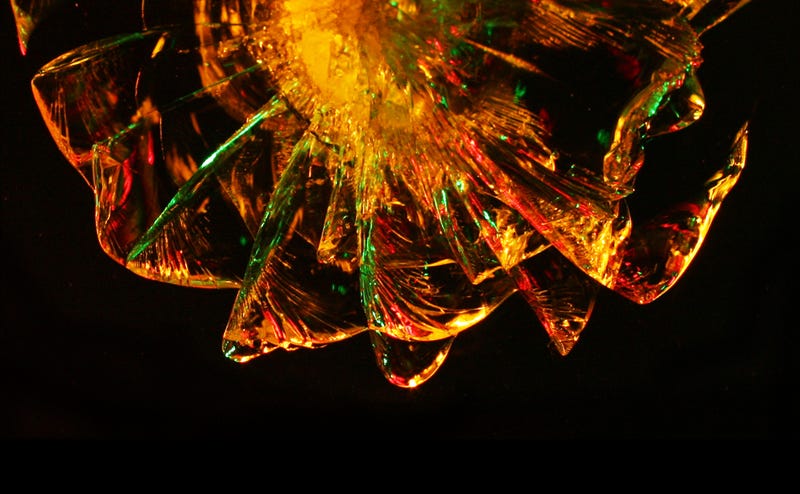 The timing of this shooting challenge is serendipitous. I was driving down the road and the car in front of me tossed up a small stone and it hit my windshield. After saying a few expletives, I noticed how pretty the shape was and recalled your photo-challenge. Though your blog mentioned things other than glass as preferable, I hoped that you would find beauty in something viewed as 'ugly.' Before I took my car to have the windshield repaired by a local glass technology technician, I decided to photograph the chip. Using colored lights to enhance the look of the break, I took the photograph in a darkened garage. I used a Canon Rebel XSi EOS, a macro lens, tripod and yellow, red and green clamp on lights. With camera settings on manual; I set the shutter to f/13, and the ISO to 200, shot using the timer. The subject was back lit as I shot from the front. The lights were set in a triangular pattern, behind the "shattered" windshield. I took several shots, but this was my favorite because it shows details of the break that aren't normally visible to the human eye. Other than cropping the image for composition, the image has not been manipulated.
- Julie Gordon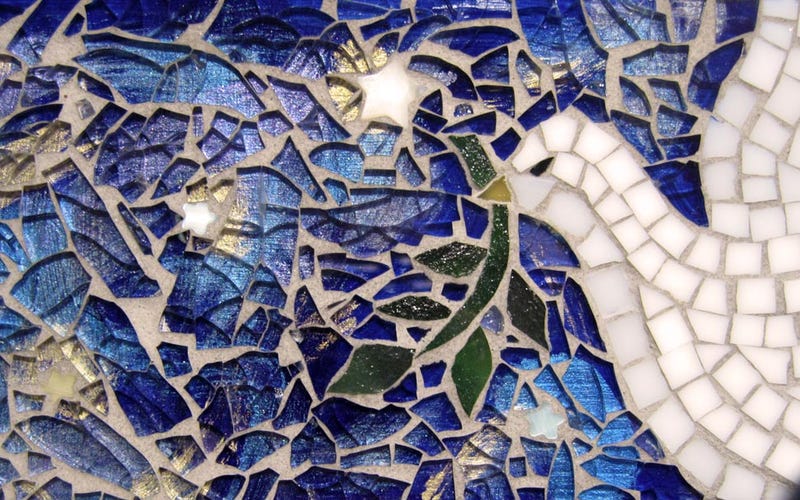 This mosaic was created by my friend, Dianne Sonnenberg. She used pieces of shattered tempered glass on a painted surface to create the background of her design. As a fellow mosaicist - I find the process of deconstructing (shattering) materials then reconstructing them into something new to be quite satisfying.
f 2.8, 1/8 sec, ISO-200
- Karen Tarlow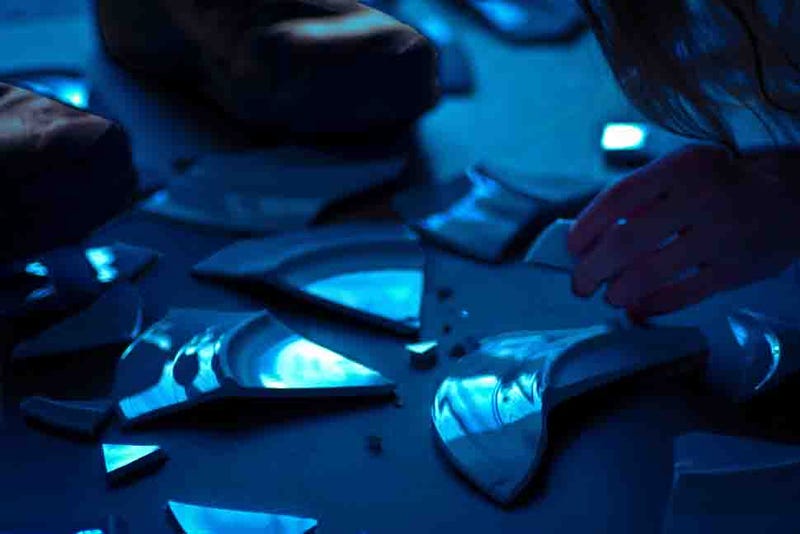 For this week's challenge I was inspired by a short story written by a friend of mine titled "Faces." She had a great analogy of shattered plates looking like faces and that is what I tried to achieve with my photo. It was shot with a Nikon D3100 with exposure 1/100sec at f/3.2. ISO was 200. Lighting adjustments were made in Lightroom.
-Katrina Giusti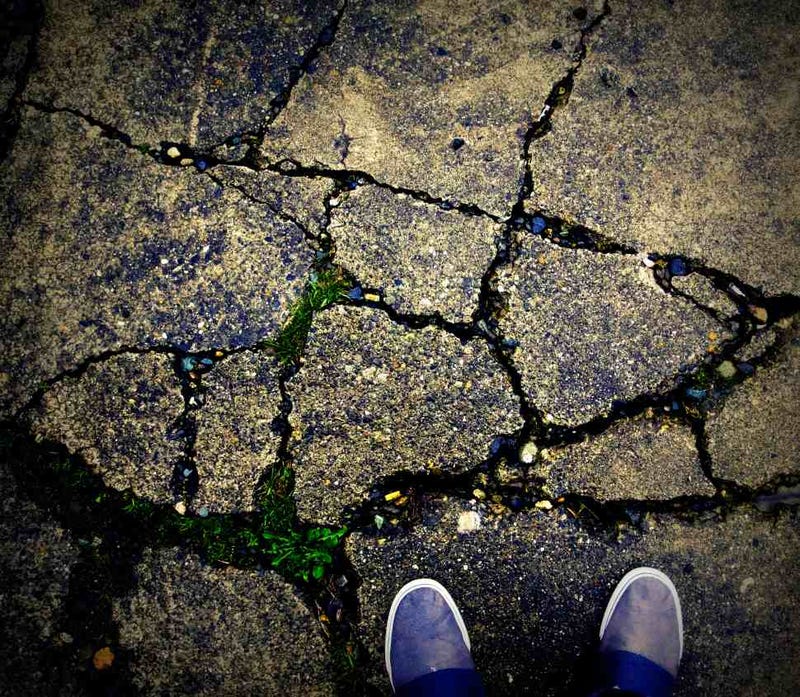 Yo mama is so fat, she walked on the sidewalk, and the concrete shattered.
All kidding aside, this is my first shooting challenge, and I decided to take a stroll around my neighborhood to see what I could find. The grass sprouting in between the cracks stood out to me in a metaphorical sense. There will be new beginnings to shattered ends.
Olympus E-PL1 with 14-42mm lens
f/5.6
1/160 sec. exposure
ISO 1000
Focal length 15mm
Cropped and Edited with Lightroom
- Lucas Lin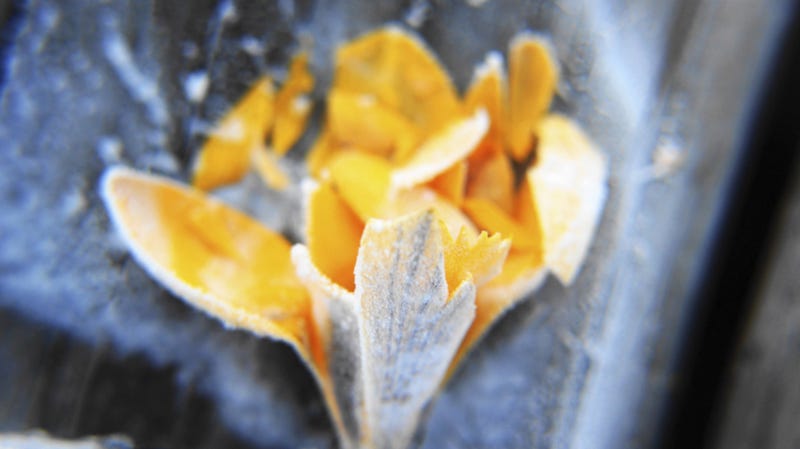 My daughter decided to pick the first batch of flowers that sprouted in the yard, so instead of letting them go completely to waste, I took a can of compressed air and used it to flash-freeze the flower. Once it was good and frozen, I used a knife to shatter it, slapped on a macro lens, and snapped this shot.
- Marvin Francois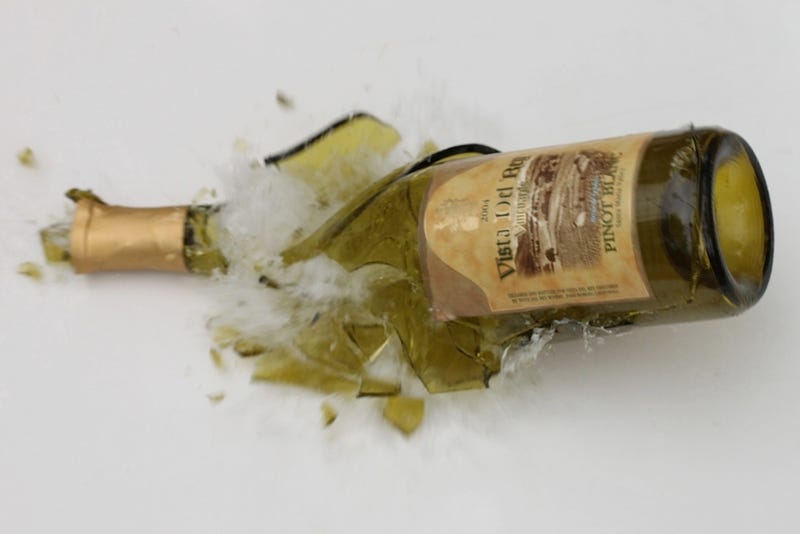 After reading this week's challenge, I knew I was going to shatter a wine glass. I went to the store and bought a $2 glass, poured some red wine and dropped it on a nice white surface. I had my camera set up on a tripod and to a fast shutter speed. The only problem was that the glass didn't shatter. I tried again and only the base broke off. Then again; nothing. Finally a fourth time, it didn't break in frame but bounced onto the tile and broke. Shot ruined. What to do now? My wife and I had finished off a bottle the night before so I decided to give that a try. I filled it up with water to enhance the shot, dropped it and got a mighty explosion! I am very pleased with the final shot. Hope you like it.
Tech info:
Canon EOS REBEL T1i
Canon EF 50mm f/1.8 II Lens
1/1000
f/6.3
50mm
ISO 400
0 EV
- Matthew Johnson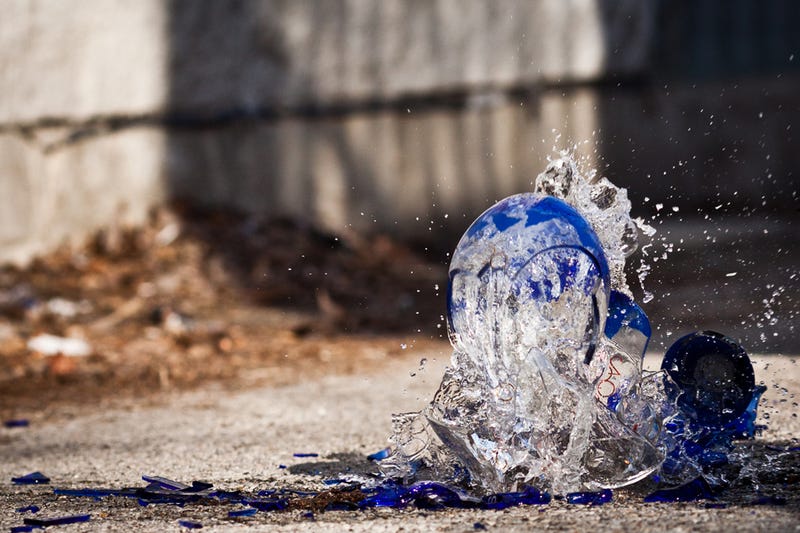 This was a fun shoot. I only had one chance at it so I set my focus on the bottle and set it to manual focus. My girlfriend picked up the bottle and dropped it in the same spot as I hit the shutter button.
It was funny because the bottle did not break the first time or the second. It was on the third drop that the bottle shattered apart. I think it worked out well.
Canon 50D
ISO 400
1/1250
f5.0
- Michael Durr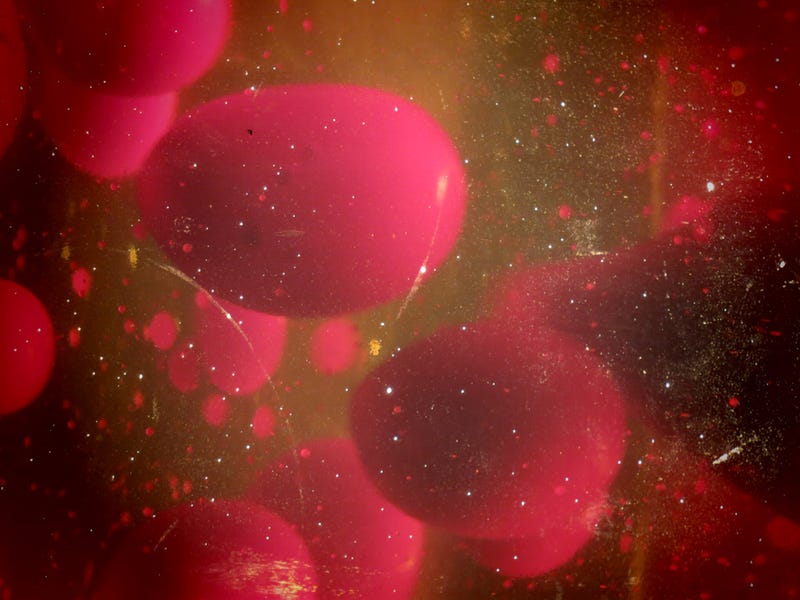 I just recently moved in with my best friend a year after a bitter divorce. Moving is always stressful, and i was having a hard time with this shooting challenge. Then after a night of drinking I noticed how cracked my friend's lava lamp was. It made me think that no matter how fluid something may seem, it can shatter at any moment.... everything has cracks.
This may not be appropriate for the shooting challenge, but it reminds me of shattered dreams.
Camera: Canon Powershot S100. I was a bit tipsy.... just a tri-pod and my camera. no post-processing.
- Nathan Thompson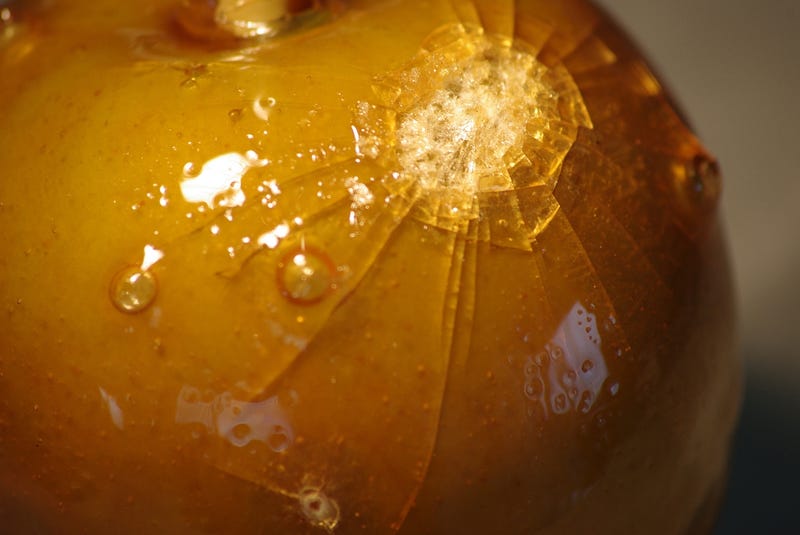 My immediate thought with Shatter was to go and break some glass or find some already broken. However on second thoughts I decided to be a little bit more environmentally friendly.
I cooked up a nice batch of brittle toffee and made some toffee apples and poured the remainder into a thin sheet. Once cooled and set I experimented with breaking the toffee in various ways. I couldn't get good lighting for the sheet, despite it smashing nicely. So what I ended up with was a somewhat bruised Apple and a desk lamp held up close for lighting.
Picture taken with a Sigma DG 70-300mm lens in Macro Mode. Camera Pentax K200D
Exposure 1/20
F-stop not recorded
ISO-100
- Nick Smith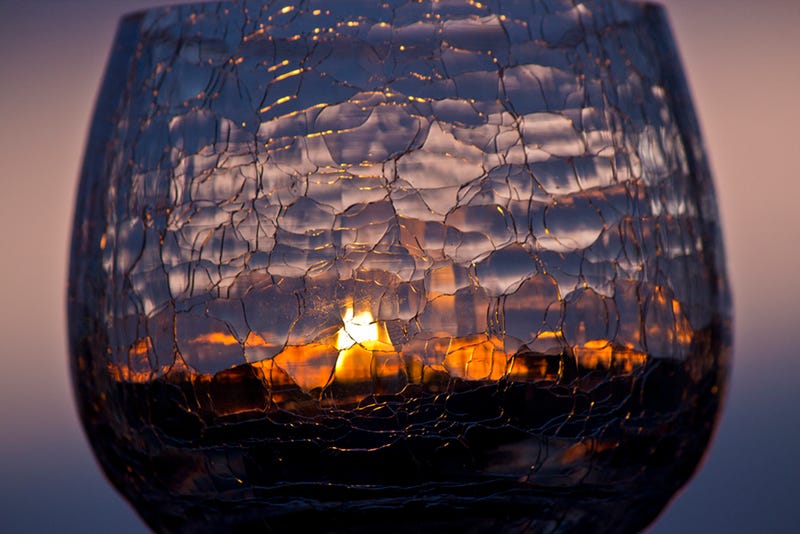 Picture your neighbor standing on his outdoor dining table with a full sized tripod at one end - covered with what looks like black drapes, and a candle balanced delicately on top. What's more bizarre is his wife is up there too with a large, round, white disk held above her head while her husband takes pictures of the candle. Makes you feel more normal doesn't it. Well, that's what I did to get this week's shooting challenge. I stood on my table to get over my back fence, and shot this candle holder with the setting sun shining through. I like the natural vignetting of the sky, and the way the bottom of each crack captures the light and defines the detail.
Canon EOS Rebel T3i, EF-S55-250mm lens @ 179.0mm, f/8.0 IS, ISO 400, Shutter @ 1/50, Shot in Manual Exposure without a flash. White reflector for slight fill light.
- R.J. Barrett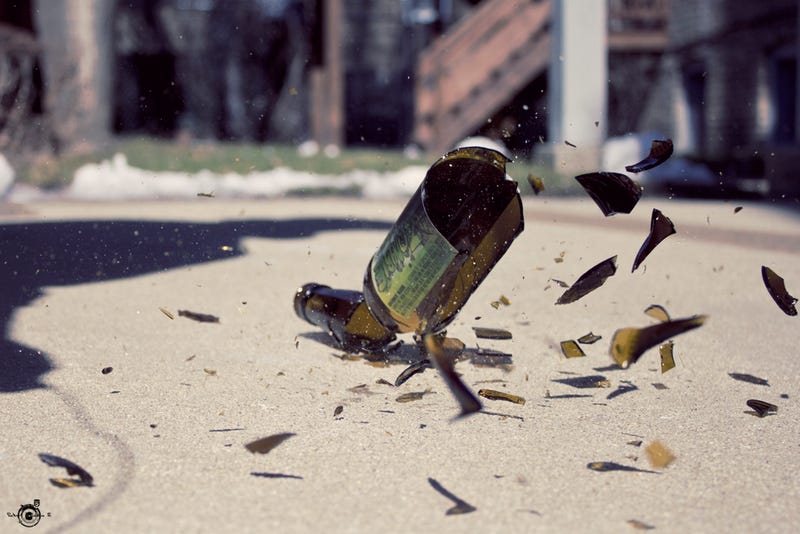 When I saw the subject of this contest I absolutely wanted a picture of something in the processes of shattering. I went out on my back staircase and took a bunch of close-up pictures of me shattering
icicles, but none that I really liked. I came back inside and saw some empties of some Three Floyds Zombie Dust and decided a picture of one of those smashing on the ground would be great if I could actually capture it. In my first attempt I didn't drop the bottle from far enough up and it bounced. The second time it shattered pretty well.
Canon T2i
EF-S18-55mm f/3.5-5.6 IS kit lens
Manual mode:
f/4.5, 1/4000 sec, ISO 400
Continuous shooting mode with remote switch.
- Rob Lennox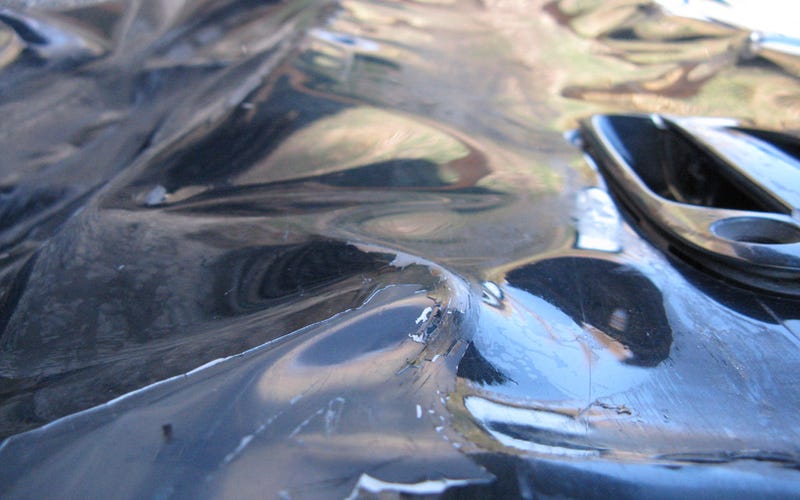 My car was shattered in an accident, especially the door in the photo, the door handle is visible on right. Paint cracked, door warped, wax still shiny, the image is just the door. The light brings out reflections from the waxed paint, distorted by the shattered surface of impact. It sort of looks like an imaginary landscape, mountain range to rolling foothills. The image is all metal and paint with reflections. No Photoshop. This door saved my life (I was fine), so to me, it holds the beauty of being alive, while it also has a visual, surreal quality of another world. I waited for the sun to be low in the afternoon after 3PM and shot this with a Canon Powershot 720, set on macro. Car: Mazda MX6 LS 1993, driver's door.
- Sally Austin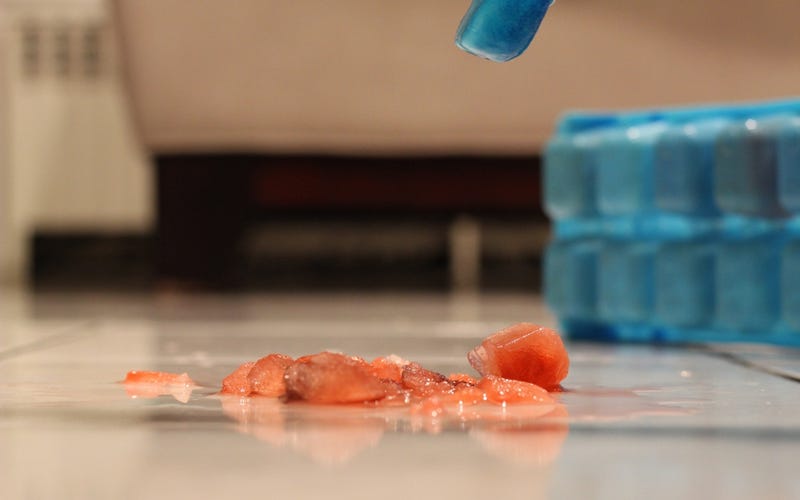 I've followed these Shooting Challenges for weeks..finally attempted one. I didn't want to break anything I'd regret, so with the help of food coloring, I made some red and blue ice cubes. I learned two things: 1) I needed more than the 3 cubes I froze because of #2, and 2) ice cubes melt very fast even when the house feels really cold! Thankfully the hardest parts were keeping the blue cube from dripping over the red ones and keeping the red ones from melting away. I shot this with my Canon T3i, f/4.5, 1/10 sec exposure, 1600 ISO, on my 50mm fixed lens.
- Sanket Shah [assocaite]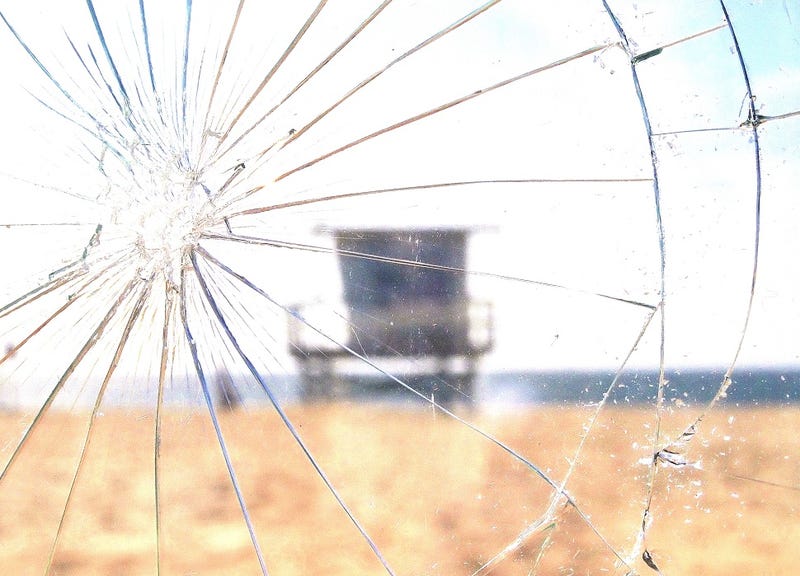 When I read the challenge, I had an idea of taking pictures around town through a "broken window" type filter. I slid an 8x10 glass photo frame pane in between two acrylic frame panes and sealed it all together. I then tapped the sandwiched glass with a hammer to shatter the glass in between the plastic. I then mounted the shattered pane to a broomstick and took it out to take a few shots.
Unfortunately, I realized too late that the contraption had a tendency to reflect me or the camera, but several shots worked out pretty well. I liked the way the shattered window look of this lifeguard stand made it look like it was on some deserted beach somewhere (instead of Venice beach, just outside of LA).
Equipment and settings: Olympus Pen E-PL2, kit lens, ISO 2000, f/20, 1/1600 second. I tweaked the lighting and saturation a bit in post.
- Shawn Ledingham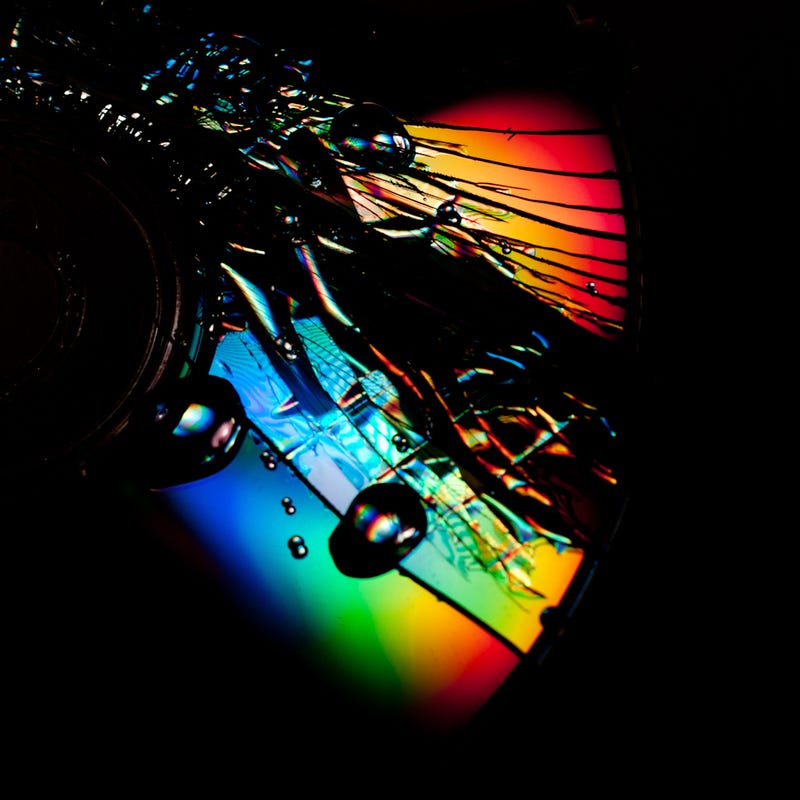 I wanted to find an image that captured the 'beautiful abstraction' of the broken and cracked. After trying a few different things, including ice, without getting the look I wanted, I hit upon the idea of breaking a CD. By adjusting the direction the light was striking the cracked disc, I managed to get this shot. I was going for something colorful and abstract; I think this fits the bill. This was shot with my Canon T1i with a 50 mm f/1.8 lens. Camera settings were 1/250 sec at f/5.6.
-Tim Sackton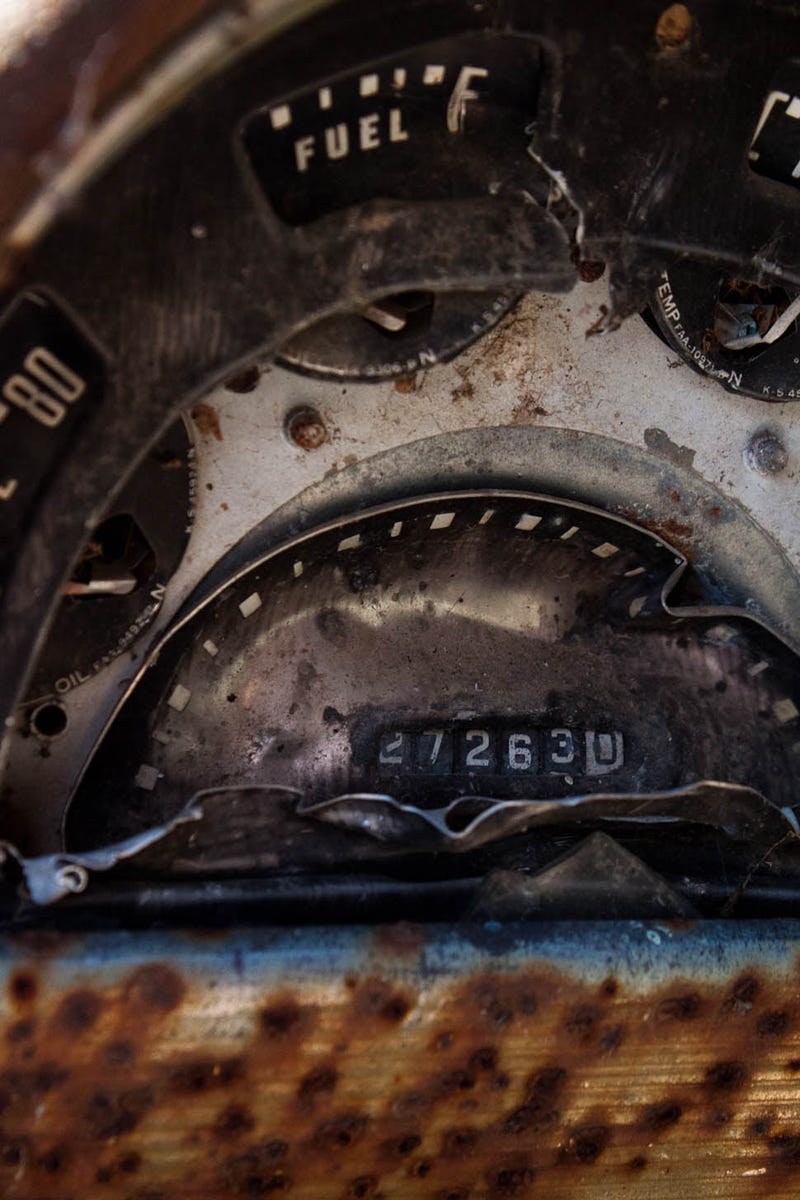 This is an old car that is in the middle of a wooded section of Shelby Farms Park along the Tour de Wolf trail. I have been told about this car many times, but never made the trip down to see it. My schedule opened up this weekend so I took a short hike to see the abandoned car, a cemetery and what looks to be what is left of an old house/barn site. While shooting some pictures of the car I remembered the contest when I saw that the gauge cluster on the car had been busted what looks to be quite some time ago, with only a couple tiny sections of
the original glass remaining. While it has nothing to do with the lead picture, I thought the cluster was quite shattered and would make a good first entry for me. I can't seem to find any information as to why the car was left there, but it has become somewhat of a landmark for anyone that uses the trail. Shot with a Canon T1i and 18-55 IS kit lens.
- Tim Taylor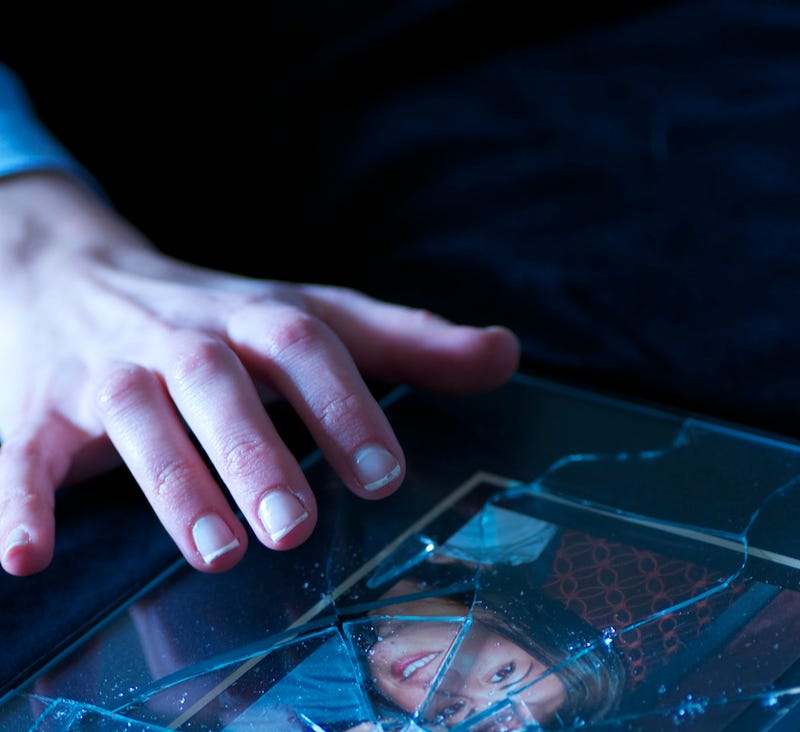 Happines is like mercury. Hard to hold, and when we drop it, it shatters into a million pieces. Maybe the bravest of all are those who have the courage to reach for it again. by Mary Higgins Clark
Nikon D3100
ISO 200
90mm
F/3.2
1/30 Sec
- Tracy Miller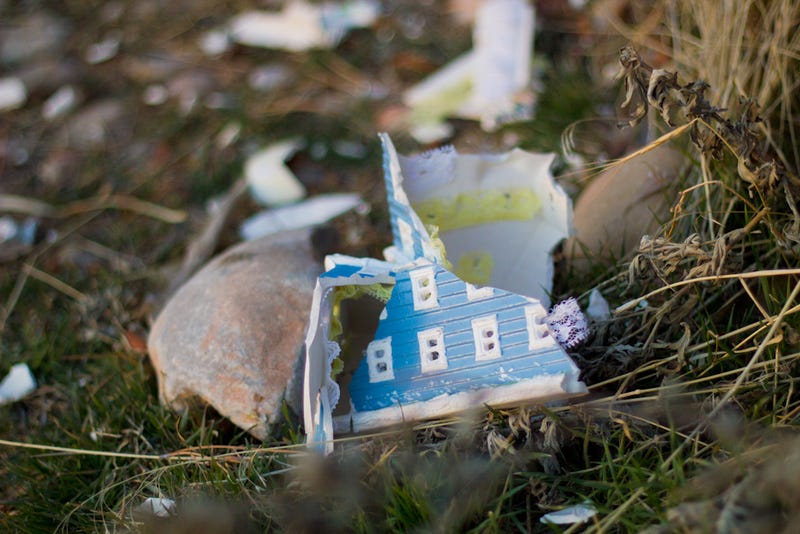 So I took this Saturday evening with light running out. We had tried throwing the house, but I didn't get the shot. I looked at it on the ground just laying in pieces next to a rock and I couldn't resist taking a shot. I thought it was ironic that the house was shattered on a rock, when usually that's a solid foundation for building.
- Trey Mortensen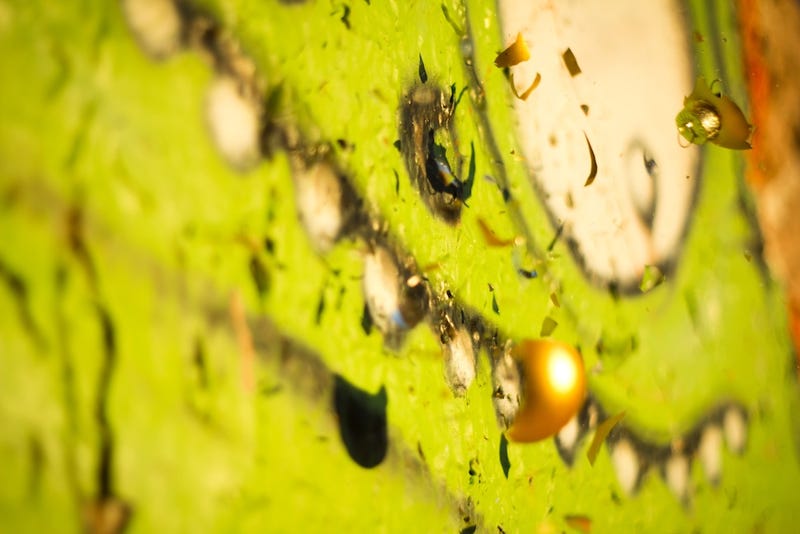 For this weeks shooting challenge we wanted to get our smash on. When else do you get the chance to take out bottles, old christmas ornaments, and anything else that is fragile and smash them against walls? Shooting Challenge... Thank you. For the setting of this photograph my brother and I chose some local graffiti near our apartment. The sun was setting and it cast a perfect amount of light on the green lizard you see in the photo. After some camera calibration and a couple test shots this was the outcome. Not sad to say that our x-mas tree next year will be lacking some decor.
Canon 60d 50mm. f1.8, 1/2000, iso:100. Contrast tweaked in lightroom.
- Tyler Bedgood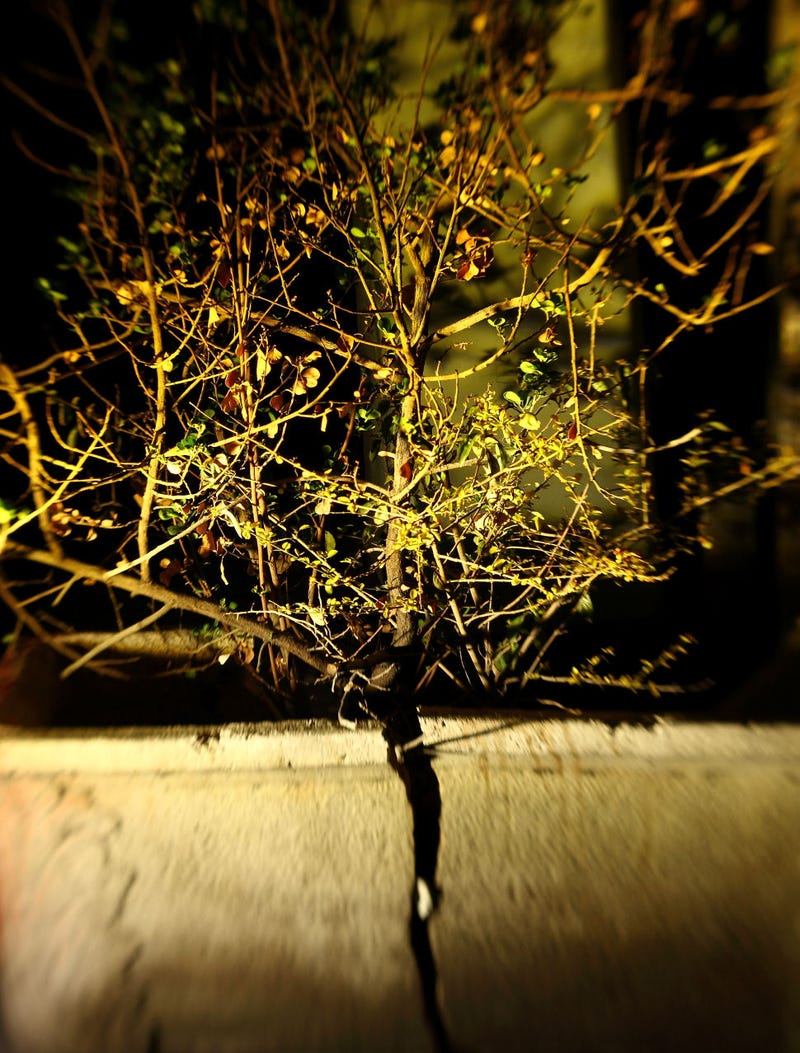 I used a Lensbaby Composer with double glass optics, f/5.6, lit the subject from the left with a Canon 580 EXII flash, quarter power, with a green gel on.
- Yossi Gurvitz