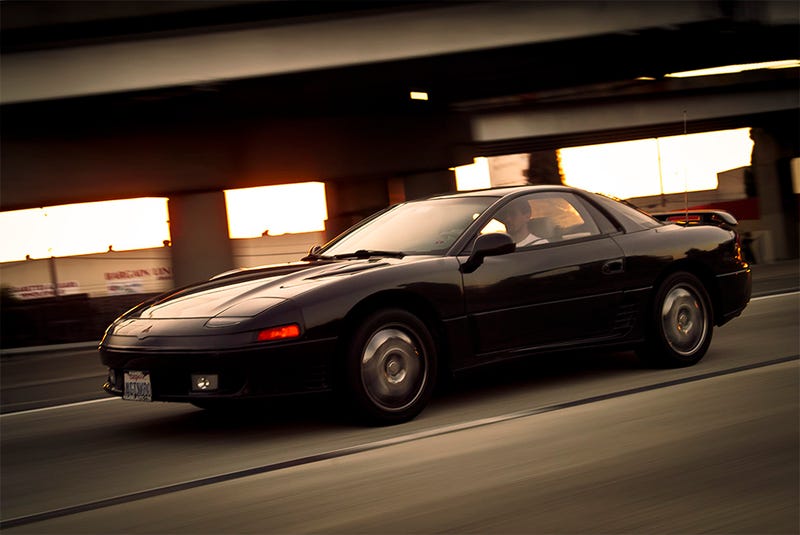 I love rolling shots. I took this shot of a 1st generation Mitsubishi 3000GT VR-4 while barreling down a freeway in Oakland,CA a few minutes before sunset. A few members of my local 3000GT community came over to help me with my own car, and afterwards we set out to take some pictures at a run down naval base. On the way back I saw an opportunity to get some rolling shots of this car and began shooting blindly as the rushing air made it hard to get a good look through my viewfinder. I took this one with my Canon 1D and 28-105mm lens with a shutter speed of 1/50 at an aperture of f/5 on ISO-500 and it was part of a 4 burst sequence, all of them under this overpass. - Abraham Rodriguez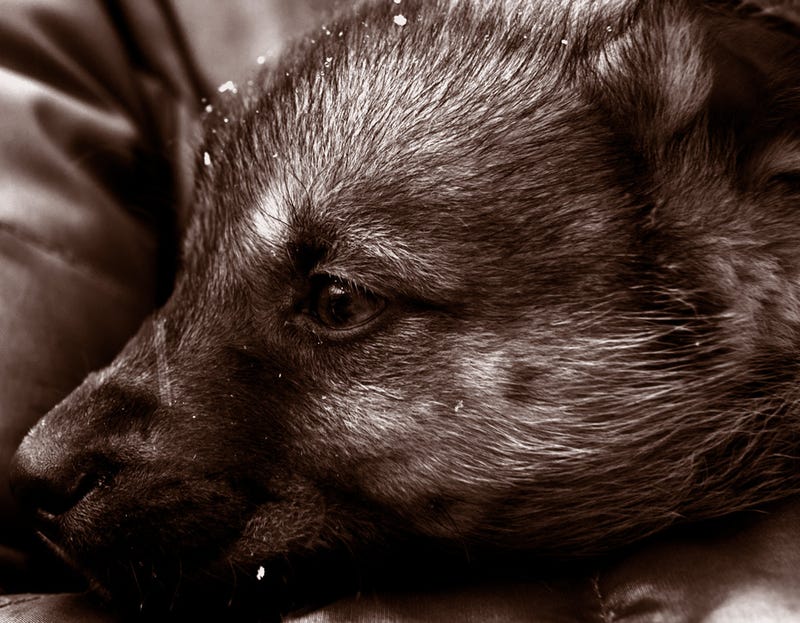 This weekend I was lucky enough to go dog sledding for the first time. When we had finished the ride our guides had another surprise for us...a new litter of 5 week old puppies. I snapped hundreds of shots, but this little guy (his name was "Crumbs") was just too adorable. Working with the Duotones challenge, I used Photoshop to convert the image and voilà. Nikon D90, 18-55mm kit lens @ 34mm, ISO 200, f/5, 1/80 sec. - Adam Biesenthal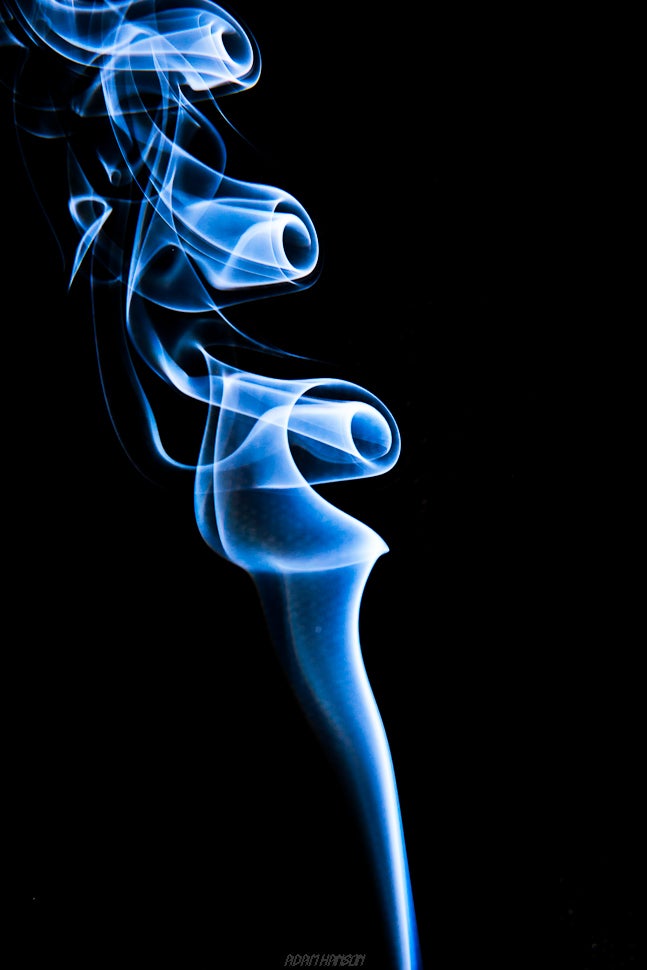 I'm an amateur photographer as a hobbyist. To practice my skills, I've decided to do a 31 Days of March album where I try to take one creative picture daily to improve my skills. Today I setup a little shoot to photograph the smoke plume that rises from incense. I set it up using a black backdrop, a constant lightsource refracting from the back right side towards the camera and a wireless flash to give further definition from the left side. Smoke is unbelievably hard to capture great images from as it's totally free to move on its own based on different air currents. It took over 100 shots and a bit of manipulation to capture this three spiral snapshot. This was captured with the new Sony NEX-7, 50mm at f10 to keep the smoke in focus. - Adam Hanson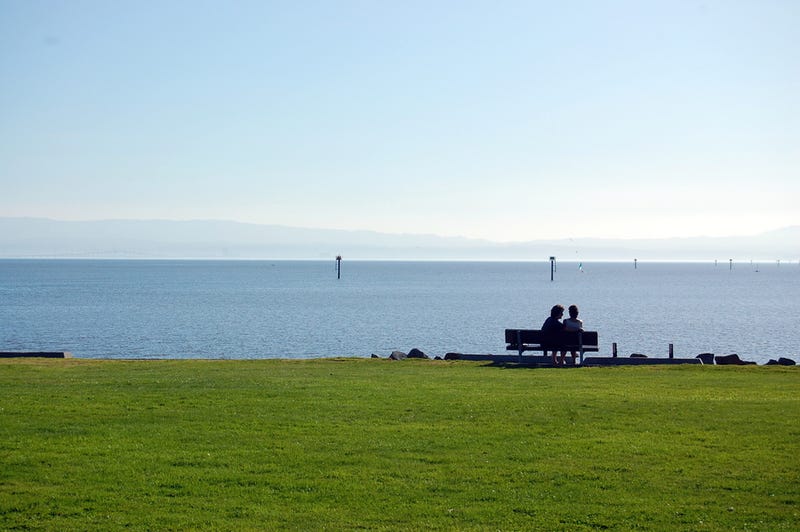 I went down to San Jose this afternoon to pick up my very first DSLR, a used D40 I bought off a friend. On the way back stopped by our local marina and took this picture out over the San Francisco Bay. Nikon D40, AF-S DZ Zoom-Nikkor 18-55mm f/3.5-5.6G ED II, 55m, 1/640s, f/8, ISO 200, Slight color touch-up in Picasa. - Andy Holton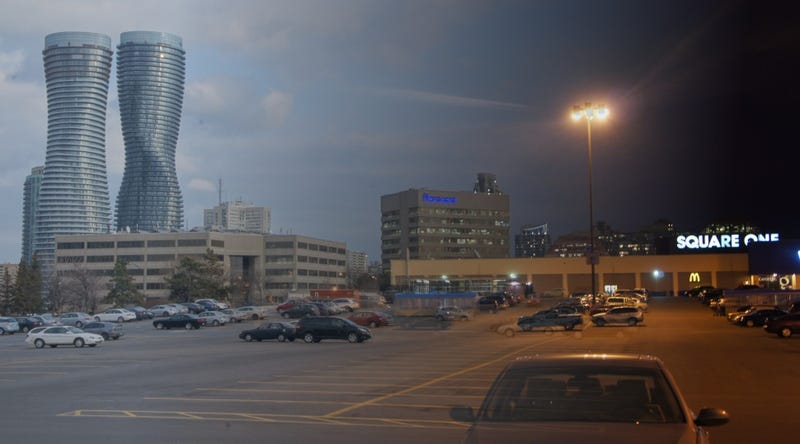 I wish I had a decent camera when the day to night shooting challenge was announced but hey its better late than never. Took one shot around 4PM and another after sunset. Post-processing was a bit tough as the pics were a bit tilted from each other but the final result came out pretty good.
ISO 200
F-stop f/25
Exposure time 1/25 sec(day), 2 sec(night) - Ashish Dhillon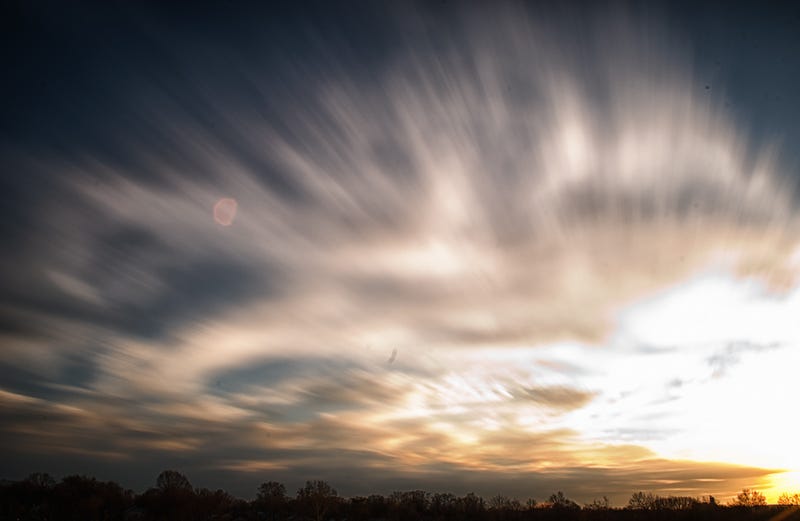 I took this shot on top of a parking lot in one of the malls in New Jersey. When I was just waiting for my wife and daughter from their shopping spree. I used my Nikon D5000 with original lens kit, setting the camera at 18mm, ISO of 100, narrow aperture of F/22 and lastly shot it with a tripod cause I tried a 30 sec shutter speed. This is the output of the sky and the clouds that I took! I used a 9 stop ND filter by the way! - Ave Guisala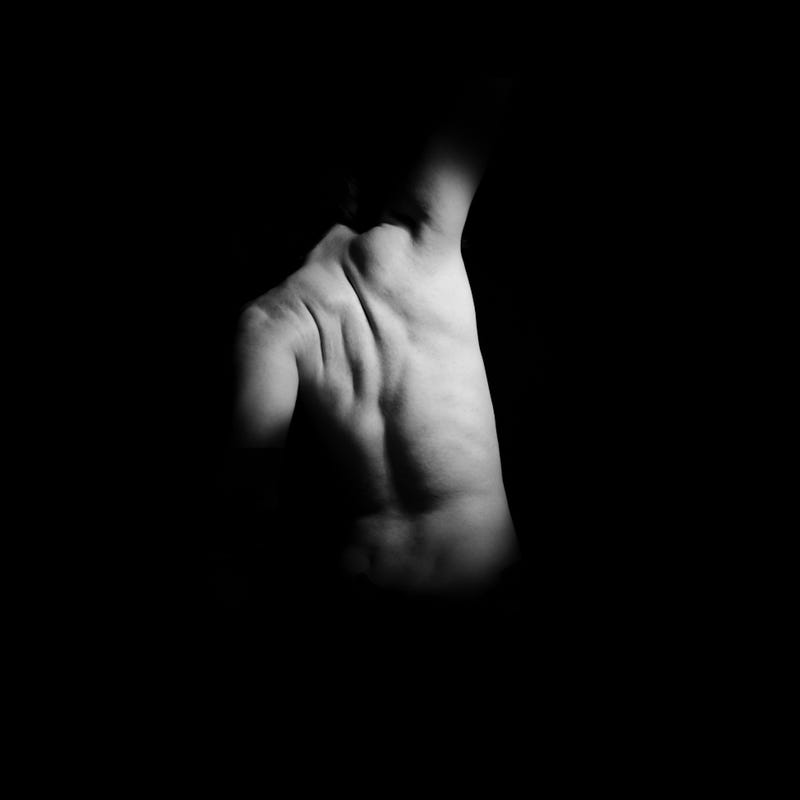 I've always been interested in the way that people interact with their environment and the way that environments impact people. In this case, I wanted to play with the way that light dramatizes the valleys, wrinkles, and creases in the male torso. Luckily, I had my partner on hand to indulge me. I chose my mediums based upon the subject, deciding to use large format in order to allow for maximum texture and detail. Shot with: Toyo 45CF, Schneider 150mm f6.3, 400 T-Max 4x5, f8, 1/125, processed with HC110, and scanned with an Epson V700. - Brandon Merz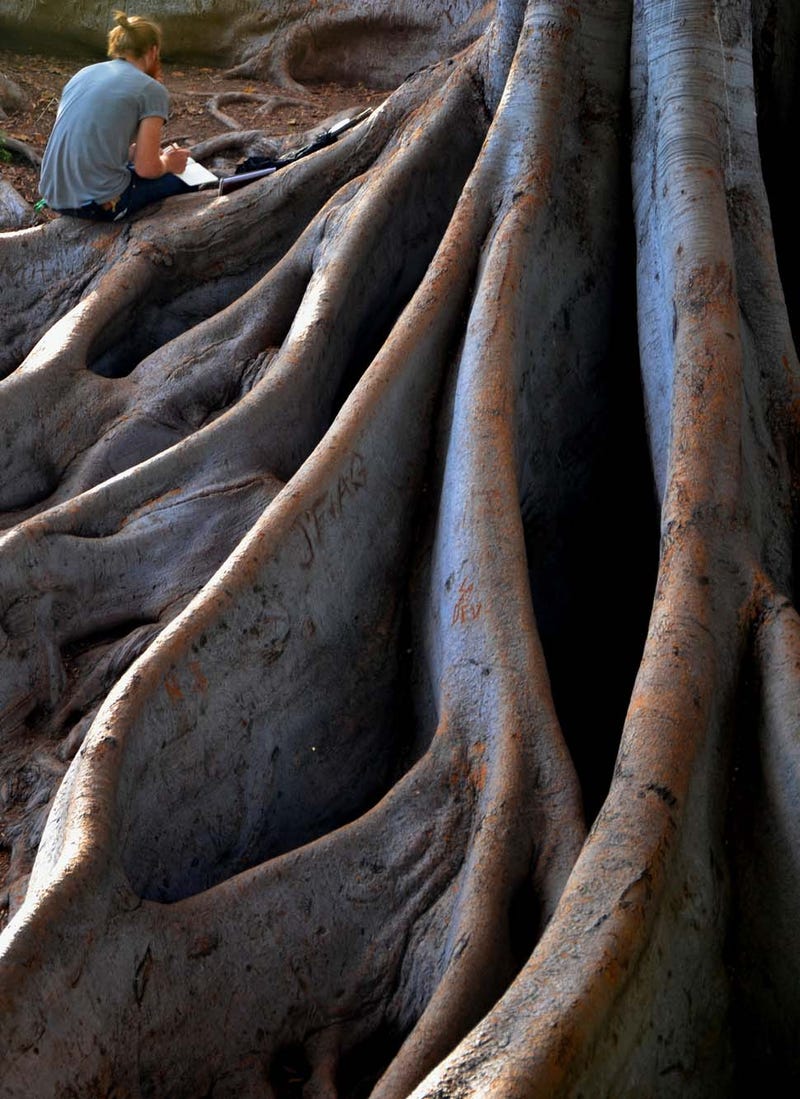 I thought a lot about what I could shoot this week that would be clever, but instead of focusing on the abstract, I decided to walk around my neighborhood and capture simple, yet beautiful images I pass by everyday. I liked the specific one I photographed because it showed a bit of the creative process and how nature can enhance our imagination whether it be while doing photography, writing, drawing, or any other kind of art form. This photo was shot with a Nikon D7000. Exposure time was 1/30 of a second, F-stop was f/5.3 and the ISO was set to 110. - Bryndan Bedel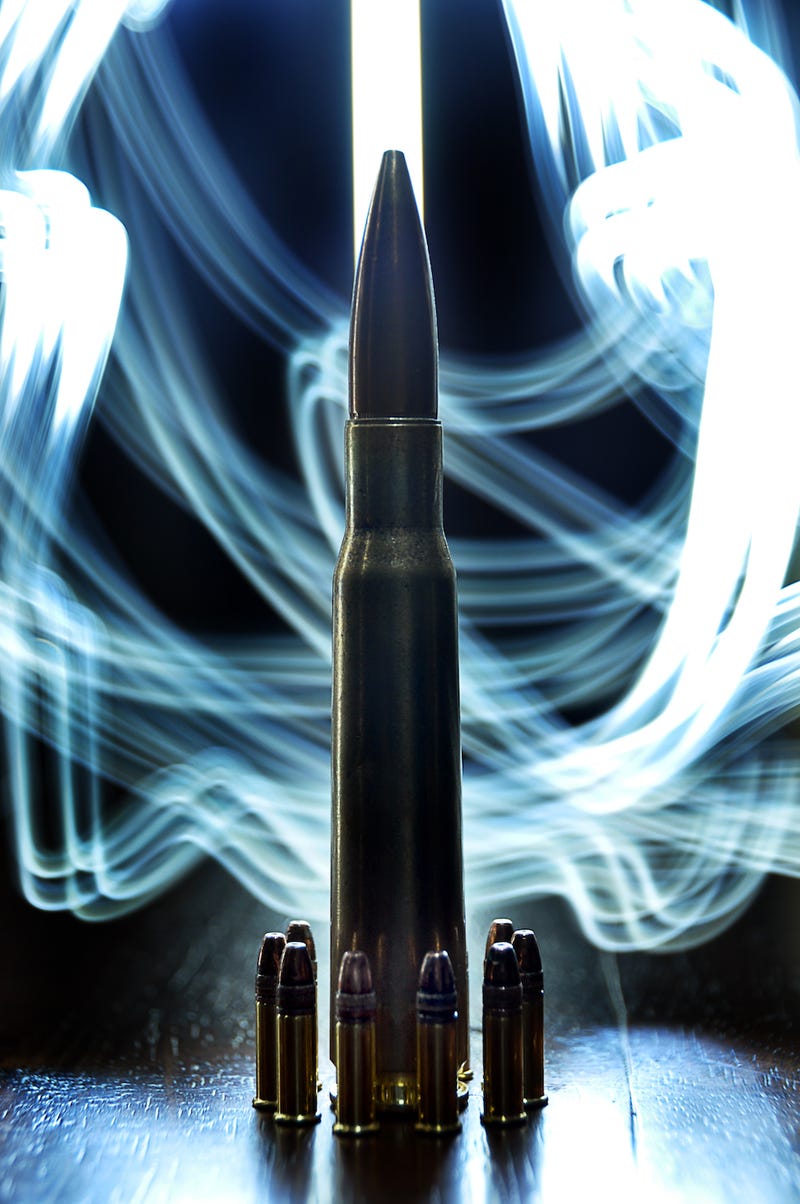 Shot with a Nikon D90 at ISO 400. Shutter speed 8" aperture f/5. This is an image of a 50 caliber bullet surrounded by .22 caliber bullets. The 50 is leading the smaller bullets into a column of light at the back of the image, first confronting a mysterious light floating in front of them, not knowing what awaits them. The light is created using a slow shutter speed and a flashlight. - Cameron Premo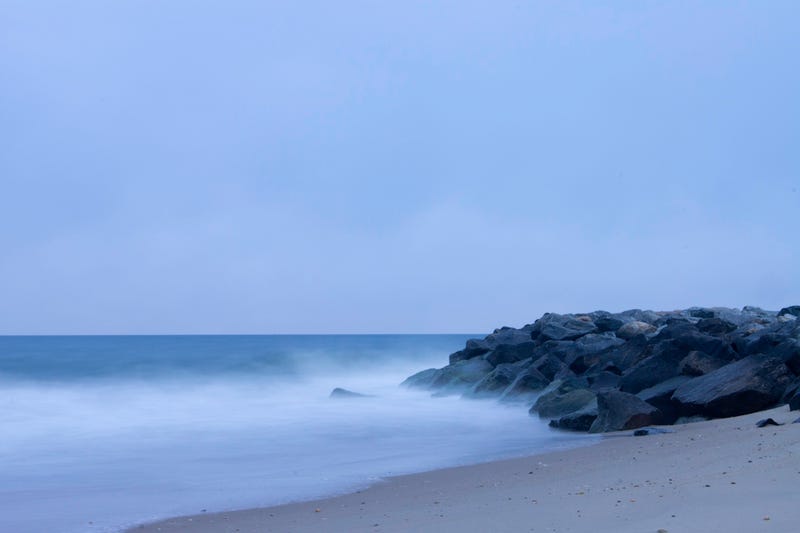 Was hoping to get a nice sunrise photo at Cape Henlopen State Park (in Lewes, Delaware), looking out over the Atlantic Ocean. Unfortunately, it was completely overcast, so there were no vibrant colors to be had. In theory, this photo should be looking at the sun shortly after it crosses the horizon. It's a 13.0 sec exposure (to create the blurry water) at f/32 and ISO100. Shot with a Sony SLT-A33 and the 18-55mm kit lens. - Chris Kennedy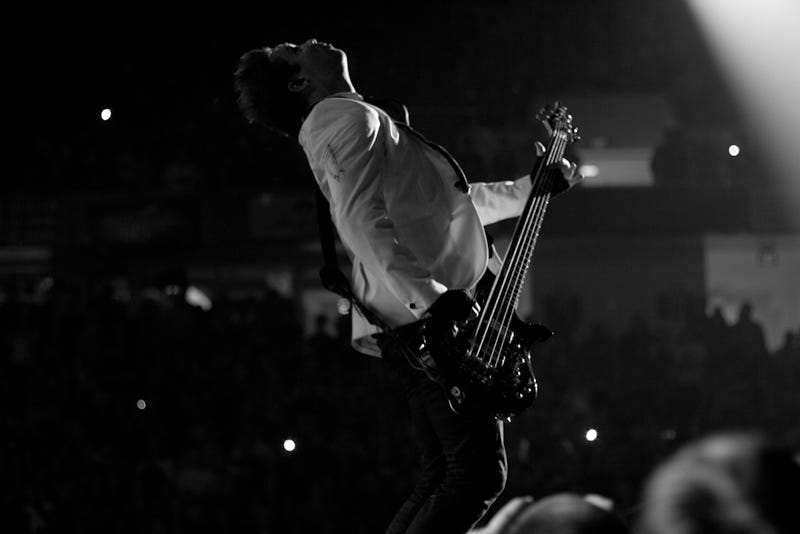 Took this at Winter Jam in Mobile on Sunday night. Featured in the shot is John Cooper of Skillet, one of my favorite bands ever! The show was amazing and, since I had already seen it in Atlanta, I knew when everything was going to happen so I got some really good shots. Of the 300 or so shots that I took, this was one of the best ones as far as composition goes. Only edits to it were a slight brightness bump and conversion to black and white. Canon Rebel T2i w/ 50mm prime. 1/200 sec at f/2.0, ISO 400 - Chris Morey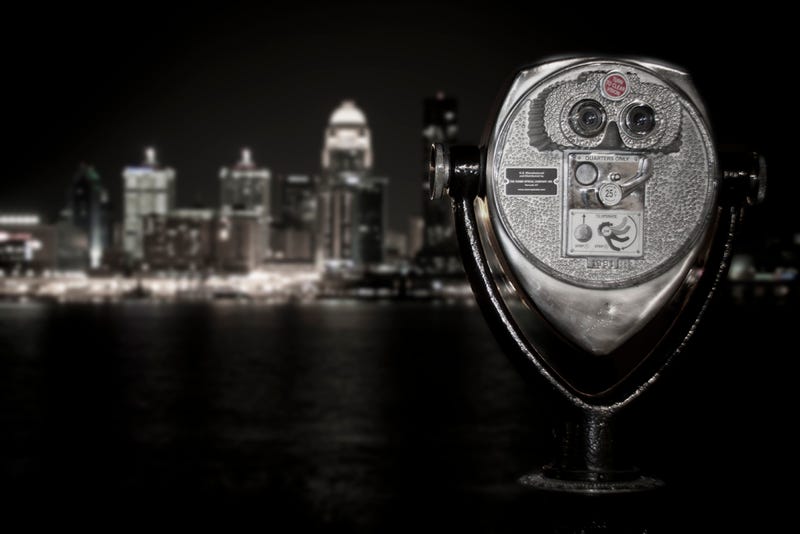 My camera is the Canon xsi and I used a 50mm lens at 100 ISO and F1.8. I had a fun time taking this photo and didn't happen upon this scene until one of my last shots. It was really late at night, I think about midnight and there was a sidewalk light that I noticed casted some great light on the telescope especially after 30 second exposer. The red knob reads turn to clear vision and I liked the interesting way it made it went along with my picture. Thanks for having a free for all! - Corey Sparkman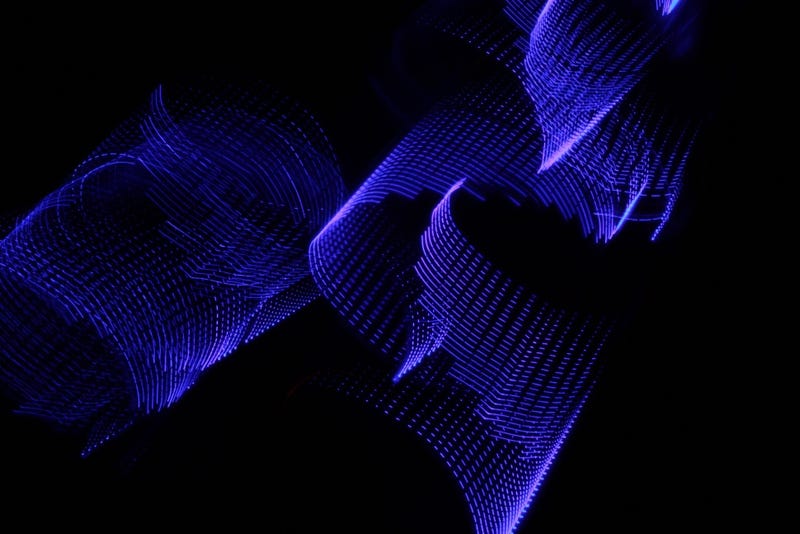 I had a really hard time figuring out what i wanted to take a picture for this challenge. When i was driving around i saw a tree with led lamps hanging from the branches. There were 4 trees and they all have different color LED's. After a few shots i got this cool effect. I'm using my Canon EOS T3I with the EFS 18-55mm lens, the settings were at 0"8 sec, f/32, 100 iso. Hope you guys enjoy the picture. - David Chau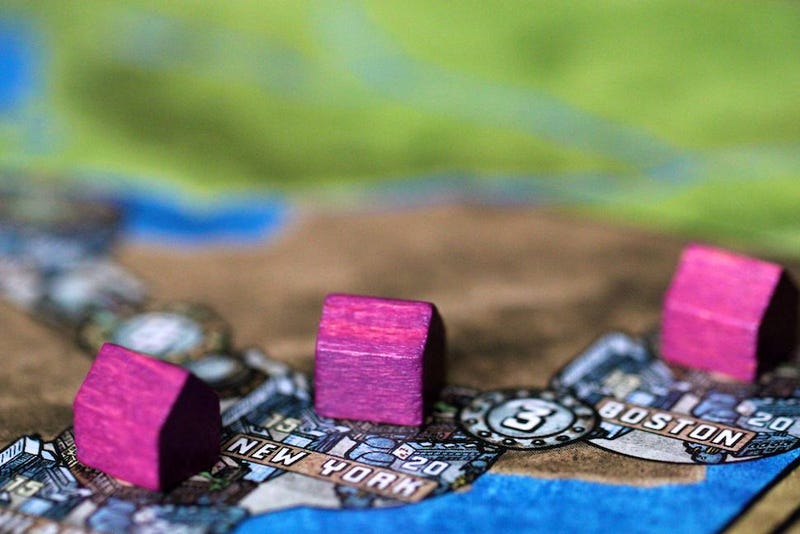 Today we discovered the board game Power Grid, so instead of spending time thinking about this challenge, we played... and played and played. This photo is the result. Based on my region picks, I guess I was playing as "National Grid". Canon T2i, 100mm, f2.8, ISO 3200. - Diego Jimenez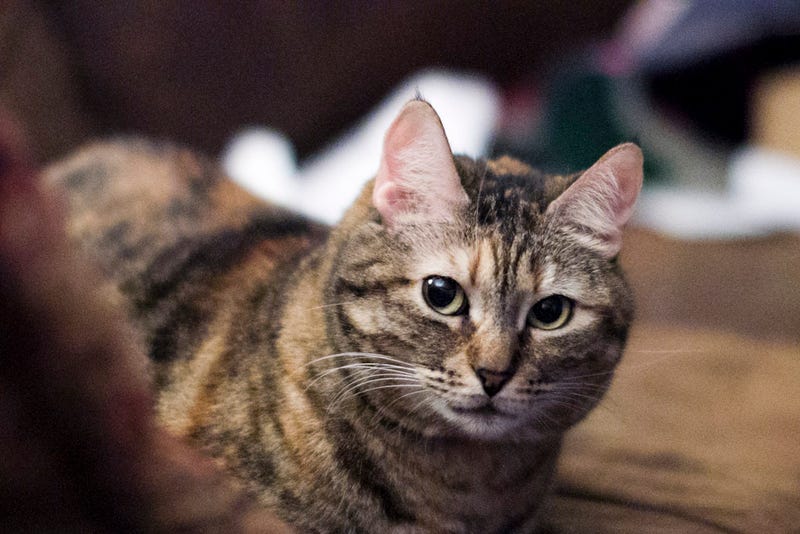 Maggie the cat. Can there ever be enough adorable pictures of cats on the Interwebs? Canon 7D, 50mm L, 6400 ISO, f1.2, 1/160. - Ed Zimmeth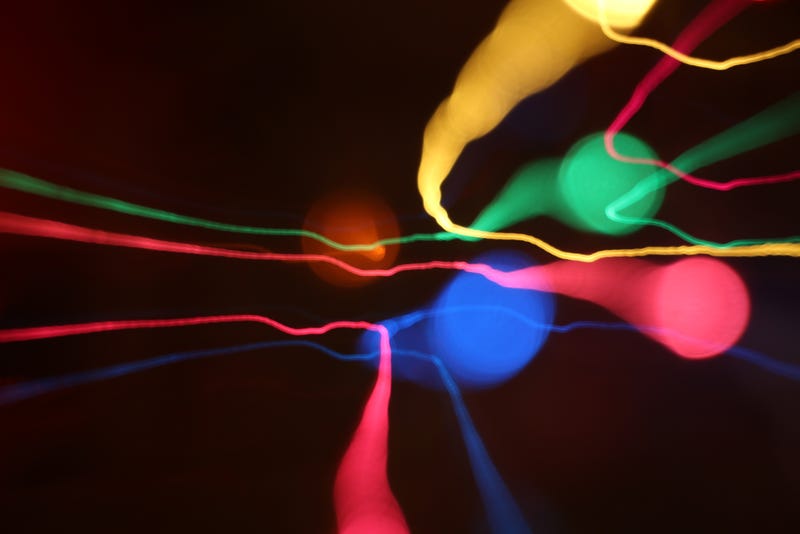 I was playing around with shooting some colored lights hanging on my wall. I brought the ISO way down to 100 and set the focus to manual and de-focused the lights. I set up my T3i for a long exposure and changed the focal length though out the shot from about 70mm to 270mm. I took about 30 shots trying to get the background as dark as possible and the lights to look like solid streaks. Canon T3i w/ Tamron AF 18-270mm f/3.5-6.3 ISO 100 f/6.3 3.2sec. exposure. - Elijah Rosenn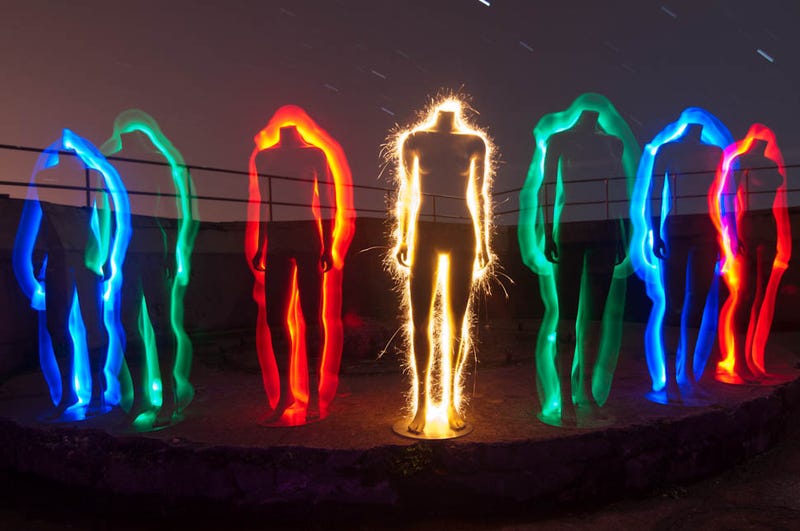 For my free for all challenge, I went out to my usual playground, a series of former coastal defense bunkers used to protect the country from a potential Japanese invasion during WWII obviously that never happened, so all the facilities were abandoned and now the hills are covered with crumbling concrete fortifications. It seemed like an appropriate place for a shot free from the oppressive Gizmodo master! I brought out Jane the mannequin and was inspired as soon as I saw the old gun mount. I thought it would be cool to do a "color wheel Jane" shot. Taken with a sparkler and a few cheap Target red green and blue flashlights. I traced Jane with each color (and the sparkler) and moved her to the next location and repeated.
Nikon D300, Tokina 11-16mm f/2.8, Iso 100, 15mm, f/ 5.0, 346.0s. - Eric Mulligan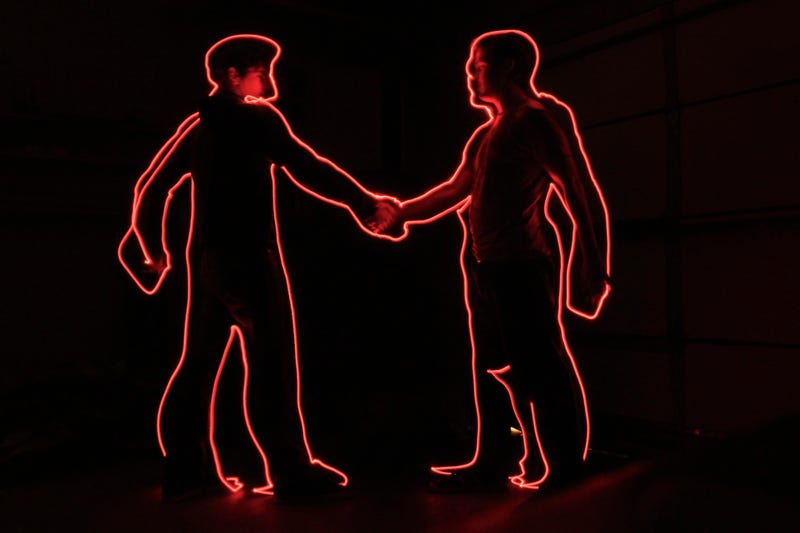 I took this shot in my garage of my friends Sean and Kaleb with a 30 second shutter and a laser pointer. We didn't have a tripod, so we left it on a side table and it actually turned out alright! What I didn't expect was how well the light from the laser pointer would illuminate their faces. Nikon D5000, shutter: 30 seconds, aperture:f3.6, iso:640. - Evan Johnston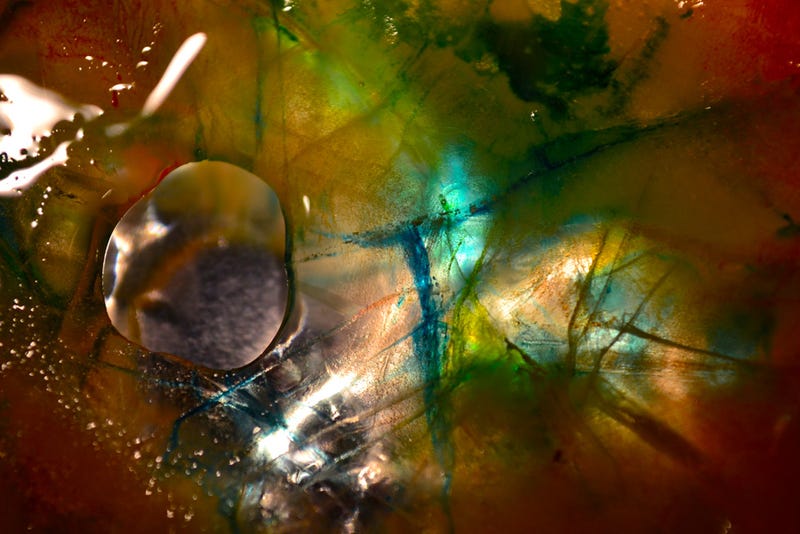 The process to get this shot was a long one. I originally wanted to get a picture of the cracks that form in ice cubes when you pour a room temperature drink over them. This effect was proving difficult to capture. so I moved on to a new method. I put about a half inch of water in to a five inch square plastic container and let it partially freeze. I removed it from the freezer and ran it under cold water work a second, which caused cracks and fissures to form. I then added a few drops of food coloring that would seep in to the cracks. Back it went in the freezer and the process was repeated maybe 20 times over the course of about 24 hours. Sometimes, I'd rinse the outer layer of ice off as it was getting too coated in food coloring. Other times, I'd add more water to keep the ice from getting too thin. After leaving it alone in the freezer overnight at what was it's thickest variation (about 1 inch), it didn't want to crack in the morning, so I gave it a gentle whack with a hammer to help get the food coloring deep into the ice. When I was finally happy with the look and color of the cracks, I set up on the flat surface of my stove to shoot. I got my tripod set to point as close to straight down as possible by leaning it against the oven door and got the lens three to four inches above the ice. I had placed my piece of cracked ice on a sheet of aluminum foil (shiny side up) and used the pair of 50 watt halogens in the hood vent of the stove to light it from above. The foil then reflected enough of the light to make it almost seem like it was lit from underneath. This shot came from early in the first batch of photos I took. Over the course of the next 24 hours, I kept the process going, but nothing came close to looking right. Full disclosure, I did run the pic through Photoshop CS5; but only to adjust the vibrance and saturation ever so slightly. Nikon D3100, shutter speed 1/60 sec, f/5.6, ISO 200, focal length 55mm, mounted on tripod, facing almost straight down about 3 to 4 inches above subject. - Gabe Loewenberg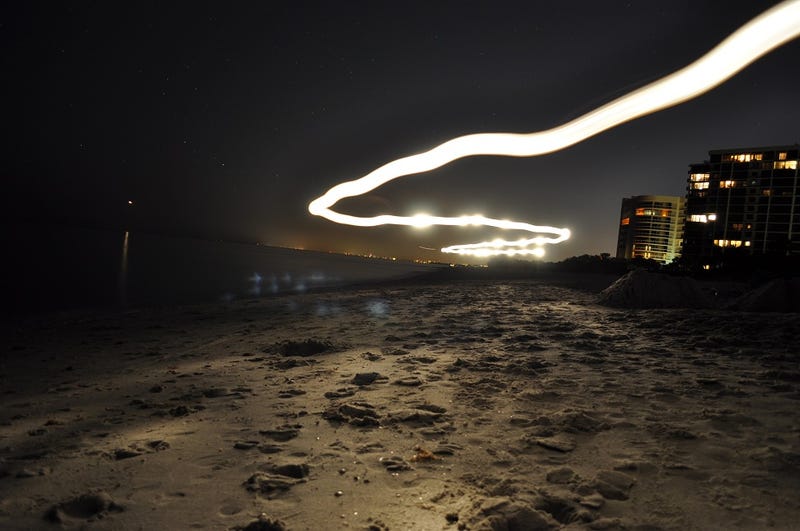 Last night was probably one of the greatest nights of my life. On the beach with a friend, a camera, tripod and a flashlight. First time attempting a long exposure shot of any type and it went off without a hitch. The camera in question is my Nikon D5000 with a standard 18-55mm lens, ISO 200 and f/3.5. Focusing issues burned the first couple shot and then I got this one. Who knew a peaceful night on the beach could be turned into mayhem simply by walking with a flashlight. - Greg Rosen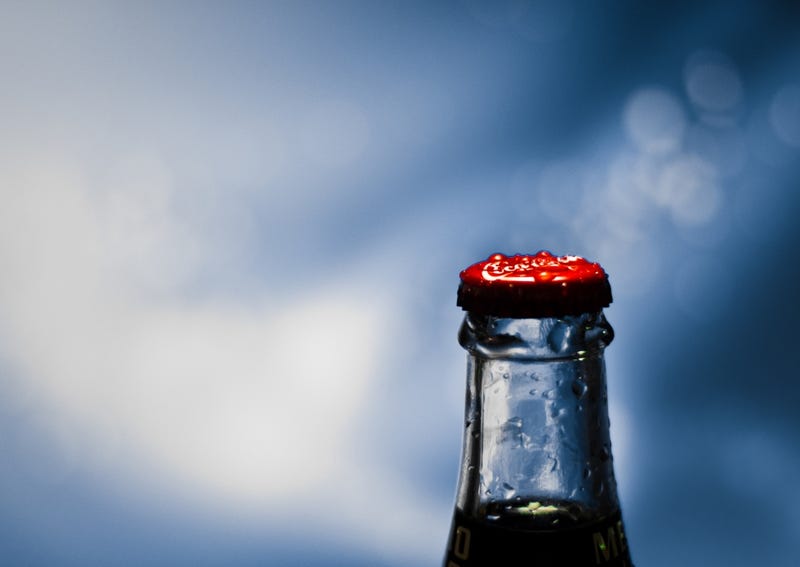 There isn't much of a story behind this photo. This is actually my first shooting challenge submission, so I guess there is some story to it after all. I wanted to go in the minimalist direction with this photo. The true point of this photograph is that there isn't a point to it. I just wanted to share the sheer beauty of contrast and hopefully you're able to see that in my submission. Nikon D7000, Nikon Nikkor AF-S Lens 50 mm F/1.8, ISO 640, 1/640 sec exposure. - Ilshat Ahatov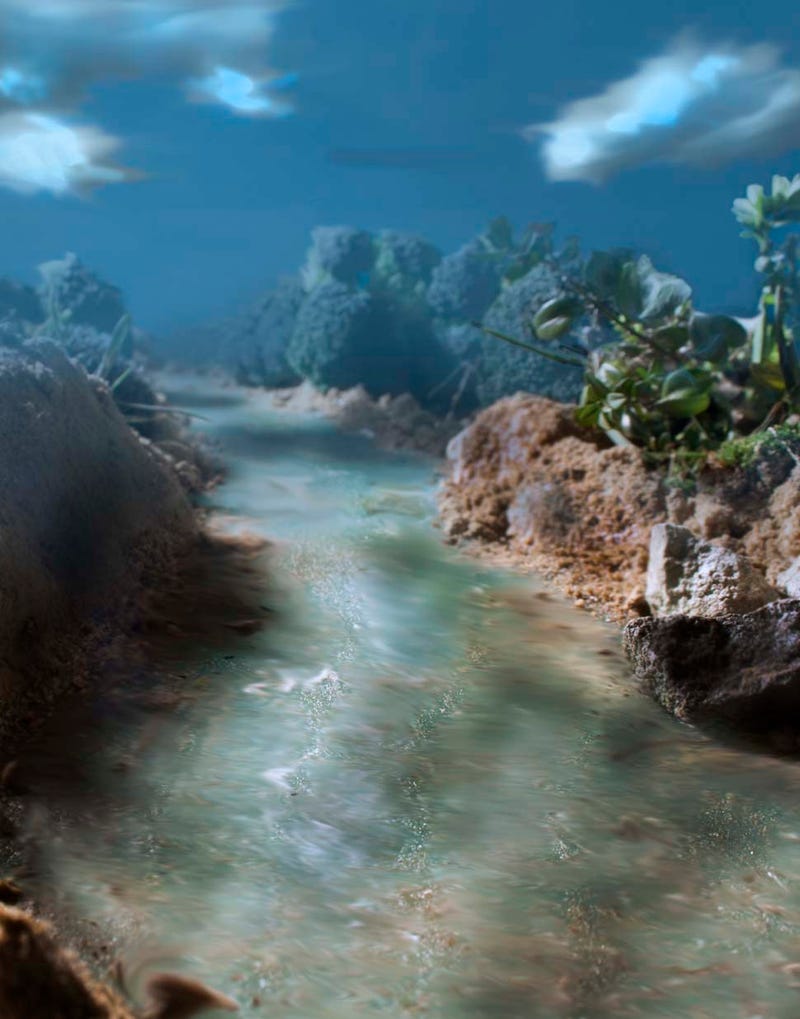 For this weeks challenge I decided to have a go at making a diorama in the style of Matthew Albanese. The river is made from baked sugar, the rocks from home made play-dough and the foilage is various pieces of moss from the garden. The far tree-line is made from broccoli. The clouds were photographed by shooting cotton buds through a glass sheet. All in all, for a first attempt it's reasonable but not in the same class as Albanese's works. Then again I had a new-born baby on my arm for quite a bit. Shot with a canon E0S1000D with a polarising filter and a blue graduated filter on top of that. Quite a bit of photoshopping to get rid of bits of sand on the water. - James Slade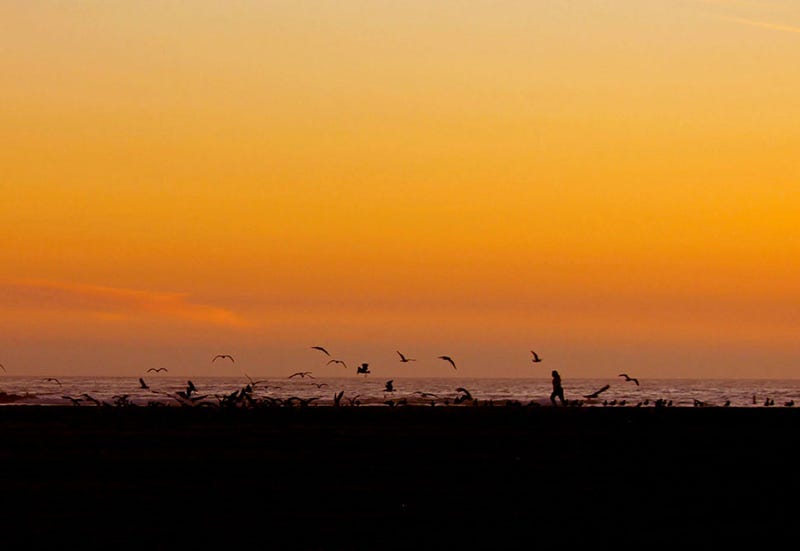 When I read the words "shoot anything you want" I got really excited at first. That slowly changed when I couldn't decide which picture to submit and stared at several over and over again. I chose this image in the end because the runner and birds look calm and free. Canon EOS Rebel T2i, Lens: 55mm, Exposure: 1/125. - Jeanie Choe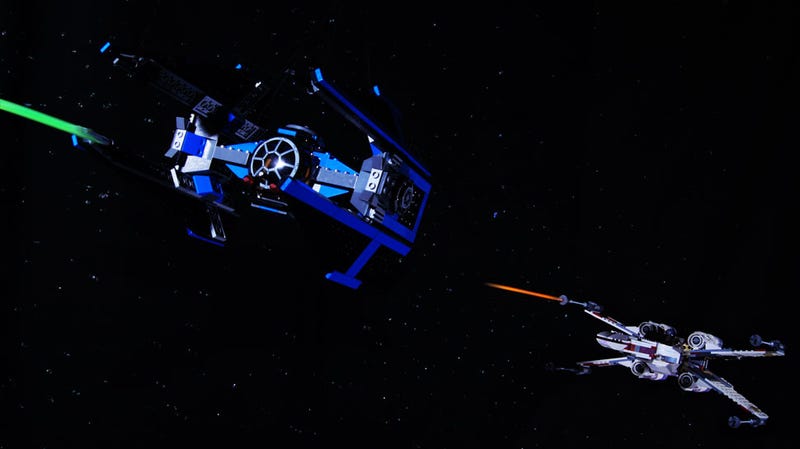 In a galaxy far, far away... Two LEGO models, two glowsticks (for the blaster beams), a black fabric backdrop littered with glitter-pen-dotted "stars," some black thread, a speed flash, and two crazy photographers (you'll see his submission here, too) created a battle between a Tie Advanced Fighter and an X-Wing Fighter. The sharpshooting Rebel pilot is about to take out the elusive enemy fighter, but fortunately for the Empire, these LEGO models are pretty easy to reassemble, and glowstick blasters don't do much damage to begin with. Props used are listed above. This long-exposure, strobe-enhanced photo was taken by a Sony Alpha SLT-a55 with an 18-55mm lens: 30s shutter, f/22 aperture, ISO-100. Multiple flash strobes were used to light the models and backdrop. Photoshop was used to remove some unwanted scenery that wasn't covered by the backdrop, add some motion blur to the blasters, and adjust the brightness/contrast a bit. This is *not* a composite shot, and the blaster beams and stars were shot with the rest of the scene. No LEGOs were harmed in the process. - Jeremy Klukan