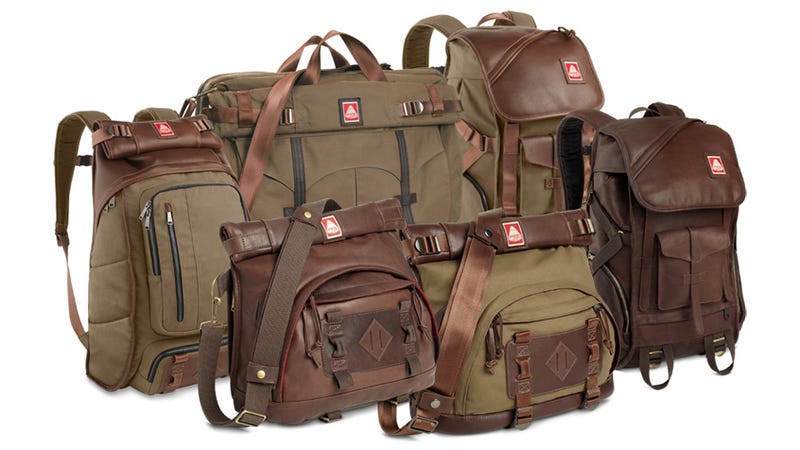 When Eric Rothenhaus landed a gig as director of design at JanSport five years ago, he wanted to make an impression. He would do it by re-creating, down to the seat-belt straps, the very first JanSport backpack (and the first-ever backpack with a zipper) introduced in 1969. Problem: There were no sketches, patterns or even any actual bags available on which to model his re-creation—only a few black and white photographs. But that was all he needed to breathe new life into one of the most iconic geekcessories of all time.
Rothenhaus studied the photographed relics with a magnifying glass to determine the correct proportions. He hunted for large metal zippers identical to those used back then. He found the right type of weathered nylon. He used (now considered extremely inefficient) 30-year-old pattern construction methods. He even recreated the original red and white label.
When it came time to put it all together, Rothenhaus developed prototypes until he felt the dimensions and the design were exactly right. What he came up with was convincing, he told me. "So much so that I fooled the founder." He managed to rustle up one of the original "Ski and Hike" bags, never used but built more than 30 years prior. Looking at them side by side, Skip Yowell, one of Jansport's three founders, couldn't tell the difference between the original and re-make.
It was a proud moment for Rothenhaus. This man is a bigtime geek.
We get it, though. We've been known to geek out over a bag now and again. But the interesting thing this case of geek outery is that Rothenhaus wasn't creating something with the latest fabric technology or a fancy suspension system or special compartments for all your gadgets (though he does that too). He was creating a pack from a time when electronic gadgets were too big to carry around with you.