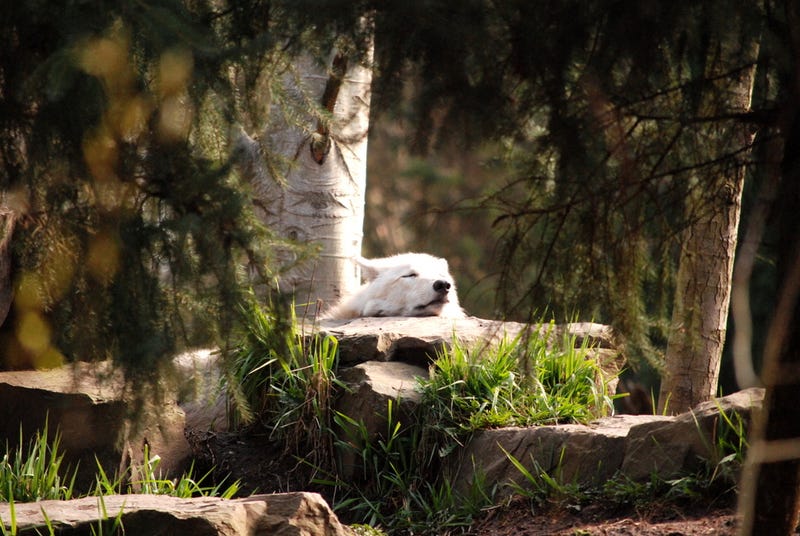 My boyfriend and I wanted to enjoy the first real day of spring in Seattle so we went to the Woodland Park Zoo where the white wolves were enjoying the sun too. Shot with a Nikon D80 and Nikkor 55-200mm. f/5.6 1/500 sec. - Allison Koseki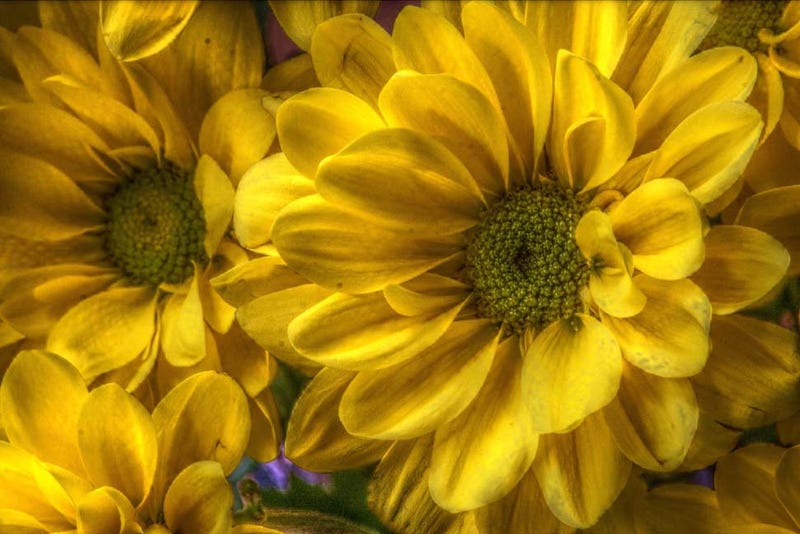 Been curious about attempting to compose HDR photos for a bit now. Saw this challenge, immediatly thought about the yellow flowers we had at home. Set the flowers by the glass back door and setup my Canon Reble xT (yes i know i'm due for an upgrade) with a Sigma telephoto lens that also does macro (first time trying that out too btw). Set the aperture to max to get as much in focus, set AEB to go 2 full stops and fired away. Used luminance HDR (open source HDR tool) for the first time and took a while to figure it out. Not entirely sure this is what i had in mind when i started out, but i really like cartoon/painting feel... - Anand Choundappan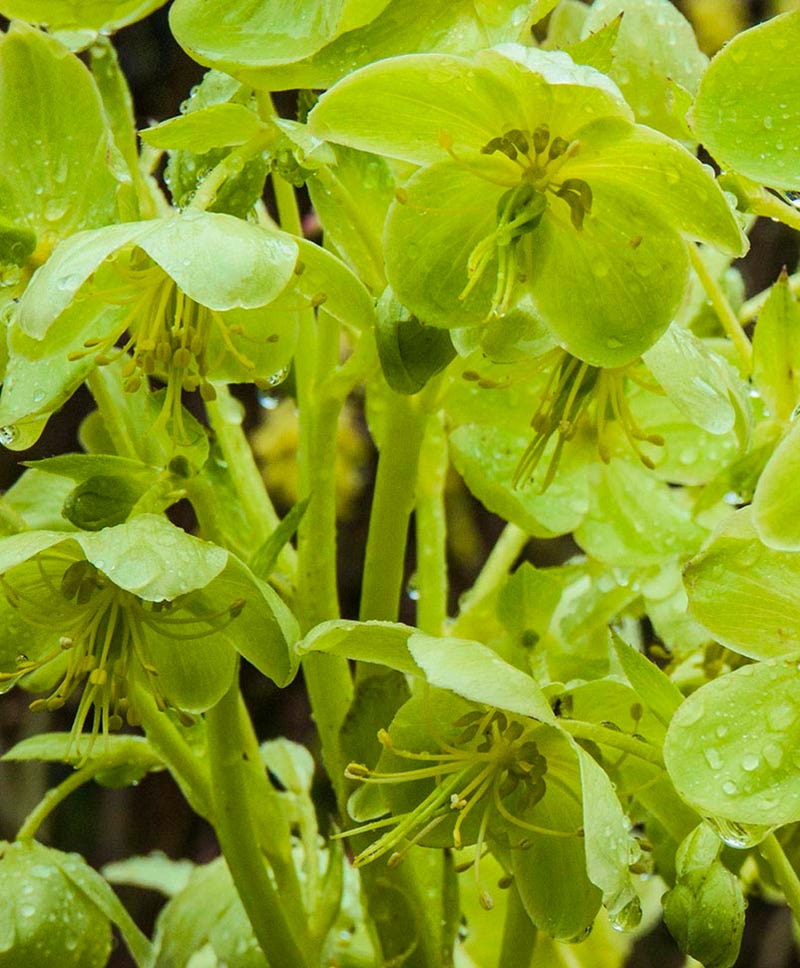 I was heading out for a date and I was walking to my car I noticed how cool all the plants looked in the yard with the drizzle that was still falling. I went back inside and got my camera and started taking pictures. I ended up being late for the date and had water spots on my knees that I hadn't noticed. I really enjoy the simplicity of colors in this plant (whatever it is called). They also make me think of another world because of how the pollen things grow. Obviously I'm not up on plant lingo. What I can tell you is that I was using a Panasonic Lumix DMC-FZ28 set on the RAW format and then tweaked with the wonderful beta version of Photoshop CS6. - Andrew Lindblom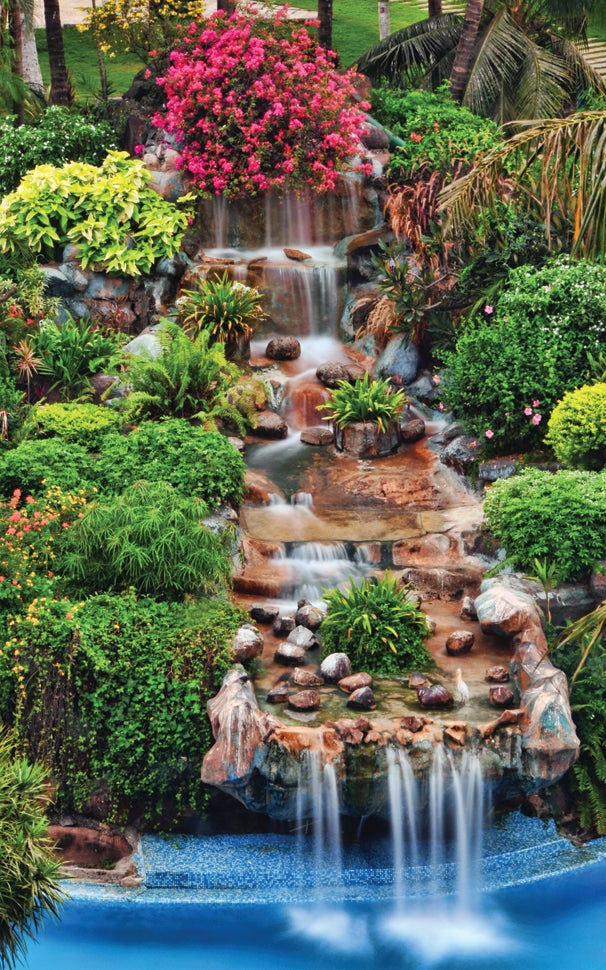 On a visit to a sea side resort for brunch, was the hotel's poolside with a mildly flowing water fountain surrounded by natural new born greens. It was the perfect scene to represent the onset of a new season; Spring! Camera: NIKON D300S Lens: Nikkor 18-200 VRII Focal Length: 95mm Shutter Speed: 15 sec Aperture: f/36 ISO/Film: 200 - Arsh Sayed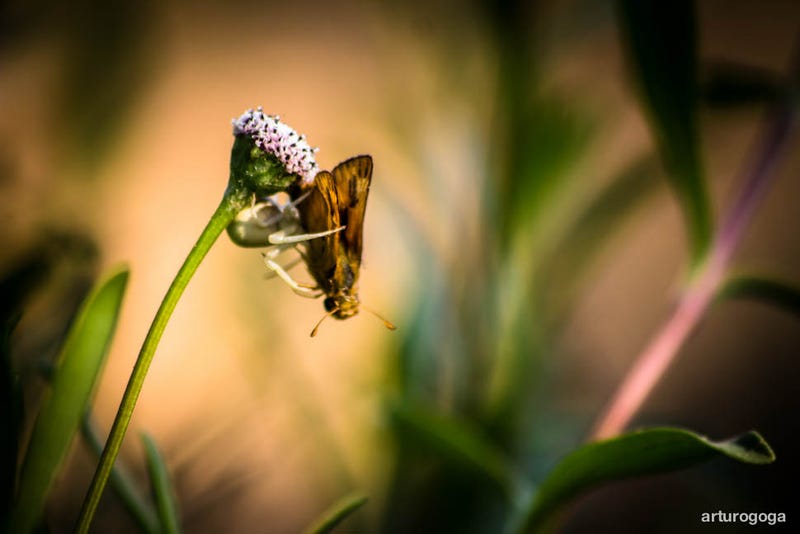 I call this "Deadly Spring". Was out shooting with a friend, when I suddenly found a nice flower with an insect on it. Took some shots, even marveled at how still the moth / butterfly / whatever was. It was later in the day, though, when processing the images I had taken, that I found out why the insect was so still: it was being attacked by an alien spider! The wonders of macro photography, huh? Picture taken with a Canon T2i (550D), with a Sigma 70-300 mm 4-5.6 DG Macro, at ISO 320, f/5.0, 1/400. - Arturo Goga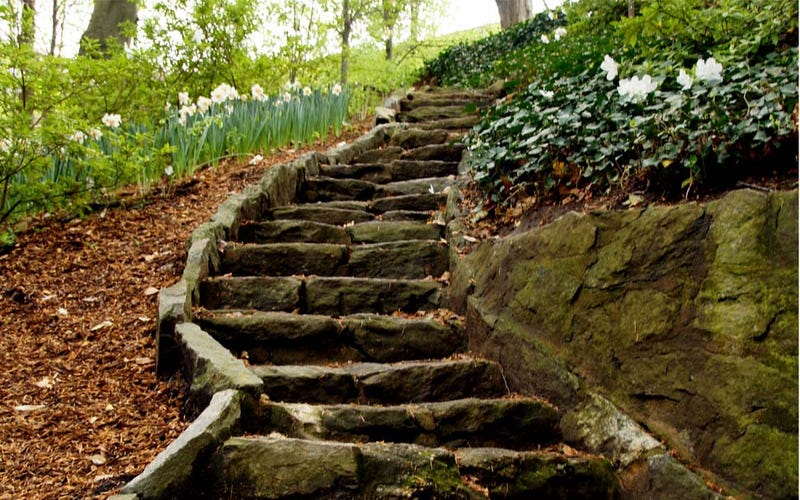 Spring is a great time to get out and enjoy the local parks in Greenville, SC, before the suffocating heat and humidity of summer move in. Falls Park (FallsPark.com) is the centerpiece of our revitalized downtown. I headed to the park looking for a nice colorful Spring shot. Instead, I wound up in my favorite part of the park. Spring Falls Garden sits in a shady corner at the back of Falls Park. These stone steps lead down from the roadway into the garden area. Taken with Sony SLT-A35, Sigma 18-250mm lens at 24mm, f/4, ISO 100. Minor tweaking and then sized in Photoshop. - Bennett Sansbury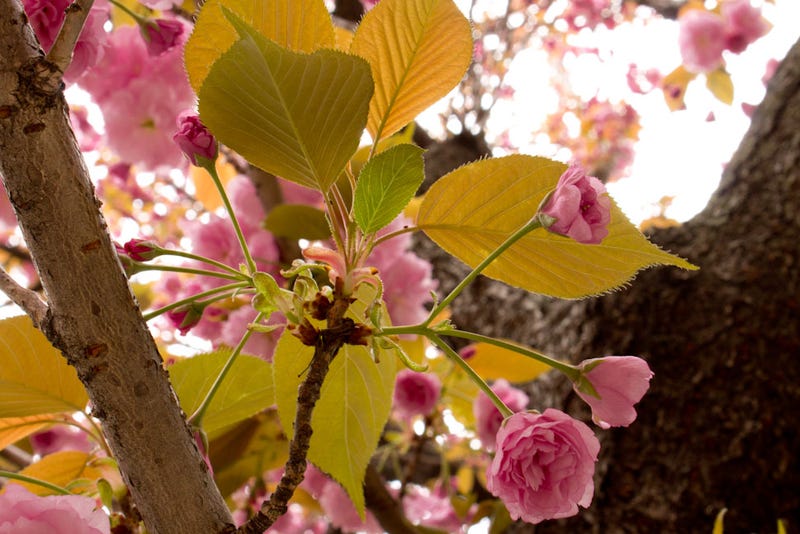 Wandering the streets of Philadelphia capturing a variety of trees and flowers I was struggling to find spring on a gloomy afternoon. However when I came across this cherry tree it immediately grabbed my attention. In one branch you have every stage of flower, from bud to full bloom, and it seemed perfect to represent the growth you see in spring! Taken on a Canon T3, 18-55mm lens, 1/50 sec shutter at f/16, ISO 800. Some level adjustment in Lightroom. - Ben Schwartzbach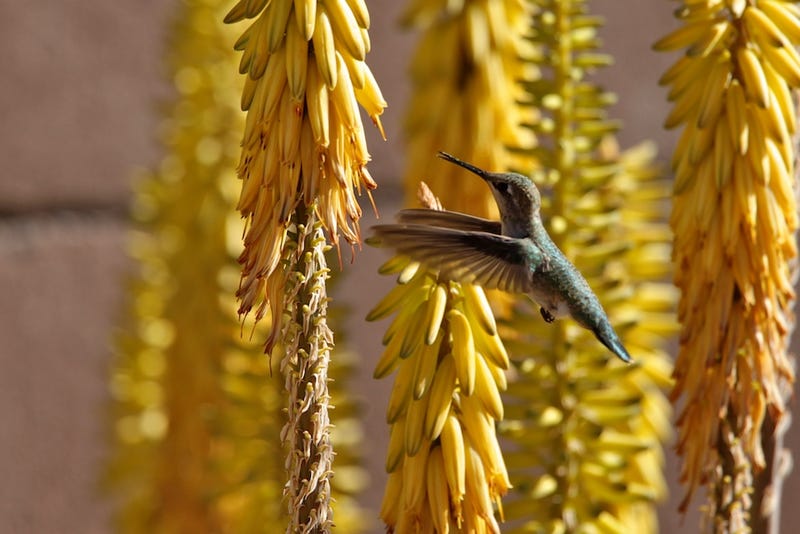 This photo was from a practice session working on exposure in an effort to freeze a hummingbird's wings. I'm fortunate that about three or four hummingbirds feed on the aloe vera plants in our yard and so I usually don't have to wait long for them to appear. This shot seemed just about right with its full profile, sun on it's back, and beak slightly parted. The shot was taken with a Canon 5D Mk II, 70-200 F4 IS w/ a 1.4 extender, fully extended to 280mm, F6.3 @ 1/640. - Brad Corrion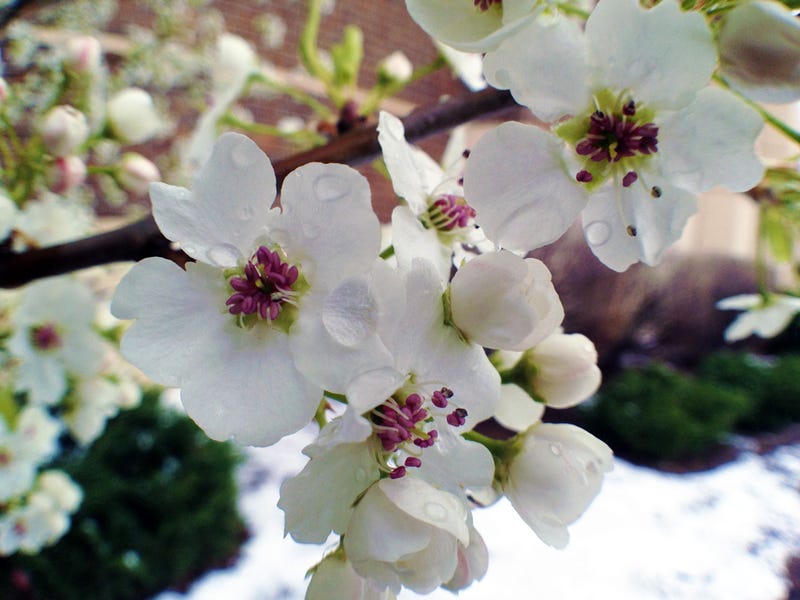 Shot with my iPhone 4S and an Olloclip wide angle lens. My wife was shopping and I was bored so I went outside to have a cigarette. These trees were blossoming all around me and there was fresh snow on the ground from a morning storm. Location was Traverse City, MI - Brian Hayes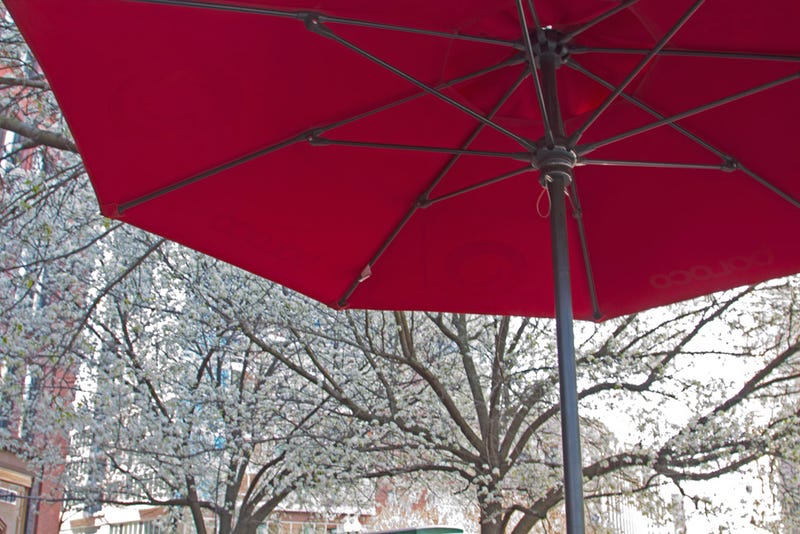 In a year where we didn't see much of Winter in the northeast, it seemed fitting that this Spring scene almost presents an illusion of a Winter-scape. It was a warm but overcast walk through the city Commons and I spent a lot of time shooting birds in the city fountains. This shot ended up capturing a deeper perspective of Winter into Spring for me. Canon 7D with EF 24-105 lens at f9 for 1/5 sec and 100 ISO. - Brian Jones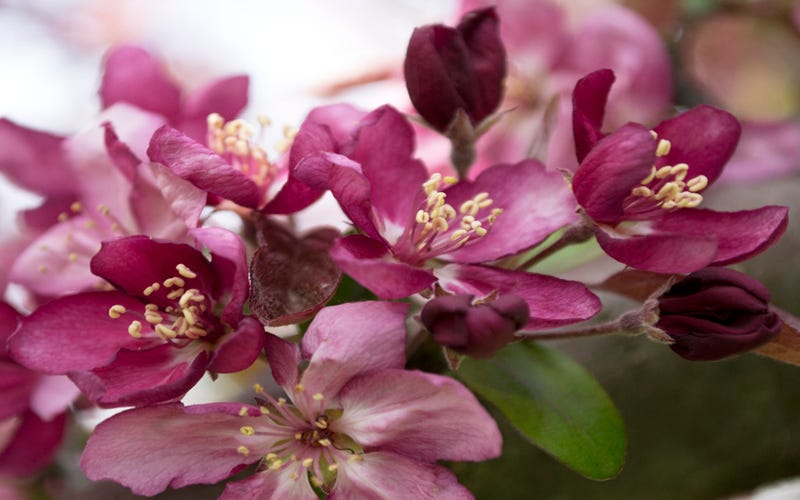 When I saw the shooting challenge my first thought was cherry blossoms. My daughter and I were headed to DC on Saturday, so I figured it would be an opportunity. Once in DC reality set in, the day was cool, dreary and not a cherry blossom in site, they were long gone. However, when I arrived home on Sunday, the flowering crab apple trees in my front yard had burst out in bloom and I captured this image with my Nikon D3100, F stop was 5.6 at 1/125 iso 360 and a 18-55mm Nikon lens zoomed to 55mm. I just loved the deep colors of the blooms. The windy day made this shot very challenging, every time I tried to snap a shot the wind would blow, blurring the image. - Brian McMillen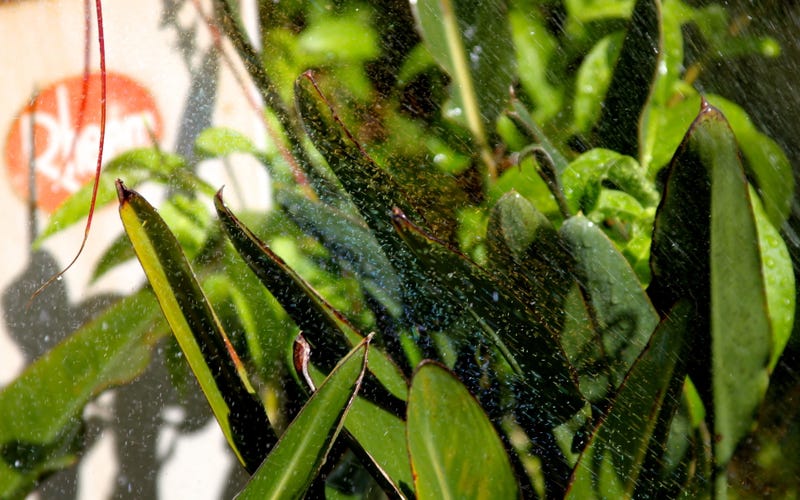 Shot it at my place. The sprinkler combined with the sun created a mini rainbow giving a nice effect. I was actually trying to shoot a different subject but the camera focused on the water droplets and it turned into a great picture. Shot with a Canon 500D 28-135mm 1/500, f/5 and ISO 100. - Caio Arantes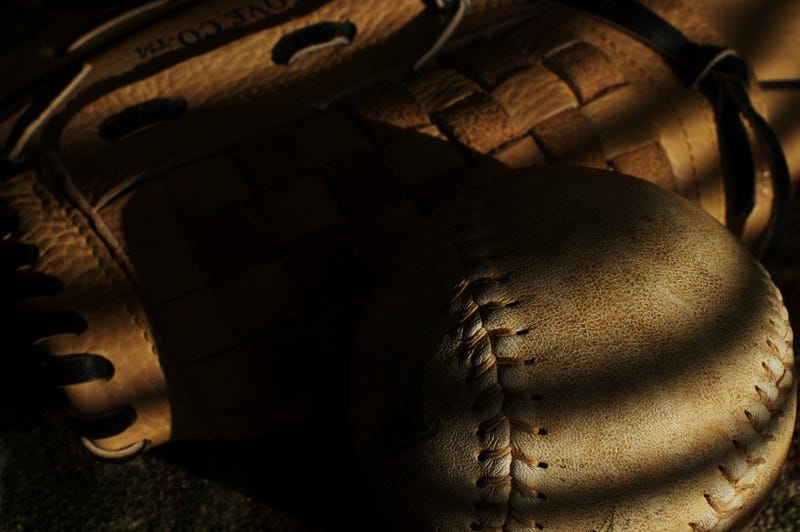 To a lot of people, spring means the change of seasons - flowers blooming, the reemergence of certain animal life, etc. but I live in Los Angeles where we have a bi-seasonal weather pattern and "spring" means the start of a new baseball season and recreational softball leagues around town. Here then, is a shot of what represents spring to me, and just so that I don't lose any of that "new beginning" metaphor stuff, the glove and ball are shot with a sunrise through partially closed blinds. Shot this with a pentax k20d/pentax smc FA 50mm lens @ f13, 1/125, iso200 - Carlos Navarro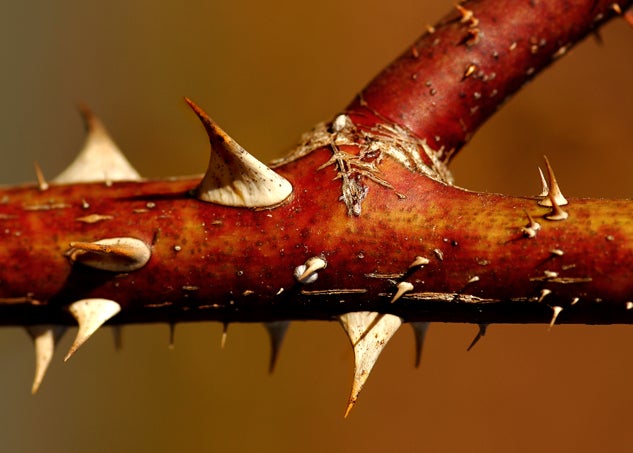 Your observation that Spring hasn't arrived everywhere, is especially apt when applied to Gloucester MA... Although it's gotten above 40 degrees a few times... if you look around you'd think it's still mid February. The prevailing Color is Bleak... Bleak is not on your standard Color Charts, but it should be. So, this Image best illustrates Spring ( at the moment ) in Gloucester. I recently heard that some green was spotted several Hundred Miles South of here... But that I fear is just a rumor... I used my Canon 60D and the picture was shot at... f/4... 1/400 sec... ISO was set to 100. Hand held. No Flash. The lens was a Tokina 100 mm Macro 2.8 D. - Charlie Carroll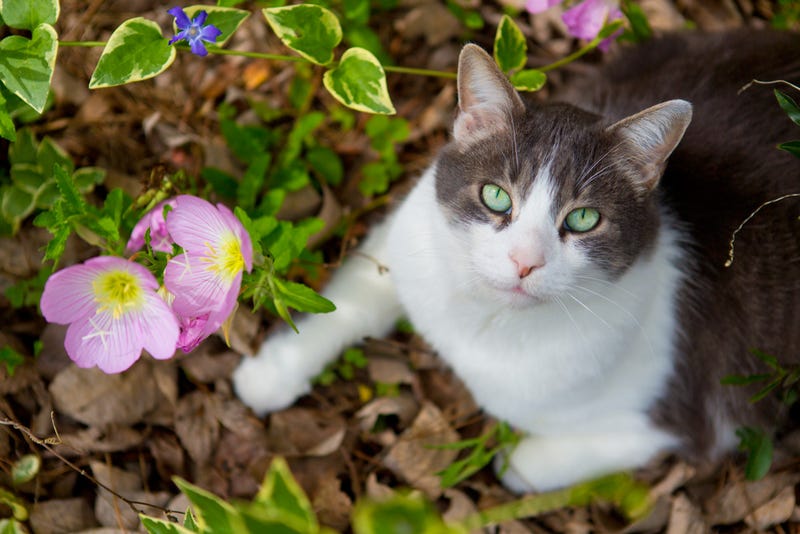 These flowers in my backyard suddenly appeared over night, and my cats have decided to nap underneath them. I managed to sneak out and take this picture without Mono (as in Spanish for 'monkey') thinking he did something wrong by hanging out near the flowers. I took this picture with my new toy, a Canon 5D Mark III and a 24-70mm L at 64mm & F/2.8. No, it wasn't nighttime, but as you can see the camera works just as well at ISO 100 in broad daylight (and thank goodness for that)! This is my first shooting challenge photo. Tech details: Canon EOS 5D Mark III F/2.8 1/1000 sec. exposure ISO - 100 64mm focal length no flash. aperture priority. Converted the RAW with Camera Raw 6.7. - Charlie Szymanski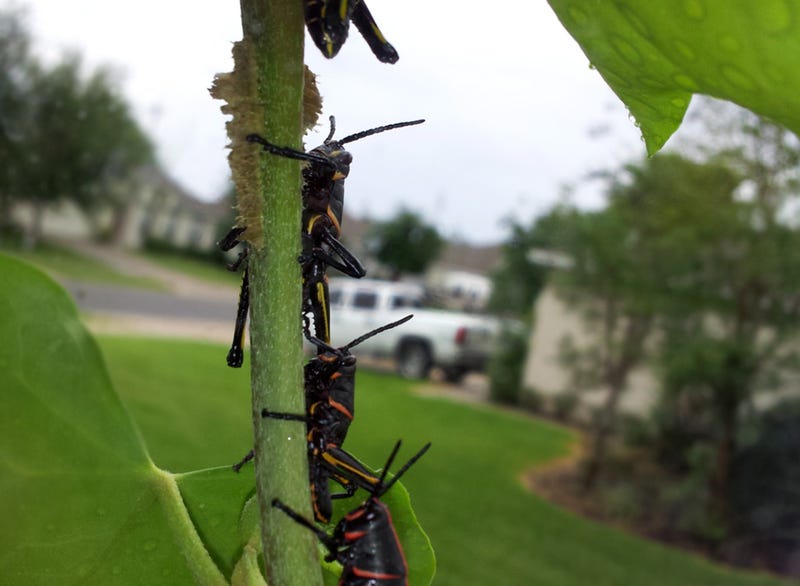 We just moved into a new house that has been vacant for more than 2 years. These vines had grown up and into the screen on the window in one of our rooms and I saw these Eastern Lubber Nymphs (baby grasshoppers) sitting on them. We just got our first "storm" of the Florida spring season and it made for a nice combo with the grasshoppers and water drops on the leaves. Unfortunately all I had available was my phone's camera so while my mac and cheese was cooking, I snapped some shots. Camera was from my Samsung Charge, Macro mode, 2mp, f/2.7, ISO 40, 4.0 mm and flash. - Chris Ayres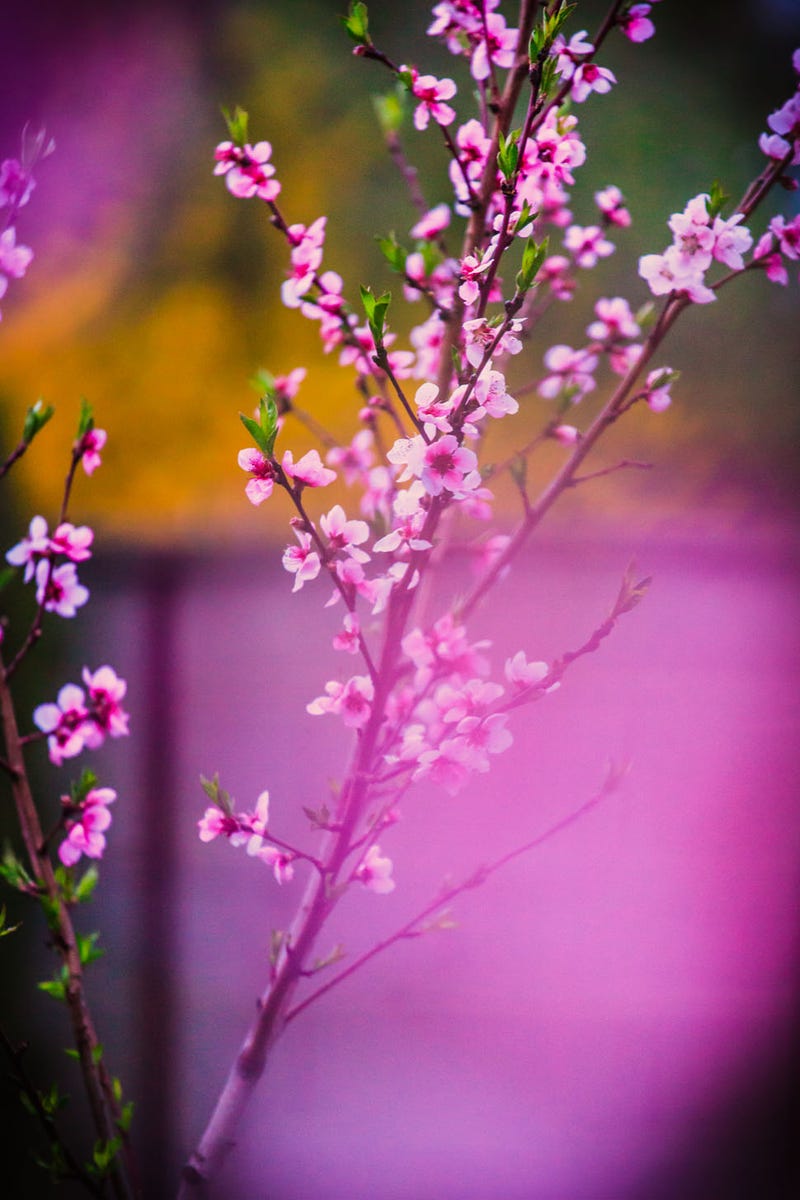 Here is my submission for the Spring Shooting Challenge! I took this photo in the garden today because I was testing a lens I borrowed (70-200mm). You can see flowers from a young peach tree. The strong pink-tint on the bottom-right part is caused by another flower which was very close to the lens. In the back you see the yellow flowers of a laburnum bush! Tools: Canon 5D Mk II Canon EF 70-200mm f4 ISO: 3200 Focal: 200mm Aperture: f/4,0 Shutter: 1/200 sec - Christoph Welkovits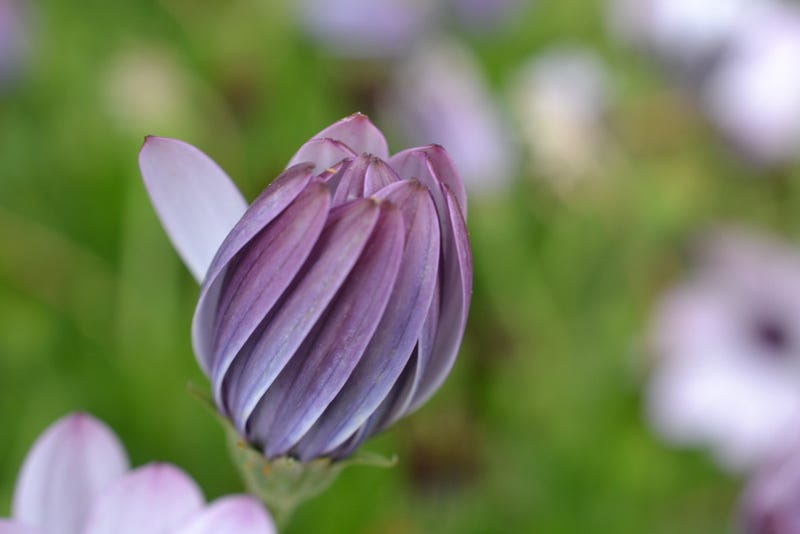 This is my first Gizmodo Shooting Challenge. My fiance, who has done a couple, convinced me to try one. I wanted to find a flower that was about to bloom and I found this one, which already had one petal out. I had two other shots that I really liked and I had a hard time picking. I selected this one and I hope it was the right pick! I shot this with a Nikon D3100. The lens was an AF-S Micro Nikkor 40 mm 1:2.8G. f/8, ISO 400, exposure time 1/125 sec. - Dalila Fernandez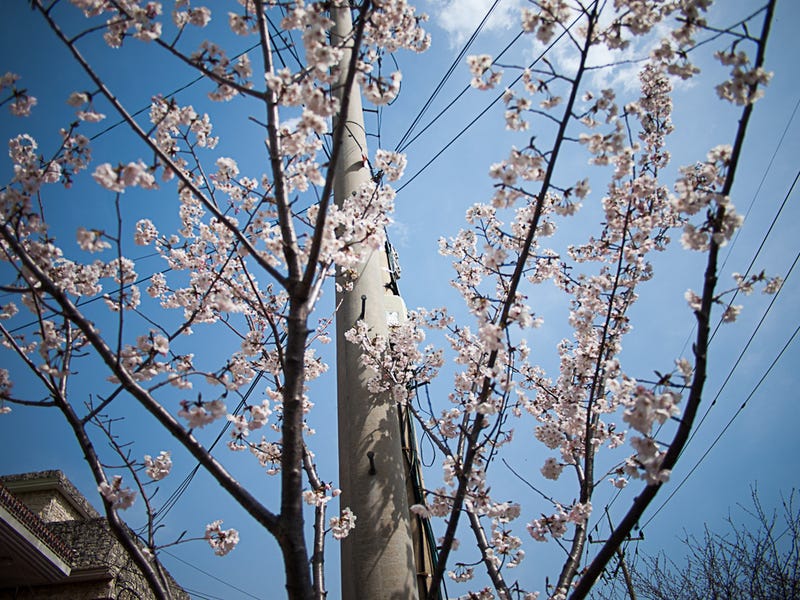 Taken with my Olympus E-P1 with Panasonic 14mm. Shot wide open at f/2.5 to achieve the milky blossoms while keeping the pole sharp. ISO 100 at 1/2500 sec. So tomorrow (April 1st) is the start of the Cherry Blossom viewing festival in Janhae here in South Korea but in order to beat the crowds, my friends and I decided to head over the day before. Unfortunately the blossoms appear to be blooming late this year so there was no sign of Spring in the town. Then we cam across one magnificent tree climbing up the telegraph pole that had decided to be like us: a pioneer! I snapped a few shots with a few different lenses but ended up liking this one the best. - Daniel Lloyd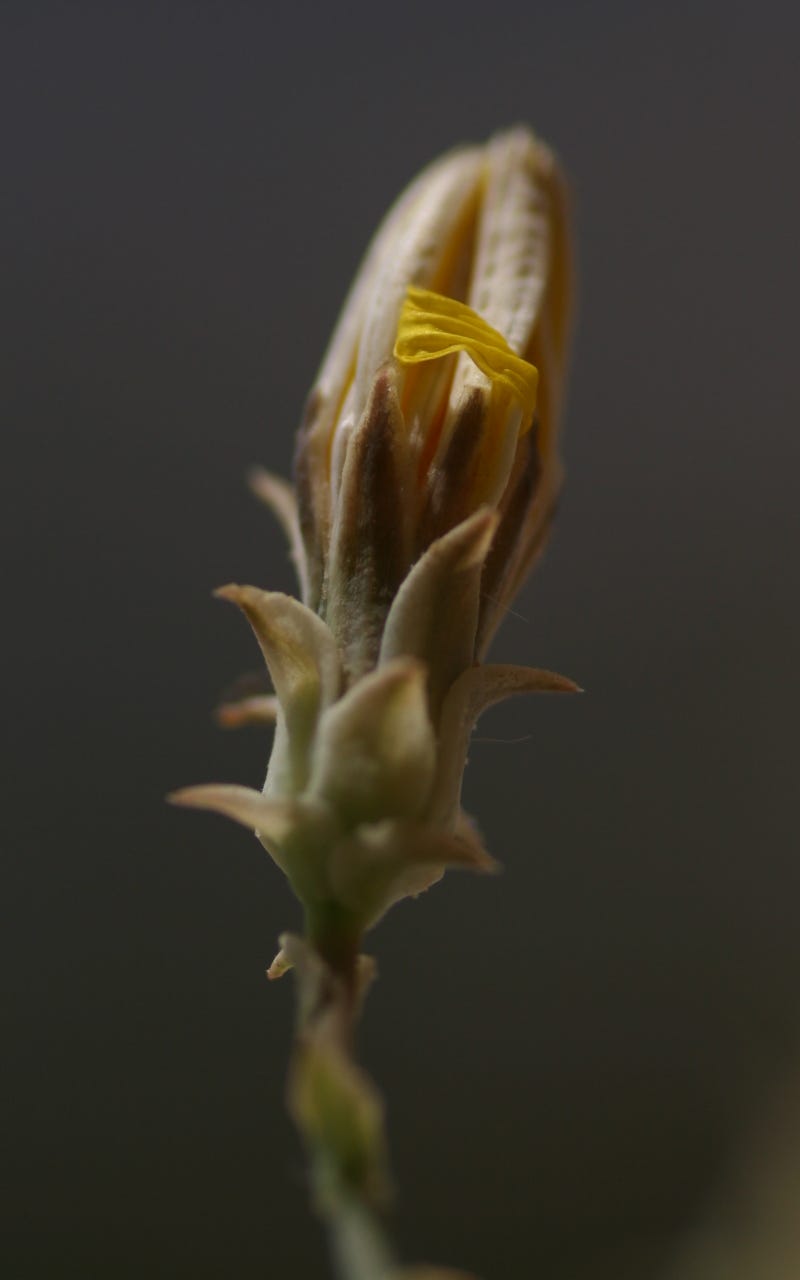 This photo is from the desert land of Kuwait. A decade or so back, it was hard to see any greenery in Kuwait. The government has spent considerable money to add some greenery in the country scape. Good quality soil has been imported, trees and plants have been planted and artificially irrigated through underground water pipes stretching along the arterial roads and parks. The government also employs workers to tend the trees and plants. So now during spring, we do get to see some wild flowers blooming in the wild.
I went for this photo-session to one of those arterial roads where on both sides you can find long stretches of evergreen trees. However, this photo is from a bunch of wild flower plants that have grown on their own (perhaps out of some seeds carried in the imported soil) and have germinated due to the shade and water received from the watering pipelines.
To get a good point of view I took this photo lying partly on my back (as the plants were hardly a foot tall) by the side of the patch of wild flowers growing in between the evergreen trees on a sunny afternoon.
I used a Canon EOS 350D (also known as Canon EOS Digital Rebel XT) with a Tamron AF 90mm f/2.8 SP Di macro. To have a full control on my point of focus, I used manual focus. The photo was shot with shutter priority at a shutter speed of 1/4000 of a second at ISO 100 to compensate for the hard mid day sunlight and for the hand-shake (when shooting as so close range) and to keep the noise level at minimum. It was captured at an aperture of f2.8 which gave it a very shallow dept of field. Among the shots that I took I chose the photo of a bud due to several reasons. A flower bud signifies the start of Spring. The shape of the bud in this photo resembles the folded hands holding out to the almighty. The single partial yellow petal peeping out of the bud really appealed to me. The color contrast and mix seemed excellent. The shade of the evergreen trees offered a lovely blurred dark contrast backdrop. I also liked the curved scales holding the bud. The play of light and shade in this photo delighted me. A few plant-hairs sticking out of the bud added further to its beauty.The photo has not been edited in any manner. - Debashis Basu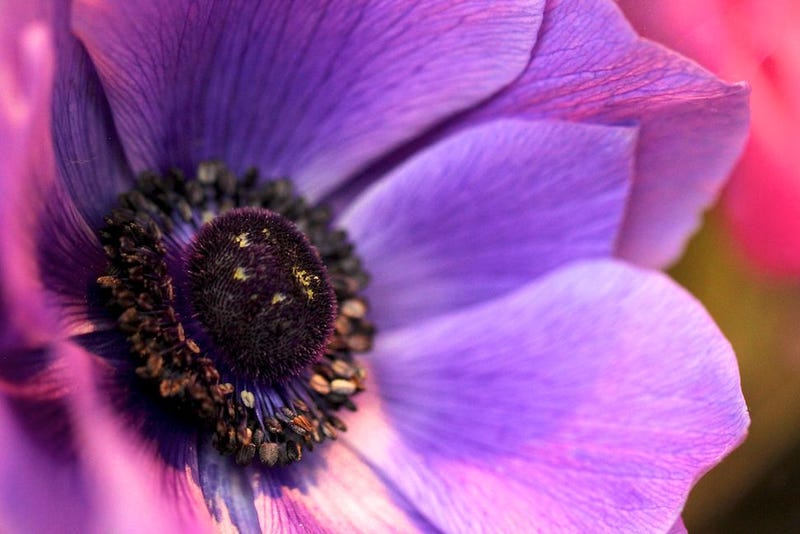 I always say shooting flowers is a bit of a cheat: They're colorful, symmetrical, and the camera even has a pre-set mode for them! —But, since Spring = "flowers", "allergies" or "rain", I thought this was fair. Canon T2i, 100mm, f/2.8, ISO 2500 - Diego Jimenez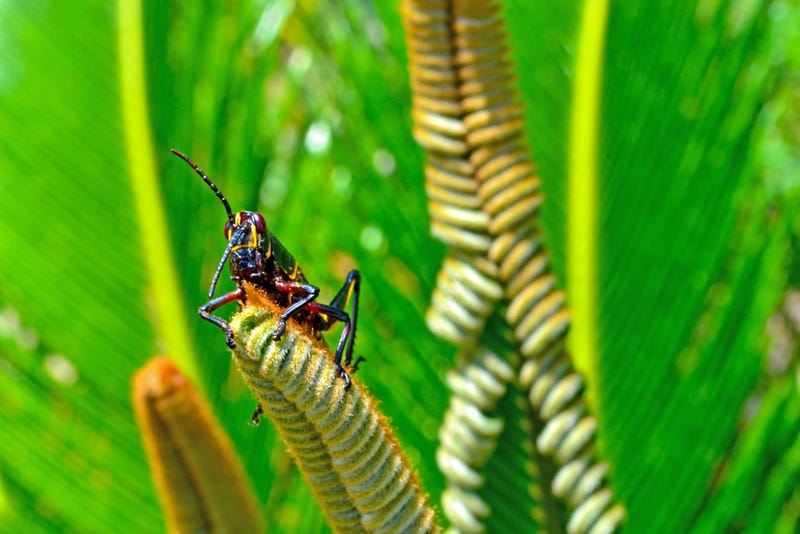 I originally was trying to get a shot of this plant in my front yard unfurling it's new leafs, but it just wasn't working out. Then I saw this little guy hanging out on the end of one of those leafs. He sums up "spring" to me in the worst way. At just over an inch long, the nymph stage of the Eastern Lubber Grasshopper (http://entnemdept.ufl.edu/creatures/orn/lubber.htm) may look cute, but it's nothing but pure evil. When they are full grown, they can reach 6 inches in length and swarms of them will overrun your yard, eating most everything in sight. As adults, they are virtually immune to most insecticides. They hiss and "secrete a foamy spray" that is mildly toxic. At the start of each spring, I am forced to hunt down the nymphs to eradicate as many as possible so that my plants stand a chance of surviving the ravenous onslaught of the full grown ones throughout the summer. As much as I loath them, this one was being very photogenic today. As soon as I took his picture, he met his end via bug spray. Nikon D3100, 1/60 sec, f/16, ISO 200, Focal Length 55mm - Gabe Loewenberg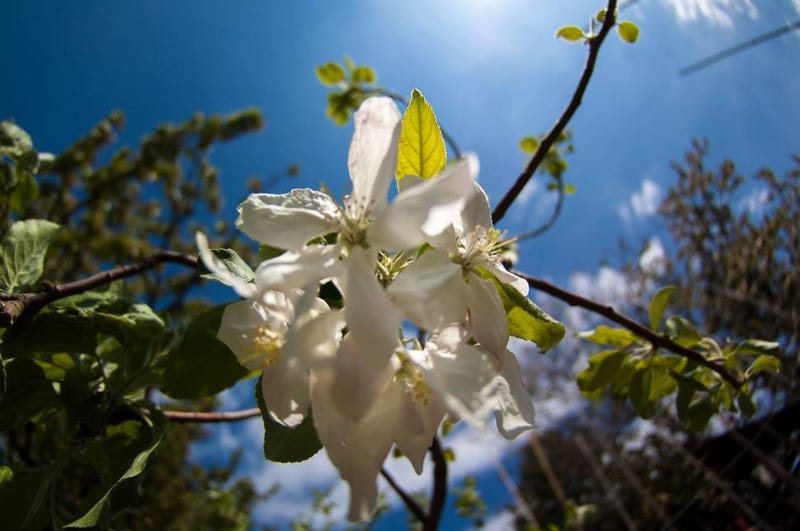 Low perspective shot taken on a sunny day. Photo of a small group of flowers on our small apple tree. As we did not have any rain for many months, our small apple tree grow only these small group of flowers. I like it because of the wonderful blue sky, simple subject and a nice deapth of field. Nikon D70s Nikkor DX/AF 10.5mm f/2.8G ED shot at 200iso 2.8 - Goran Brecelj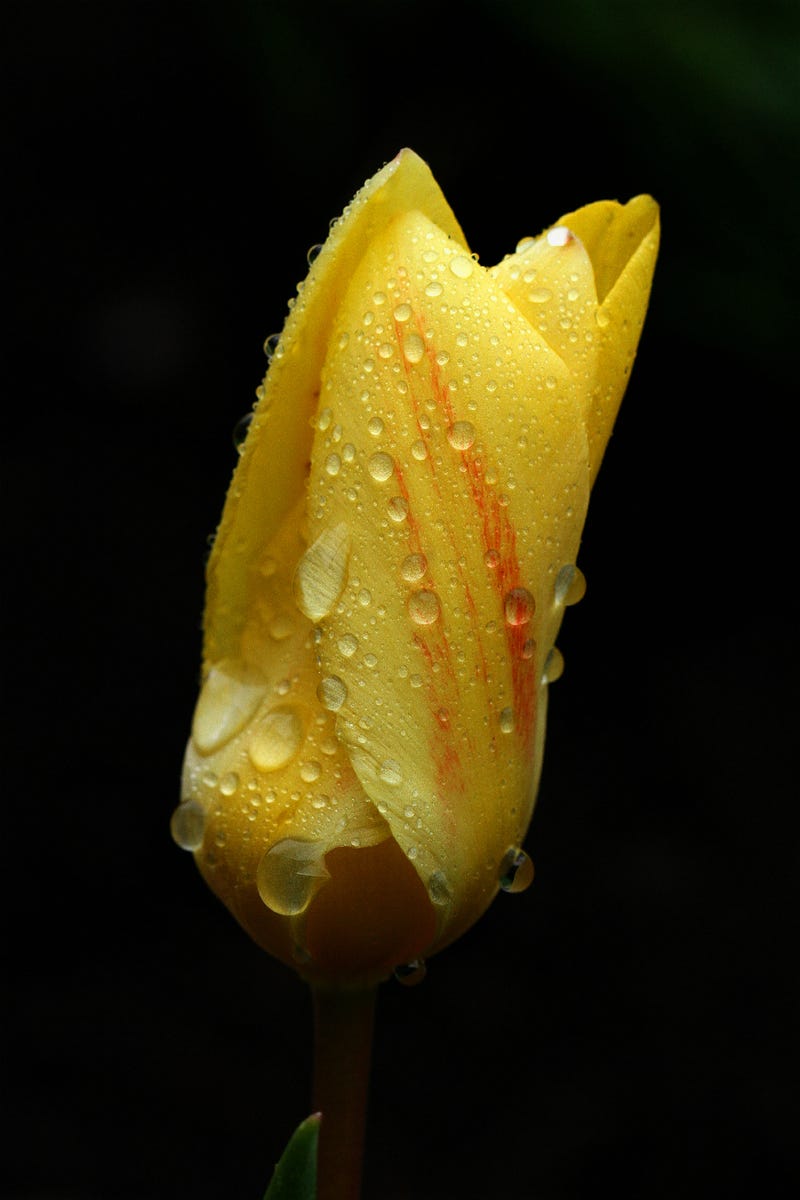 thanks for the challenge in finding a symbol of Spring! We have one yellow Tulip in our garden that always sprouts at the first sign of warmer temperatures here in Milton, Ontario, Canada. For us it's the sign that Spring is here. Today the rains came and the colder temperatures came back. The Tulip that was in full bloom the day before was closed all day as a result. This became an opportunity to show what is another symbol of Spring. Spring showers. Camera: Canon 7D Lens: Canon 100mm f2.8 Exposure: 1/160 Aperture: F8 ISO: 500 - Graham Kingma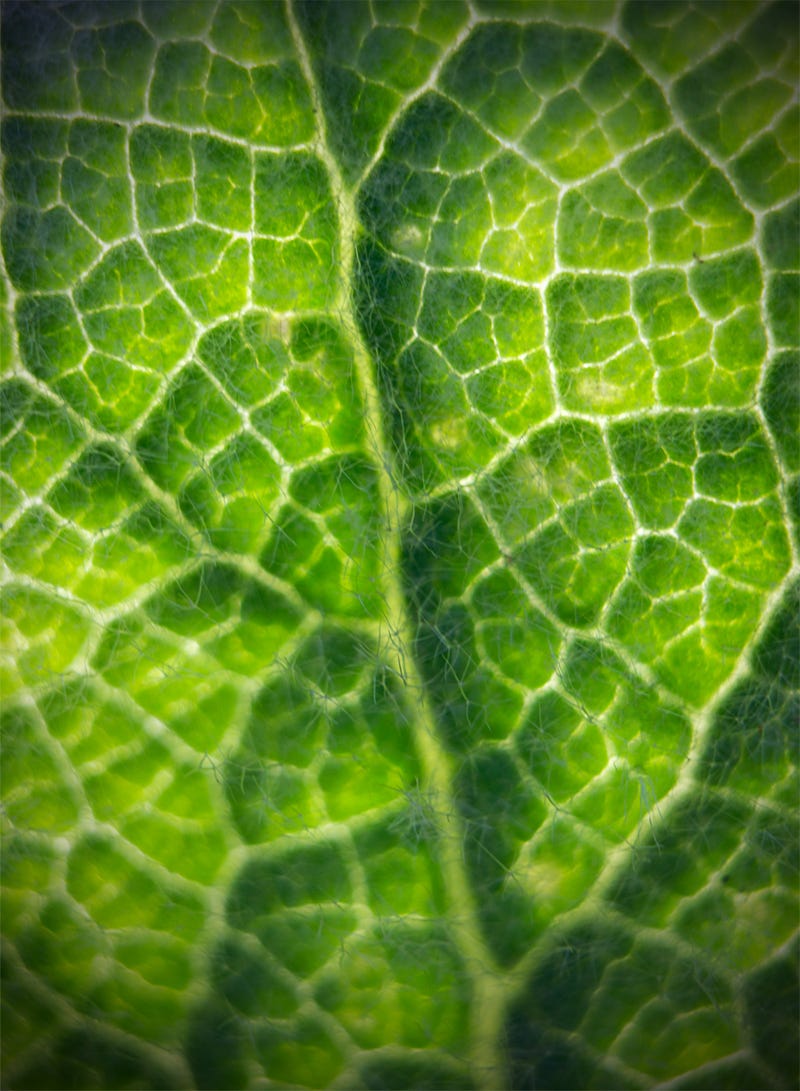 I found this plant on the ground and must have passed it quite a few times looking for other subjects to photograph. Once the lighting was right however it stopped me in my tracks and really showed some neat patterns back-lit by the sun. I got down low and filled the frame during the golden hours to get this shot. I used extension tubes to allow me to get in close which worked very well after adjusting zoom/manual focus correctly. In photoshop I cropped, adjusted levels, and applied high pass filter for clarity (was RAW). Canon t2i with kit lens and extension tubes, 1/50sec, ISO 100, aperture ~4.0 - Jared Grayden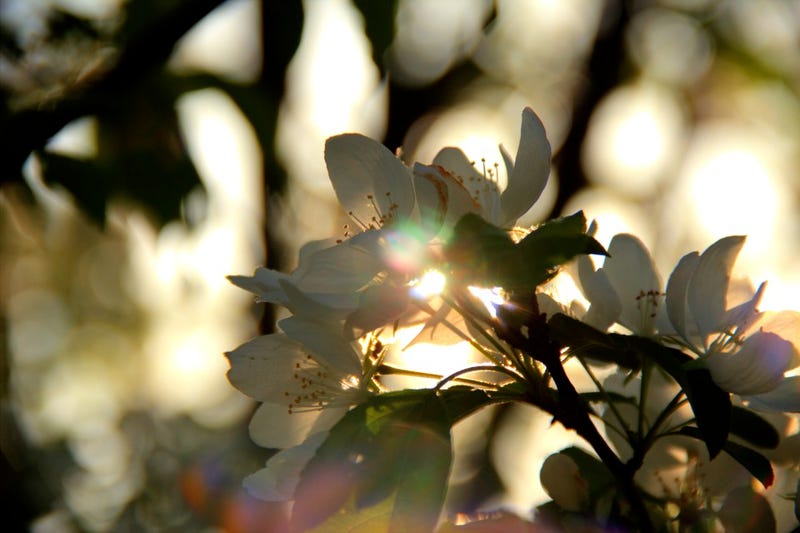 I finally got my lazy self together enough to attempt this challenge. I didn't want to just take a picture of a flower, but when I while walking to my car, thinking about where to go, I noticed how the tree in our front yard had bloomed. With the sun shining right through it, it looked really nice. I tried getting more interesting pictures, but the bees that I found just refused to sit in the golden hour light. Gray pictures of bees are not interesting. After a few hours of looking for something better, this, the very first picture I took for this challenge, ended up being the one I liked best. I did a little tonemapping to gold and green it up. Taken with my Canon T3i, 135mm, f/5.6, 1/800, ISO 100. - Jason Pyles