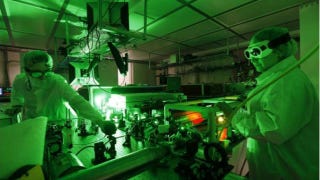 We've got a pretty good handle on creating short fusion reactions, just look at the H-bomb. But in the 60 years since the weapon's invention, we still haven't figured out sustained fusion reactions—the holy grail of energy production. A new high-power laser on the OSU campus could soon help solve that scientific conundrum.
Devised and built over the last six years by a team at the the High Energy Density Physics lab at Ohio State University and funded by a $6 million Department of Energy grant, the laser will begin live testing on May 15th.
The OSU laser will fire at a higher energy than the National Ignition Facility at Lawrence Livermore Labs—500 trillion watts vs 411 trillion watts—but will do so for a much shorter period—a billionth of a second for the NIF, 30 million-billionths for the OSU.