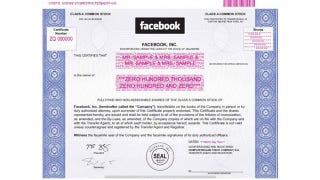 It's Facebook IPO day! After months of SEC reviews and roadshows and profiteering, FB will finally take its place in the Nasdaq menagerie when markets open at 9:30 EST. Time to start digging up your backyard bullion stash, right? Wrong. For the average guy the Facebook IPO is strictly Like, don't touch.
What's an IPO, Anyway?
IPO stands for Initial Public Offering which, in plain English, means a company putting itself on the stock market. Or, if you're in an antebellum mood, today is Facebook's debutante ball.
At its most fundamental level, an IPO is an opportunity for a company to raise lots and lots of money very quickly. In this case, Facebook will sell $16 billion worth of equity to outside investors a $38 per share, and will use that money to grow its business/buy yachts.