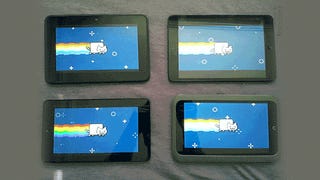 Big screens are nice. But sometimes the extra real estate isn't worth the lack of portability. If tablets are considered mobile devices, they should be easy to take with you, right?
That's the idea behind a new class of small tablets with screens measuring roughly 7 inches diagonally. Over the last six months, some really, really good products have come out in this category. In a test of four big ones, we found high notes, low points, and a clear overall winner.
Testing Methodology
We gathered up four of the top small tablets of 2012 and used each of them for weeks. We synced up our accounts, then downloaded apps, books, magazines, and movies. We used them, basically, as if we owned them.
We did our standard battery rundown test: endlessly streaming Nyan Cat over wi-fi, screen on full, volume at half, Bluetooth off. We feel strongly that real world battery testing is more important, but the rundown test gives us a more objective metric to factor in. For each tablet we tested the cheapest, Wi-Fi only option.
Note: Each of these tablets has its own standalone review—click the product's name to read it. The rankings don't all line up between the reviews and this test because each review was done by a different writer (we compared notes for this article). We all have our own personal preferences, and we use tablets in different ways, so it's all a subjective assessment.
Finally: Full disclosure, I am an Android user. Somehow you'll call me an iFanboy anyway. I am prepared for that eventuality.
The Nook HD has some nice things going for it on the hardware side. Most notably, the seven-inch screen is 1440x900, which nets you 243 pixels per inch, the highest PPI in this category. As a result, text is extremely sharp and clear. Magazines and graphic novels look terrific on it, as does HD video. It's also the second lightest and second narrowest in this category. That, plus its textured back, make this tablet the easiest to hold in one hand over an extended period. It's also the only tablet in this category that features a Micro SD card slot for expanding your storage—significant if you're downloading HD movies for a long, internet-less trip. You can hook it up to a TV and push video to it, but you'll need an adapter, which is sold separately.
On the software side, it runs Android software (version 4.0, a.k.a. Ice Cream Sandwich), but virtually nothing you see would be recognizable to an Android user. This is a heavily-customized experience, the goal being to focus on Barnes & Noble's sizable library of books, video, magazines and other media. The experience is somewhere in between the Kindle's UI and Android's, and you can customize desktop spaces with apps, shortcuts, and widgets, which is handy for fast access to frequently used items.
Downsides start with the thick plastic back, which makes the $200 device feel cheap, and almost toy-like. The screen, while sharp, has a distinct orange tint to it. The stereo speakers are both on one side, so when you watch a movie in landscape, you feel like you have blockage in one ear. Audio is quiet and tinny. No front-facing camera means no way to video-chat. The entry-level Nook HD has only 8GB of built-in storage (it's 16GB for everyone else), but the micro SD slot makes up for it a bit. The Wi-Fi radio struggled more than the others, and it doesn't have a 3G or 4G option available. It fared by far the worst in our battery rundown test, throwing in the towel after 4 hours and 20 minutes of streaming Nyan Cat (not that I blame it). To be fair, battery life seemed decent enough in daily usage, and it had very solid standby time.
The more serious issues are on of the software. While it's certainly improved since the original Nook, it still feels cobbled together. There's a lack of consistency throughout the UI, which requires memorized behaviors, rather than just being intuitive. The biggest downside is the comparatively paltry selection of apps. Not only are there no Google apps (Gmail, Chrome, Maps, Drive, etc) but the apps from third-party developers are sorely lacking, too. Yeah, you can put widgets on your desktop, but there are hardly any widgets you can download from the Nook's app store. Some of the best tablet games aren't available here—but the tablet struggles under heavy loads anyway.
Despite coming in fourth, it's worth noting that this is still a pretty good tablet. If you're already invested in the Barnes & Noble content ecosystem, you'll probably enjoy it. Everyone else, keep reading.
Nook HD Specs
Display:• 7-inch 1440×900 (243ppi) IPS LCD
• Networking: Wi-Fi
• Processor: 1.3 GHz dual-core TI OMAP4
• Memory: 1GB
• Storage: 8GB/16GB + up to 64GB microSD
• OS: Android 4.0 (Custom)
• Camera: None
• Dimensions: 7.65" x 5" x 0.43"
• Weight: 11.1 ounces
• Battery: 4,050 mAh Li-Ion
• Price: $200-$250