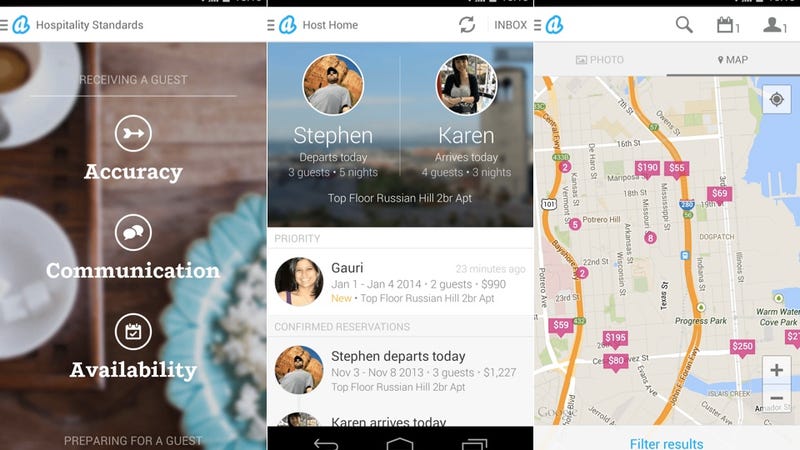 Guests usually get all the glory in the hospitality industry—everything is catered to making their experience absolutely freaking perfect. In AirBnB's booming hospitality empire, however, it's hosts who make the world go 'round. Now, the company's founders have rolled out a handful of new features geared directly toward the folks who put their places up online, making their listings as simple, and social, as possible.
The implication is that a well-prepped host will provide the best services to their incoming guests—which is absolutely true!—who will then have a thoroughly wonderful time, and will thus use AirBnB again (and again, and again).
The revamped app, available now in iOS and Android, unites the personal touch of user profile pics and info with the logistics of calendar listings in a single swipe; it pings you before a guest is set to arrive with suggestions for last-minute amenities; and it allows for quick and easy chats between members. This focus on keeping up-to-date while on-the-go is so strong that, in January, they'll be launching a "Get Mobile" program to encourage web hosts to make the transition to a handheld device—even potentially offering financial assistance to those who need a new smartphone (!), with the thinking that reservations will then help offset that cost.
In keeping with the human-centric—as opposed to purely transactional—experience, the app supports self-organized Groups to crowdsource inside info, like good cleaners in the neighborhood or where to get inexpensive soap (apparently this is a common question), and they've also introduced Stories, a place to promote member meet-cutes and successes.
Basically, all of this is the antithesis of tales like the dude who bought an apartment solely for the purpose of renting it on the site. For a brand bolstered by the good spirits of shiny happy people, those are the off-message tales that diminish its sparkling, sharing economy sheen.