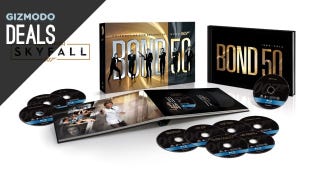 The Bond 50 23-film box set has been on sale for about $20 less than this in the past, but Amazon is shaking (not stirring) things up today with 3 HD Bond films of your choice on Amazon Instant Video included with your purchase.
Bond 50 23-Film Collection | $120 | Includes three HD Amazon Instant Video Bond Films of your choice
---
Today is your last chance to preorder Game of Thrones season 3 on Blu-ray for $30, and that's the best price you're likely to see for a long time. Season 2 also sold at a preorder price of $30, and shot up immediately after going on sale. In fact, today is the first day since release that it's fallen back to that price. Best Buy has Season 3 preorders for the same price, as well as your choice of Stark, Lannister, and Targaryen box designs. If you want an awesome looking Dragon Statue, check out the Limited Edition preorder for $90 on Amazon.
---
The new Slingboxes are definitely weird looking, but that doesn't make their no-fee 1080p TV streaming abilities any less useful. If you've been on the fence, you can bundle your Slingbox purchase today on Amazon with a Roku 2 to receive a $50 credit. That's like getting the Roku for $20. [Amazon]