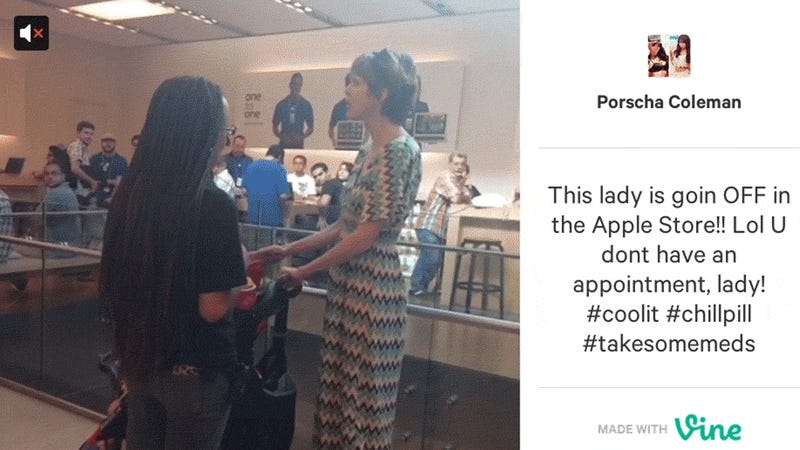 Happy Saturday friends! Since you are inside staring at the Internet instead of outside staring at the ocean, here's a selection of the most bestest stories we published this week. They will make you laugh and cry simultaneously with outrage and joy!
---
Here we have a mother having a meltdown at The Grove Apple Store in LA. It's unclear what exactly she's having a tantrum over but it's completely mesmerizing. I've had the Vine open on my second screen on loop for the last 10 minutes. I can't stop watching.
---
The Nokia 1020 represents something fairly remarkable: the nearly flawless melding of a smartphone and a camera. The assumption up until now was that while such a mash-up wasn't strictly impossible, it would surely require a laundry list of unpleasant compromises. Instead, what we've got is an entirely new kind of gadget. One that, most remarkably of all, works as advertised.
---
A still-chilling consequence of post-9/11 America is that we remain all too aware of the fact that we could be attacked at any moment. And so with worst case scenarios in mind, the military is constantly upgrading our defense systems in increasingly creative ways. Washington DC is next in line. It's getting blimps.
---
Google's relationship with television is spotty, at best. Google TV, whether as a set-top box or as a built-in product, has been an ongoing punchline. It didn't even sell television shows in the Play Store until a year ago. But Chromecast is different. It's Google's cross-platform answer to AirPlay, a video-friendly dongle that fits snuggly behind your TV. And, most importantly, they're practically giving it away.