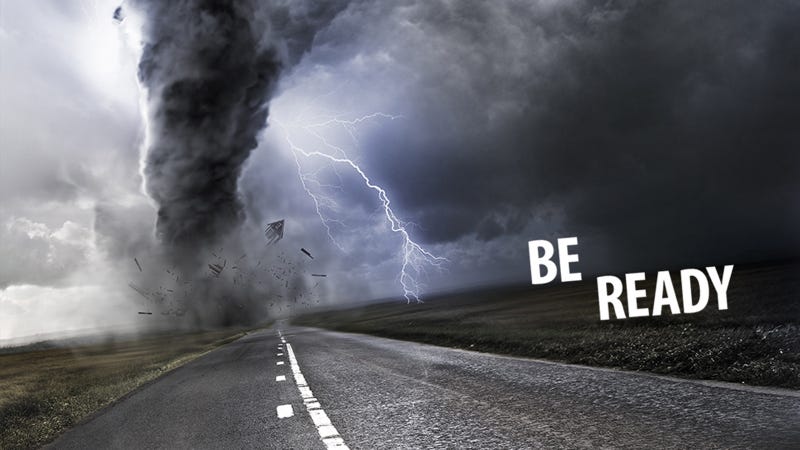 Doesn't matter if your regional disaster is a flood, tornado, hurricane, snowpocalypse, or earthquake, when the next one strikes you're going to need to be ready for it. Here's what you should have on hand to keep you and yours safe for at least three days.
Food
You can't survive a natural disaster on an empty stomach. Keep at least a three-day supply of familiar, non-perishable food at the ready. Sure, you can stockpile MREs (Meal Ready to Eat) from your local military surplus supply store but they're designed to provide nourishment, not taste like anything edible—think, the gruel from The Matrix but with salisbury steak flavoring.
Instead, stick with products you know that can keep for a long time, don't require refrigeration and are low in salt (you don't want to be thirsty in an emergency). Keep canned fruit, vegetables, soup, and meat (don't forget the can opener); trail mix, peanut butter, powdered milk, cereal, fruit preserves (you only have to refrigerate them after opening), and any special items for infants or the elderly you might need in airtight, pest-resistant containers in a cool, dark place. Just make sure to note their use-by dates and rotate the stock out as it nears expiration. You should eat these foods last, since the food in your fridge will begin to spoil within four hours of the power going out, and the stuff in your freezer will only make it two days. And don't forget to store a set of camping plates and silverware as well.
How you cook your food will depend largely on what local resources you have available to you but no matter what, you'll need a way to start a fire, be it matches, magnesium, or Zippo. You'll want to keep a couple of fire extinguishers handy as well.