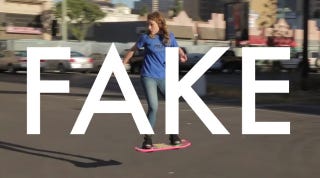 This week, we blew the lid off a hoax drinking app that everyone thought was totally real. We also broke down which streaming TV device is best for you, investigated that fake hoverboard, and reviewed the new Cosmos reboot. Let's look back at the best week we had this week!
Yesterday, the developers of an app called LIVR began cold-calling tech writers. The pitch was fun! A social network you can only access when you're drunk, thanks to a breathalyzer accessory. If it seems like the platonic ideal of SXSW catnip, that's because it was engineered to be exactly that. LIVR is a hoax.
With news this week that the famous Salvation Army—a haven for the homeless on the Bowery—would be replaced with an Ace hotel—a haven for hipsters—some would say it's the end of an era. But they'd be wrong. That era ended a long time ago.
When we found out that Seth MacFarlane—a man known more for fart jokes than a passion for science—was behind the reboot of Cosmos: A Personal Voyage (premiering this Sunday at 9 pm EDT on Fox), we were understandably a little concerned. Fortunately, we were also totally wrong. If the first episode is any indicator, with Neil deGrasse Tyson at the reins, the followup to Carl Sagan's otherworldly masterpiece is in very capable hands.
The SLAC National Accelerator Laboratory is one of those places that makes magic. Originally named the Stanford Linear Accelerator Center, this facility is where many modern discoveries about how matter works were made. Six researchers have earned Nobel prizes for their work at SLAC. It's also where the first website in North America was built.