Back during the no-carb diet craze of the early 2000s, I joked that I wanted to try a diet consisting of nothing but carbs and lipids. I would call it the Fatkins Diet. Guess what? I just did exactly that. I ate ice cream, and only ice cream, for four days straight. Yes, it's the world's first Ice Cream Cleanse, and no, I didn't just make it up.
Welcome to Fitmodo, Gizmodo's gym for your brain and backbone. Don't suffer through life as a sniveling, sickly weakling—brace up and get the blood pumping! Check back on Wednesdays for the latest in fitness science, workout gear, exercise techniques, and enough vim and vigor to whip you into shape.
What the Hell?
I came about this cleanse innocently enough. A friend and I were told we should try the ice cream at a place called Kippy's in Venice, California. We went—and it was delicious—but, as we sat there eating, we noticed a sign on the wall advertising an Ice Cream Cleanse. It seemed insane, so we had to ask.
Kippy's, let the record state, is not your traditional ice cream. It's entirely raw, organic, and coconut-based. Every week, Kippy's brings up roughly 1,000 mature, organic coconuts from Mexico, tastes each one to make sure there hasn't been any fermentation, and then cold-presses them to make a rich coconut cream. The cream is then sweetened with honey, and other raw, natural flavors (orange, vanilla, etc.) are added, and voila! A delicious frozen dessert that technically is frozen cream—so, yeah, it's ice cream. It's just non-dairy ice cream.
But, if you're looking at it and thinking, "Yeah, that still sounds like a ton of saturated fat and sugar," well, you're not wrong. In the name of science, though, I had to try it, and luckily my girlfriend agreed to join me on this strange mission so we could find out how it affects both male and female physiologies.
G/O Media may get a commission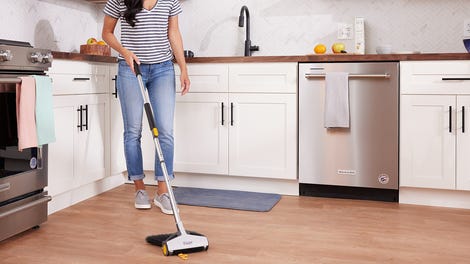 BOGO 50% Off
Flippr - BOGO 50% Off
How It Works
The Ice Cream Cleanse is definitely still in the early stages of development. How early? My girlfriend (who wishes to remain anonymous, in case you hadn't guessed) and I were roughly the eleventh and twelfth people to try it. As a result, things are still being refined somewhat.
The cleanse, as it stands now, lasts for four days. At the beginning of it, you pick up your supply of ice cream from Kippy's. It's five meals a day: one pint of ice cream for each meal. For those of you playing the home game, that means you will be eating 20 pints of ice cream in four days, and that's all (aside from plenty of water). Luckily, each of your meals are a different flavor. It goes like this:
Meal #1: Coconut Yogurt
For breakfast, you've got your raw coconut cream, but it's fermented and has probiotics added to the equation (similar to real yogurt) and then sweetened with raw honey. It's creamy and doesn't taste particularly yogurty—but it's tasty, at least.
Meal #2: Orange Crème
Mid-morning snack time is this pale, orange-ish ice cream that supposedly tastes like a Creamsicle. In actuality, it's a little mild on the orange side, which makes it too similar to meal number one. Kippy seemed to sense this, and for the final two days she subbed in a Honey-Grapefruit sorbet-like thing, which was a marked improvement.
Meal #3: Dark Chocolate with Himalayan Fire Salt
Lunchtime! This is by far the heartiest meal. This one is absolutely loaded with dark chocolate and cacao. It's high in antioxidants and is most definitely a stimulant. Kippy claims the salt gives the thyroid some "much needed iodine," and that it's "essential for cell water content & this hydration initiates metabolism..related to energy, mood, beauty, and longevity." Maybe. But definitely tasty.
Meal #4: Master Cleanse
For your late afternoon snack, some lighter faire. The master cleanse is lemony with a cayenne spice kicker. It seems a bit lighter than the others, which is definitely refreshing at this point in the day. Kippy claims the Lemon/Cayenne is "A very Delicious & Detoxifying Combo! Burns FAT! FAST!" Another winner on flavor.
Meal #5: Superfood Ice Cream
Dinner. I'll just let this quote from the description here do the talking. "Bee Pollen, Cinnamon, Raw Honey! SYNERGY! Loads of Vitamins and Mineral [sic] in Bee Pollen, and Raw Honey/Cinnamon Combo fight inflammation and digestion issues! 'Bee pollen is more rich in proteins than any animal source. It contains more amino acids than beef, eggs, or cheese of equal weight. About half of its protein is in the form of free amino acids that are ready to be used directly by the body.'" So, there's that.
One of the positive things about this cleanse is that it's not quite as strict as others, and there's a bit of flexibility to help you get through, should you need it:
"If you feel the need..drink water plenty of it, and please make this cleanse a beneficial and positive cleanse..if you need to have a bit of food…have an organic raw meal such as an avocado w. mango and lemon juice, or a salad….Have a Raw Organic Green Juice if that helps get you thru! Just make sure everything is organic and raw!

If you cant finish a portion of ice cream..don't sweat it! Eat what you want, and keep the rest for when you are hungry…so maybe you need a little more punch in the afternoon and little less in the am…do what fits your schedule!.."
For these 20 pints of ice cream, you pay $240, but that also includes free yoga classes at Ra Ma Yoga (which is next door to the ice cream parlor) for the week. Steep? Yes, but comparable to a lot of high-end juice cleanses you can buy ready-made. Right now it's something you have to come and pick up, but, if it becomes hugely popular, perhaps she'll start shipping the cleanse elsewhere, packed in dry ice or something. But let's not get ahead of ourselves.
The Claims
From Kippy's email introduction to the cleanse:
"Raw saturated fat is nothing short of a miracle worker in the human body. It helps us digest, repairs the gut, feeds the brain, boosts the metabolism and is a powerful agent of detoxification. Raw saturated fat from the meat of organic coconuts pressed in-house is the main ingredient of Kippy's! Ice Cream, and the magic behind our first ever Ice Cream Cleanse.

When you cleanse from eating Kippy's Ice Cream, you are feeding your body not only the raw saturated fat from the coconuts, but living nutrients from the fruit and Superfoods present in the ice cream. The raw honey used to sweeten Kippy's Ice Cream is a double whammy of amino acids and living enzymes, which aid digestion and reduce inflammation. Fat solubility will help your body more efficiently absorb the nutrients present in the ice cream. Your body, in the course of the cleanse will also release heavy metals, plastics and other toxins, and the raw saturated fat will function as a carrier to rid your body of them for good. The metabolically active properties present in the raw saturated fat (think coconut oil) will increase your metabolism and help you to actually burn fat.

Basically, you can expect to lose weight and feel great! And since it's Kippy's Ice Cream, you know it'll be delicious… and fun!"
I showed that to my brother, who is about to start his medical residency. To say he was incredulous would be to put it very mildly, but his specialty isn't nutrition, so I brought in an expert.
We talked to Maren Robinson, CNC, MPH, formerly of the CDC and Harvard School of Public Health, now with Kaiser Permanente in California. She was a bit more measured in her analysis of these claims:
"While virgin, cold pressed coconut oil has a high level of saturated fat—a characteristic that has made it a controversial food source—numerous studies have found that high quality coconut products may contain health properties that far outweigh any health implications associated with a high saturated fat content. In fact, while other oils with a similar level of saturated fat (e.g., butter) are associated with heart disease and cholesterol issues, regular coconut consumption can improve the cholesterol ratio (decrease LDL, increase HDL). Evidence suggests that it actually may reduce risk of heart disease and atherosclerosis—the precursor to heart disease."
She went on to say that coconut has also been shown to have anti-fungal agents, to improve digestion and bowel function, to have insulin-regulating properties, and even to help improve skin and mucous membrane tissue health. She did, however, note that consuming too much of a "good thing" can be problematic, that a balanced diet is extremely important, and that you should definitely consult your healthcare provider before trying something like this—especially if you are diabetic, have a history of heart conditions, are breastfeeding and/or are taking medications, and pregnant women should definitely avoid this.
She also said, in general, she prefers cleanses on the less extreme side of the spectrum.
Really, I just wanted to know if my heart was going to explode if I tried this. It sounded like that was probably unlikely, so we decided to go for it. While I wasn't able to obtain nutritional information from Kippy for each of the five flavors, once the cleanse was over I picked up a half-pint of Kippy's Truly Raw Coconut ice cream from a local store, which seemed like a good baseline. The numbers were staggering.
Each serving contained 9 grams of fat, 8 of which were saturated. There are four of those servings per pint, and we each ate five pints a day. Some quick math will tell you that that's 180 grams of fat, 160 of which are saturated. Wait, it gets worse. In terms of recommended daily allowance, we're looking at 280 percent of your RDA for total fat and... get ready for this... 820 percent of your RDA for saturated fat. Eight-hundred-and-twenty!
Suddenly I understood why Kippy kept forgetting to send me the nutritional info. The 360 grams of sugar each day probably didn't help, either. Perhaps it's for the best that we didn't know. We proceeded in our blissful ignorance.
The Experience: The Good, The Bad, The Poops
Day 1
The first thing we both noticed is that it's not so fun to eat something ice-cold first thing in the morning. We were excited to start this, though, and the breakfast was tasty. After the first couple bites I was thinking, "There's no way I'm going to be able to eat all of this," but psych! I finished it all. After the first meal we both felt ever so slightly queasy.
Got hungry for the second meal about three hours after the first. I wasn't starving, but I was ready to eat. Definitely wanted Meal #2 to be orangier than it was. Much too similar to the first one. We still managed to finish it all. Noticeable increase in thirst, and we started really putting the water away. I felt surprisingly clear-headed afterwards, and even had a good meditation session (which I'd been struggling through, lately).
Roughly three more hours, and then meal three had superpowers. My girlfriend loved it and found it extremely satisfying. The chocolate was almost too intense for me. And then, suddenly, Poopintimes! I don't know if it was the salt or just the accumulated saturated fat, but it was like, "Hey! You need to go, like, now!" Not emergency style, but it was definitely assertive. It wasn't horrible or acidic, but it was a long way from solid. Is this why they call it a cleanse? Girlfriend reported that she was in the same boat.
Suddenly I felt a bit off. Super high energy, but also slightly weak and shaky. Almost like a caffeine spike (likely from all the dark chocolate, which I'm fairly sensitive to). I couldn't sit still. At the risk of having a heart-attack I decided to go for a run. Ended up doing three miles and feeling much better afterwards. Similarly, my girlfriend did one of those Core Power hot yoga classes (which are pretty intense) that afternoon and felt good. We were both pleasantly surprised by how much energy we had.
I had to cover a press event that first night, so I shoved my fourth meal into a thermos and ate it while driving. I liked the flavors but wished it was more lemony (as did the lady). Still had plenty of energy and felt very sharp and focused. Ate meal five when I got home. Lots of flavor, and very heavy on the cinnamon. I ate it all and felt kind of sick afterwards. Went to bed and had weird dreams.
Day 2
Day two was a slog. We weren't hungry, and, while we weren't craving junk food, we most definitely didn't feel like eating more ice cream. But we did. Energy wasn't a problem, but we struggled with motivation. Knowing we weren't even half-way through was tough. We both had lower energy, and we both pushed through our meals, despite not really wanting them. My girlfriend was craving seaweed salad like crazy, which neither of us saw coming. Me? I dreamed of pretzels.
Day two was the day of many poopings, each less solid than the preceding one. All of them small, none of them satisfying. Our stomachs gurgled a lot, loudly. Basically the novelty had worn off, and we were just kind of mopey and pissed at ourselves for having taken this on.
Day 3
Surprise! We both woke up feeling better, more motivated, and ready to eat. I don't know if we'd just resigned ourselves to it, or if we were now on the other side of the half-way point, but we both felt energized and powered through breakfast. The new Honey Grapefruit flavor for the mid-morning snack was a very welcome change of pace. It was a lot lighter than the others and had a different flavor profile all together. I think we were craving that diversity.
My girlfriend was pleasantly surprised when she stepped on the scale, which helped motivate her. I'd started dropping weight as well. I suspected it was just from our guts being more or less empty, but I figured we'd soon see. She also noticed that her skin felt absolutely fantastic and softer than ever. I hadn't noticed a change in mine. This was the day of ZERO poops at all. Go figure. We did however notice that there was a bit of bad breath thing going on, though. Had this been happening for two and a half days and we just noticed? Hope not. We both slept horribly, tossing and turning all night.
Day 4
We were both happy to be launching into the final day of this, and that really propelled us through it. Very similar to yesterday in that we both had plenty of energy and felt pretty good in general. A couple poops here and there (now slightly more solid), a good four mile run in the evening, and the day came and went.
By the end of it, I definitely felt lean, but I was aware that it didn't really look like I'd lost any body fat. I couldn't really see my abs any better than when I'd started. We both felt good and were surprised that we hadn't really craved any junk food that whole time, but were fixated on the good stuff we wanted to eat when it was all over. Pretzels and seaweed salad, forever.
Conclusions and Aftermath
So, did it work? Did we lose weight? Yes. We used a Withings Smart Body Analyzer scale to keep track the whole way through. As you can see above, I was actually already on a weight-loss trend going into the cleanse (just from eating more veggies, tracking what I was eating, and exercising a bit more, basically), but there was a serious drop-off during the cleanse to the tune of roughly six pounds. My girlfriend lost approximately the same amount. But then, look what happened.
In the span of one long weekend, I managed to put all of that cleanse-weight back on (plus another pound or so). Now, admittedly, this long weekend was a reunion in a cabin, and there was a lot of food, and I ate too much of it, but most of it was pretty healthy, and I didn't go that far overboard. My girlfriend experienced the same thing: She lost 5.1 pounds, and gained 5 pounds back over the weekend. This leads me to think that the weight lost during the cleanse is just a temporary result of being a weird state without any solid food in our guttyworks. Not only was there no discernible loss of body fat, but there was likely even a little bit of muscle atrophy, considering we basically had no protein for four days.
But do we feel cleansed? I don't think so? First, to be totally frank, I'm not a big believer in cleanses. Most of them put your body in a state not unlike starvation, which generally results in gaining back any weight lost and possibly leading to bigger health concerns (i.e. screwing up your metabolism and insulin production). So, I don't really know what "cleansed" is supposed to feel like. My girlfriend says her skin felt great, and it felt good to be able to exercise that kind of willpower, but, to be honest, our digestive systems haven't really fully recovered from the whole (traumatic?) experience.
At the same time, we were both surprised by how much energy we had throughout the experience. A few years ago, she and I tried a juice cleanse just for the hell of it, and it was an incredibly miserable experience, complete with extremely low energy, giant emotional mood-swings, and splitting headaches. The Ice Cream Cleanse had none of that. We generally felt pretty good for most of it. Plus, there's the novelty element, and at no point did we ever feel truly hungry. Even cravings were very manageable, which was pretty shocking.
But then again, dealing with transporting ice cream around when you're not going to be home for a meal is a pain. It's hard to avoid meltage and it requires careful planning. It's not fun to eat ice cream in the morning (or cold things all day long), and it's not subtle. People will be constantly asking you, "Are you eating ice cream?" at which point you'll have to explain the whole cleanse thing, which will make you feel like a jackass.
Finally, at $240, it ain't cheap, and lest we forget, you'll be taking in 820-percent of your recommended daily amount of saturated fat, which I'm sorry, even if it's raw, organic coconut fat, there's still no possible way that much is good for you.
So, would we do it again? No. But here's the upshot: Even after eating nothing but Kippy's ice cream for four days, here we are, just a few days later, and my girlfriend and I were both contemplating digging into the pint we have in our freezer. That's high praise! The ice cream really is delicious and I'd definitely recommend it without hesitation (in small, normal-sized doses).
That said, if you're absolutely determined to do a cleanse, there are definitely worse ones you could do. Just make sure you talk to your doctor about it first, and be prepared for them to pee themselves laughing. [Kippy's Truly Raw Gourmet]
---
Big thanks to Kippy Miller for the ice cream, to Maren Robinson for her expertise, and to my girlfriend for going through this ridiculousness with me and helping to document the absurdity.
Photos: Brent Rose