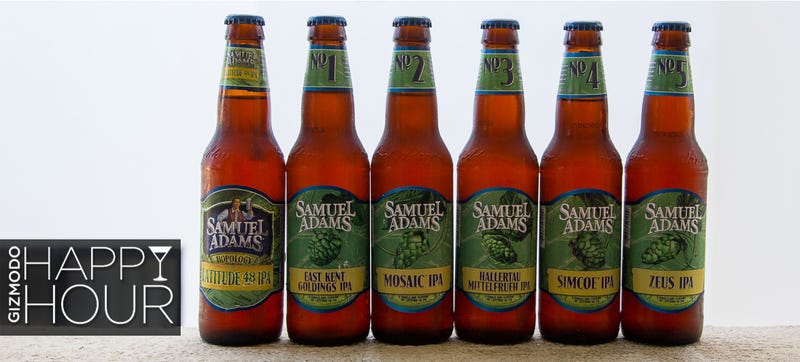 If you're a fan of modern, American IPAs (PBR drinkers: Go stand in the corner) then you are no doubt a friendly familiar of hops, the magical bud that gives beer its bitter bite. But with hundreds of hops varieties and some brews using upwards of a dozen of them , it's hard to know which hops are imparting which flavor unto your beer.
So Sam Adams is doing something pretty cool. It's taken its Latitude 48 IPA—which contains five different strains of hops—and is releasing a sort of beer flight. They're calling it Latitude 48 Deconstructed. It contains not just the Latitude 48 you (maybe) know and (probably) love, but five other beers, brewed exactly the same way, but each containing just one of the hops strains. It gives beer aficionados the rare opportunity to experience these hops one at a time and see exactly where their favorite flavors come from.
It's Friday afternoon, you've made it through the long week, and it's time for Happy Hour, Gizmodo's weekly booze column. A cocktail shaker full of innovation, science, and alcohol. We're getting tipsy under a microscope.
Jumping into Hops
For those of you not yet familiar with this lovely plant, here's an extremely brief overview. It is believed that hops have been a part of the beer-brewing process since the 8th century in Europe, if not earlier. Why was it first added? We have no idea. Possibly because beer was unbearably sweet at the time, and a little bitterness helped to balance it out. However, the reason it continued to be used in beer production is pretty clear: It turns out to be a selective antibacterial agent. It happens to do a pretty good job fighting bacteria that spoils beer, but it leaves the good bacteria (i.e. brewer's yeast, which is critical for fermentation) alone.
For the most part, hops were used in not-so-heavy quantities—hell, even Budweiser has hops in it. But it wasn't until British soldiers living in India developed a taste for highly-hopped pale ales (likely hopped that heavily to prevent spoilage in the high Indian heat) that the term IPA (India Pale Ale) was born. Soldiers who grew fond of the stuff while in the service returned home and wanted more, and so IPAs grew in popularity there, too.
Hop Science
The part of the hops that goes into the beer are the buds (sometimes called cones) from the female plant. This should sound all-too-familiar to advanced-level potheads out there, and rightfully so: The most important bit is in the resinous stuff within these buds.
Hops add flavor, aroma, and of course, bitterness. This happens almost exclusively through two component parts in the resin: Alpha acids and beta acids. The alpha acids are the biggest contributor to that classic hoppy flavor, and it's also where the antibacterial properties come from. The beta acids generally do more to influence the beer's aroma.
What's significant is that, again as with marijuana, different strains of the hops plant produce buds with significantly different chemical makeups. Some will have a much higher alpha-to-beta acid ratio. With others, it'll be more balanced. Some will have harder-to-quantify characteristics ("Do I smell grapefruit?"). As we learned with our "hops of the future," growers invest a significant amount of time, energy, and resources into growing what they hope will be the next big thing in hops. They (and brewers) are looking for the right combination of aromas and flavors that will add an exciting new dimension to their beer.