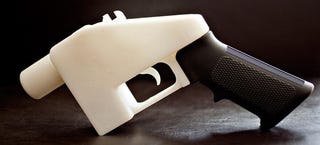 Here's the question: in a world where the design of a 3D printed gun is freely available on the internet, can we—or should we–regulate open source design? Or are limits impossible in a world of anonymous file sharing? Does any attempt at control go against the whole spirit of open source, decentralized innovation?
"We cannot limit open source design, even when we do not support the consequences."
That was the argument made by Cody Wilson at a debate held at the Museum of Modern Art last week. Wilson, you might remember, is the guy who designed a working, entirely 3D printed gun and then uploaded the CAD files to the Internet.