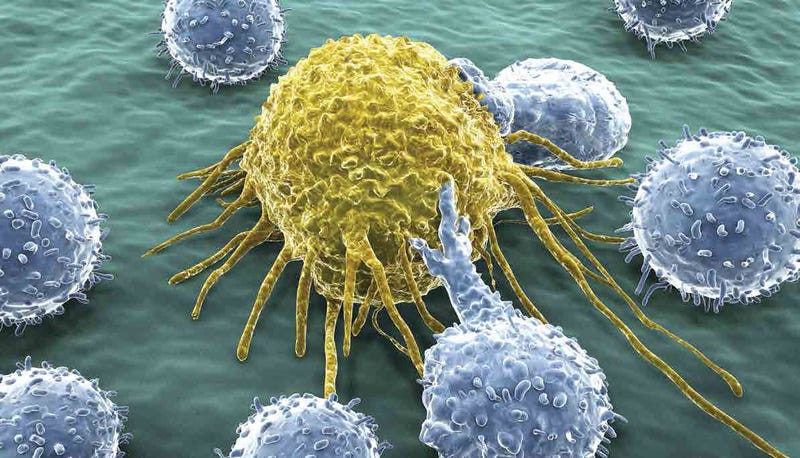 By boosting the power of a patient's immune cells, researchers from the City of Hope Beckman Research Institute have demonstrated the potential for a revolutionary new therapy to treat a particularly aggressive form of brain cancer. But given the limited results, many questions remain.
Things were starting to look bleak for a 50-year-old patient being treated for a deadly form of brain cancer known as recurrent multifocal glioblastoma, an often fatal condition in which cancer spreads to multiple parts of the brain and spinal column. The patient was not responding to the usual battery of treatments, including radiation, surgery, and anti-tumor medications, so the doctors decided to enroll him a clinical trial designed to test the safety of a new cancer treatment called CAR-T cell therapy.
Seven-and-a-half months later, the patient's tumor had shrunk to virtually nothing, and he went into remission. Had the patient not received the experimental treatment, his doctors say he would have likely died by now. The tumors have since returned, but importantly, not in the areas of the brain that were treated. It's a limited result, but an important precedent for an immunotherapy that had previously only been shown to work with blood cancers.
These results, now published in the New England Journal of Medicine, couldn't have come at a better time. CAR-T immunotherapy, in which white blood cells are reprogrammed to attack cancer cells—took a hit recently following the deaths of four cancer patients enrolled in a Juno Therapeutics Phase II clinical trial. It's not clear if the deaths were due to a reaction between a chemotherapy drug and CAR-T, or if they were caused by CAR-T alone. It's simply too early to know, leading to criticisms that the experimental therapy is being overhyped and oversold.