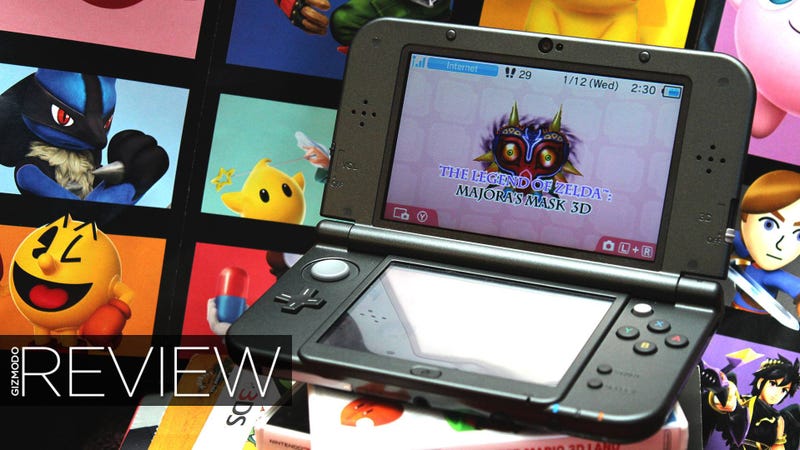 Portable gaming is Nintendo's wheelhouse: it pioneered the category with the Game Boy, reinvented it with the Nintendo DS, and uses its current generation, the Nintendo 3DS, to help pay the bills in the wake of underwhelming Wii U sales. Starting today, you can buy the company's latest gaming handheld: The New Nintendo 3DS. It's better than it sounds.
What's so "New" about it?
Everything and nothing. This is the same exact 3DS you already know and love, but Nintendo's made a bunch of tweaks that'll make you wonder why you wasted any time with the original. It has a faster processor! More buttons! A better screen! A new analog nub! Magic technology that tracks your eyes and makes 3D actually good! It also just so happens to have a terrible name that conveys none of these improvements.
That name really is terrible.
Yeah, it's a marketing nightmare. Nintendo products used to have simple names that clearly related their superiority to their predecessors: Super NES. Game Boy Color and Game Boy Advance. Even the original Nintendo 3DS differentiated itself by putting its gimmicky feature front and center. But the word "new?" That's what I call anything I just bought from anywhere. I purchased a "new" camera on eBay last month. It's from 1975. You done screwed up, Nintendo.
I don't know why I'm surprised. Nintendo apparently lost the knack for naming things when it called its latest console the "Wii U," leaving thousands of consumers to assume it was just a Wii accessory. Now the New 3DS faces the same problem. How are you supposed to know it actually is new? Well, you're reading it. I'm telling you. The New 3DS, with a capital N, is a significant upgrade over any other lower-case new 3DS you might buy in the store. Tell your friends. Save them from accidentally buying the the wrong new, old 3DS. Oh, except the "New" in the official "New 3DS" logo isn't actually uppercase.
If that didn't make sense to you, then you understand the problem perfectly.
Okay, it's new. It's different. Is it better?
The New Nintendo 3DS looks a lot like the old 3DS, but just a little smoother; a little flatter. A little less like a bright, bubbly Fisher-Price toy. I feel like I could slip it in and out of my jacket pocket without casual onlookers realizing it was a game console. Then, of course, I'd open it and the illusion would be ruined. Yup, I'm the guy who can't let go of his childhood.
Despite having slightly less rounded corners, the New 3DS doesn't look all that different than the old 3DS at a glance. There's a hinge, two screens, a bunch of buttons, a joystick-thing and some sliders. Physically, there are changes, but you probably won't care. The WiFi switch is gone; the volume slider has been moved to the top screen; the cartridge slot, stylus and power button now live on the handheld's front edge; the start and select buttons have been moved around; those little corner indentations that you could tie a lanyard to (did anybody anywhere ever use these?) have moved from the corners to the back. Yawn, shrug and move on.
But wait, is that a second analog nub? What are these extra buttons on the back? The New Nintendo 3DS is the physical manifestation of almost every "missing feature" critics damned the original for not having. I love it.
More Control Options
I was among a not-so-vocal minority that felt the original 3DS wasn't actually missing a second analog stick. I just didn't want it. Now I have it anyway and—okay—I have to admit it's pretty nice. The eraser-like nub lives just above the console's face buttons. It's easy to reach and kind of reminds me of the little red nub on a ThinkPad laptop.
Games that supported Nintendo's Circle Pad Pro accessory automatically recognize it, too: Kingdom Hearts: Dream Drop Distance and Resident Evil: Revelations suddenly have a dedicated camera control-stick, and Super Smash Bros now has C-Stick shortcuts for powerful smash attacks, just like on GameCube.
It really improves some games, but I found myself ignoring it in others—when I played The Legend of Zelda: Majora's Mask 3D, I just forgot it was there.
There are new shoulder buttons, too — but I hardly touched them. In Super Smash Bros, for instance, the new ZR button just becomes an extra grab button, ZL a secondary shield toggle. Monster Hunter 4 Ultimate lets you choose what the buttons do, making them a bit more versatile, but most of the games on the market compatible with the 3DS' new controls seem to underutilize them at the moment. Hopefully, that will change as companies start making more games with the new system in mind. At least the triggers are pretty easy to reach.
No-glasses 3D that doesn't suck
I loved the original 3DS' glasses-free 3D effect, but I spent years living in denial. I learned to hold my console at the perfect distance away from my head, which I would hold absolutely still, like a marble statue carved specifically to highlight uncomfortable posture. I told myself it was fine; worth it for the depth perception the illusion provides. I was wrong. The original 3DS' parallax barrier effect is dead to me. All hail Nintendo's new technique: Super-Stable 3D.
With a revised front-facing camera, new software and a bit of infrared light, the New 3DS' stereoscopic display can actually adjust itself to your head. It's called Super-Stable 3D. It sounds fancy, but what it means is wonderful: no more strobing effect and no more double vision. Before, the 3D effect was easily broken—now it works so well I sometimes forget it's even on.