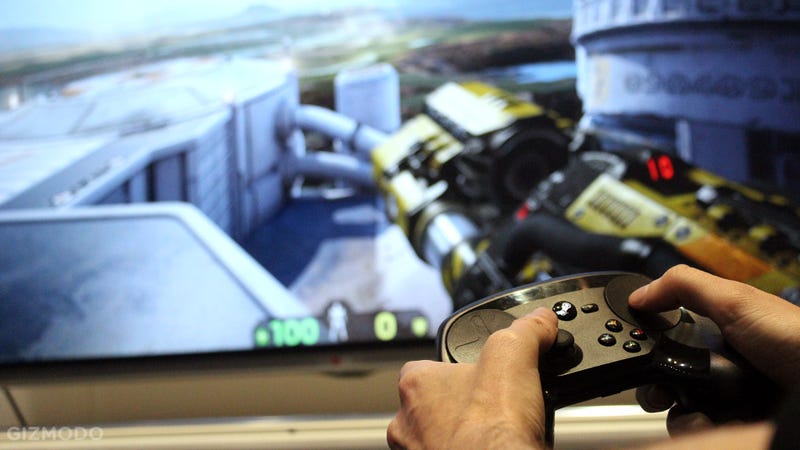 When I heard Valve wanted to take over the living room, I didn't believe it. When the rumors came true, I didn't think it could be done. When Valve failed to deliver Steam Machines last fall, I felt vindicated. Now, a year later, it's happening. I've tried them. I'm about to eat my words.
I may have been wrong, but my early skepticism was justified. The idea was ridiculous—how was a digital game store going to get into the hardware business, outclass Sony and Microsoft, make Windows usable on television and make Linux a viable PC gaming platform? But they did it. My gosh they did it.
The Right Controller
The Steam Controller was always the one part of Valve's living room plans that I actually believed in—or at least wanted to. The gamepad as we know it today is stagnant, unchanging. With minor exceptions (a touchpad on the PS4, perhaps, or better triggers on the Xbox One) it's a black hole where innovation goes to die. Valve's early prototypes threw out all conventions—replacing analog sticks with weird haptic touchpads, promising a touchscreen in favor of face buttons. It was kind of awful, but it was also new, different and fresh. Check it out:

Old and Busted:

New Hotness:
It's so much better now. The final Steam Controller kept the weird touchpads (which let it emulate a surprisingly precise mouse), but also added a proper joystick, traditional face buttons and a lot of refinement. The "learning curve" I used as an excuse for the original prototype's awkwardness is severely diminished. Within mere minutes of using it, I was deftly using its touchpads to guide The Talos Principle's robotic protagonist through corridors. I dodged flak cannons in Unreal Tournament. I was comfortably performing precise motions I just couldn't get right on the earlier prototypes. It's quieter, too. I can still hear the engine humming which drives the Steam Controller's haptic feedback (a light ticking sensation that follows your thumbs across the touchpad), but it's no longer so loud that it's distracting.
It's not just the refined touch surfaces that sold me on the controller though—it's the entire design. This is the third Steam Controller design I've held, and it's by far the most comfortable. My fingers instinctively fall on the rear "grip" buttons hidden around the gamepad's back, and toggling the shoulder, menu and face buttons feel natural. The new analog stick is a godsend too, injecting all of the new weirdness with just enough familiarity to make everything easy.
The Steam Controller's battery compartment has eject buttons to pop out AAs. They also double as actuators for the gamepad's rear "grip" buttons. It's kind of awesome.
There is still a learning curve, of course—the touchpads are uniquely alien compared to other game controllers—but they're no longer daunting or insurmountable. It reminds me of the first time I tried using a mouse to control a first-person shooter on the PC: it's more sensitive than I expected and I'm worried I'll lose control. I didn't back then. I don't think I will when the Steam Controller comes out, either.
Valve's Steam Controller is a huge part of its living room effort. Every Steam Machine comes with a Steam Controller. And it's very good. It's weird, too, but it has to be—there would be no point to building another dual-stick gamepad. We already have dozens of those. Steam Machines can fail up and down for all I care, but I'm still getting a Steam Controller when it launches in November. It costs $50, connects with a 2.4GHz dongle that supports two at once, and each controller can remember multiple dongles to make for easy pairing. Worth it.
The Right Interface and Hardware
Before Valve could build a PC game console, it had to figure out how to help a Windows PC make sense on a TV. Enter Steam Big Picture Mode. It's the oldest component of Valve's play for the living room, and it's been around for years now. Today it's a different way to navigate Steam on Windows machines, but tomorrow it'll be the entire user interface for SteamOS. It's always been pretty good.
Now it's getting better. The video above is a complete look at how Big Picture Mode and SteamOS work on an Alienware Alpha as of last month (we got a little tired of waiting and made our own Steam Machine). Today, Valve showed me a more advanced version of the interface. It's largely the same but with improved community features, more compatible SteamOS games (more on that in a moment) and a customizable control menu to make sure that funky gamepad works with everything in your library.
New features like Steam Broadcasting mode are poised to help Valve compete with Twitch for streaming your gameplay exploits, and a new, pretty awesome touch-typing interface eliminates the need to keep a keyboard at your couch. Between that and the ability to swipe through webpages like a tablet with the Steam Controller's left touchpad—while still having the right touchpad as your mouse cursor—it could make for one of the best TV web browsing experiences as well. The only obvious thing that's MIA—for now—is the ability to power on and turn off a Steam Machine from your couch.

The interface is the same on every Steam Machine coming out in November—a list of machines that pretty much mirror's Valve's original partner announcements from CES 2014. More important than that, however, is the streaming device Valve built themselves: the Steam Link.