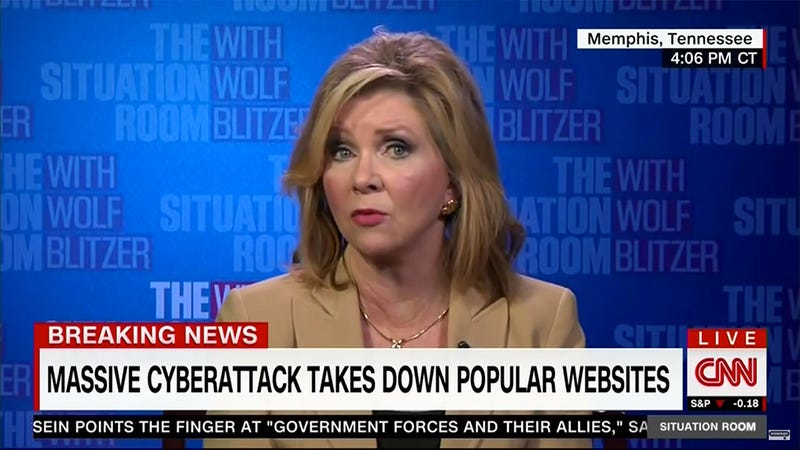 Congresswoman Marsha Blackburn of Tennessee stopped by Wolf Blitzer's Situation Room to drop some knowledge about Friday's massive DDoS attack that affected large swaths of the internet. Blackburn managed to say a lot of techy-sounding things until her time was up. No one walked away feeling smarter.
Blackburn sits on the House Subcommittee on Communications and Technology, so it's not great news to hear the politician bumble through an update about Friday's disruptive hack. What's infuriating is listening to Blackburn try to tie this to the failed anti-piracy legislation known as SOPA:
Wolf, you don't know who is behind this, you don't know if it's foreign or domestic. What I do know is over the years we have tried to pass data security legislation. There's been bipartisan agreement in the House. It has not moved forward into the Senate. We also know that a few years ago we tried to do a bill called SOPA in the House which required the ISPs to some governance on these networks and to block some of the bad actors.
How is SOPA related to the wave of large-scale distributed denial of service attacks on the servers of the DNS host Dyn? I really can't tell you.