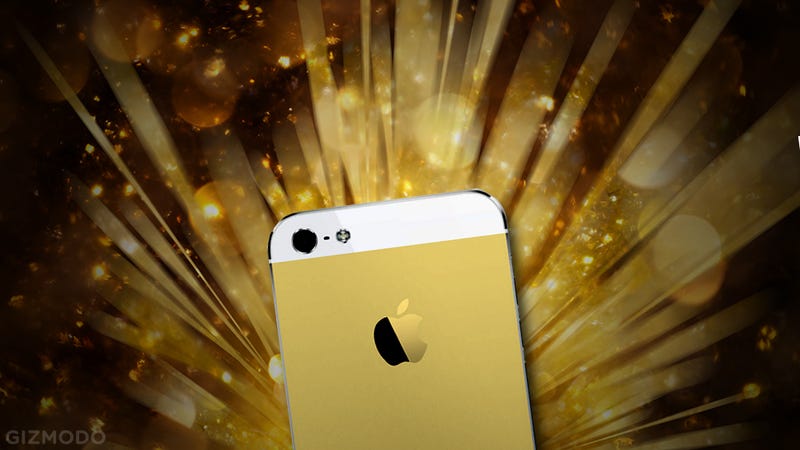 Full disclosure: We've been seeing the gold iPhone rumors for weeks now, but have largely been brushing them aside. Fake Apple rumors are as easy to come by as tangled EarPod cords this close to a new product launch, and this one in particular seemed too outlandish, too... tacky. But gold iPhone reports have reached that saturation point—even AllThingsD is confirming— where they can't be ignored anymore. Especially considering how much sense it all makes.

Gold Pieces
Patient Zero for the gold iPhone rumor appears to be an obscure Japanese parts shop called Moumantai, which posted the following image of a purported gold iPhone 5S nano-SIM tray:
The leak was easy enough to dismiss; Apple parts are frequently aped by third parties, and this was back in April, well before the iPhone rumor mill started up in earnest. And, again, a gold iPhone seemed like too extreme a departure.
It was easy to dismiss, and so people dismissed it, just as they dismissed a June report from sometimes-reliable (they were the first to say the iPad mini would be called that) Japanese blog Macotakara that a gold iPhone was en route. Then again, it seems like Macotakara may have just been going off of a BGR report that showed the same leaked gold nano-SIM tray as before.
See? Not much to go on. Until August came around.
On August 8th, a third-party parts supplier called Luna Commerce published the following images of components apparently built for a "champagne"-colored iPhone:
Again, third-party suppliers are notoriously unreliable; these could be knock-off parts in anticipation of a gold iPhone, or just a publicity grab. As might this gold back casing, posted by French site MacBoutic:
Component leaks, the ones that turn out to be accurate, have a momentum to them. They trickle, then they flood. Right now, with the gold iPhone, we're somewhere in between. But parts are just part of the equation.
Where your ears really start to perk up on Apple rumors are when people with excellent Apple track records start weighing in. That's worth more than any number of easily faked parts. And this past week, that chatter has escalated to the point where you can't ignore it anymore. Rene Ritchie of iMore—who was more on top of last year's iPhone and iPad mini release than anybody—suggested last week that he'd heard that a gold iPhone was coming from various sources. MG Siegler, whom it should be noted currently works for competitor Google Ventures, has described the gold iPhone as a certainty.
And then, just now, AllThingsD has confirmed that Apple will in fact sell a gold iPhone. It doesn't get any more concrete than that, short of an Apple announcement.
So it seems incredibly likely that a gold iPhone will definitely appear on Sept. 10th alongside the budget iPhone 5c. And when you consider Apple's past—and future—it also starts to make perfect sense.