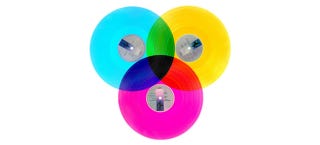 On any given Tuesday in the 90s, I would hustle to the record store after school to gawk at the new releases. Occasionally, I would take a CD home, greedily tear it open, pop it into my boombox, and listen while I pretended to do my homework. This wonderful experience has no value any more. It's obsolete.
Listening to music is still amazing today, it's just that you'd be crazy to buy a CD. That's not me saying that: That's what the whole world is saying. CD sales have been declining every year for more than a decade because CDs are effectively useless in a world where digital music files are so easy to play and transfer, legally or otherwise.
That doesn't mean there's no worthwhile way to buy a real-world physical album. Even as the recording industry flails, vinyl is seeing a comeback. Maybe you've noticed this resurgence in the living rooms of pretentious friends who keep a crate full of ragged record jackets next to an old Technics turntable. At the very least, you've probably stumbled upon a small selection of shrink-wrapped records in trendy big city boutiques, and if not, maybe while Googling the meanings of Taylor Swift lyrics, you stumbled upon an Amazon listing for her latest record, Red, cut on 140 gram vinyl.
The renaissance of the long play record isn't just an anecdotal trend. Even as physical record sales decline, people are buying more vinyl than they have in decades. In 2013, sales increased 31-percent to about 6 million units year-over-year. It's not a single-year bump either, either. Sales have climbed to 6 million from after having been at about a million in 2007.
I'm not the first person to point out that vinyl is on the rise after having been considered dead. The "why" behind it, though, is a little more elusive. People don't have to buy vinyl, and yet, they're increasingly choosing to do so. It seems that in a world where CDs are obsolete, and digital files are intangible, the vinyl record still has a physical value that gives you your money's worth. If the music industry wants to survive, it better pay attention to why people are buying records.
Why buy music at all?
In 2014, there is no good reason for most people to buy music. There's a moral argument about how we should support the artists, blah blah blah, they have families to feed, yadda, yadda, but the reality is that you're never going to force people to spend money if they don't have to. Today, there's just no practical way to force people to buy music—not unless you're Beyonce.