There is almost no subject that Terry Pratchett hasn't explained better, funnier, and more times than just about anyone else on the planet. Reading his Discworld novels is reading a master at work, and it seems like he gets more relevant the more time passes. Here are 10 of his most relevant passages to keep in mind throughout the next four years.

1) Commander Vimes didn't like the phrase "The innocent have nothing to fear," believing the innocent had everything to fear, mostly from the guilty but in the longer term even more from those who say things like "The innocent have nothing to fear." - Snuff
Is AI Moving Too Fast? | Future Tech
Pratchett deconstructed this argument several times. Obviously in Snuff, but he also brought it up in Men at Arms ("The axiom 'Honest men have nothing to fear from the police' is currently under review by the Axioms Appeal Board.") and in Unseen Academicals ("It was all very well for the Watch to say 'the innocent have nothing to fear', but what was that all about? Who cared about the innocent and their problems when the Watch was on its way?"). People always trot this out when people protest expanding police powers, especially in the realm of surveillance. Vimes' (and Pratchett's) point is that people who say you have nothing to fear will eventually give you a reason to be afraid.
2) She was already learning that if you ignore the rules people will, half the time, quietly rewrite them so that they don't apply to you. - Equal Rites
Put this in giant letters on a poster and slap it up on your wall. It is vitally important to remember that this happens and to watch for it. Pratchett meant it to be a good thing for a character whose existence broke a number of spoken and unspoken rules, but the other side of it is an actual problem.
3) And, while it was regarded as pretty good evidence of criminality to be living in a slum, for some reason owning a whole street of them merely got you invited to the very best social occasions. - Feet of Clay
G/O Media may get a commission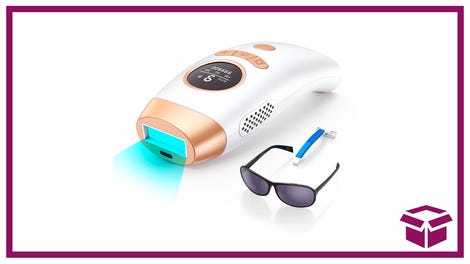 58% Off + Coupon
IPL Hair Removal Device
Pratchett explores this theme, a lot, too—that for some reason large crimes not only go unpunished, they somehow lead to fame and fortune. He has another one about how having slavers and brigands for ancestors makes you elite, but anyone doing it now is a criminal.
4) Shoot the dictator and prevent the war? But the dictator is merely the tip of the whole festering boil of social pus from which dictators emerge; shoot one, and there'll be another one along in a minute. Shoot him too? Why not shoot everyone and invade Poland? In fifty years', thirty years', ten years' time the world will be very nearly back on its old course. History always has a great weight of inertia. - Lords and Ladies
For anyone who has ever advocated getting rid of the one person they think is the problem: it's systemic. It's historical. And there is so much more than getting rid of one or two or three people to blame.
5) Fear is a strange soil. Mainly it grows obedience like corn, which grows in rows and makes weeding easy. But sometimes it grows the potatoes of defiance, which flourish underground. - Small Gods
Here's a slightly uplifting one that has the benefit of a) being true and b) exhibiting, again, just how good Pratchett was with words.
6) There are, it has been said, two types of people in the world. There are those who, when presented with a glass that is exactly half full, say: this glass is half full. And then there are those who say: this glass is half empty.

The world belongs, however, to those who can look at the glass and say: 'What's up with this glass? Excuse me? Excuse me? This is my glass? I don't think so. My glass was full! And it was a bigger glass! And at the other end of the bar the world is full of the other type of person, who has a broken glass, or a glass that has been carefully knocked over (usually by one of the people calling for a larger glass), or who had no glass at all, because they were at the back of the crowd and had failed to catch the barman's eye. - The Truth
The world belongs to the entitled, who somehow not only avoid blame, but avoid being included in the proverbs.
7) "The secret is not to dream," she whispered. "The secret is to wake up. Waking up is harder. I have woken up and I am real. I know where I come from and I know where I'm going. You cannot fool me anymore. Or touch me. Or anything that is mine." - Tiffany Aching, The Wee Free Men
Pratchett followed this by saying that you can't be "awake" all the time, that we dream because seeing everything as it really is would break us. And that explains why people complain when their "escapism" touches on truths.
8) I believe in freedom, Mr. Lipwig. Not many people do, although they will, of course, protest otherwise. And no practical definition of freedom would be complete without the freedom to take the consequences. Indeed, it is the freedom upon which all the others are based. - Vetinari, Going Postal
Every single time someone bitches about freedom of speech when people criticize them for what they've said, remind them of this.
9) It was so much easier to blame it on Them. It was bleakly depressing to think that They were Us. If it was Them, then nothing was anyone's fault. If it was Us, what did that make Me? After all, I'm one of Us. I must be. I've certainly never thought of myself as one of Them. No one ever thinks of themselves as one of Them. We're always one of Us. It's Them that do the bad things. - Jingo
A lot of Pratchett's books, especially the later Discworld ones, explored xenophobia and racism. Jingo, about a brewing conflict with "foreigners" feels more relevant now than ever. Pratchett always does more than just show us how, he always makes sure to get into people's heads and explain.
10) "All right," said Susan. "I'm not stupid. You're saying humans need... fantasies to make life bearable."

REALLY? AS IF IT WAS SOME KIND OF PINK PILL? NO. HUMANS NEED FANTASY TO BE HUMAN. TO BE THE PLACE WHERE THE FALLING ANGEL MEETS THE RISING APE.

"Tooth fairies? Hogfathers? Little—"

YES. AS PRACTICE. YOU HAVE TO START OUT LEARNING TO BELIEVE THE LITTLE LIES.

"So we can believe the big ones?"

YES. JUSTICE. MERCY. DUTY. THAT SORT OF THING.

"They're not the same at all!"


YOU THINK SO? THEN TAKE THE UNIVERSE AND GRIND IT DOWN TO THE FINEST POWDER AND SIEVE IT THROUGH THE FINEST SIEVE AND THEN SHOW ME ONE ATOM OF JUSTICE, ONE MOLECULE OF MERCY. AND YET—Death waved a hand. AND YET YOU ACT AS IF THERE IS SOME IDEAL ORDER IN THE WORLD, AS IF THERE IS SOME...SOME RIGHTNESS IN THE UNIVERSE BY WHICH IT MAY BE JUDGED.


"Yes, but people have got to believe that, or what's the point—"

MY POINT EXACTLY. - Susan and Death, The Hogfather
There is no exchange in all of Discworld that sticks with me more than this one. Pratchett was an atheist, and yet this is the most eloquent defense of faith in the unquantifiable I have ever come across. What is the point of anything if there aren't greater principles to believe in and fight for? I figured I'd end this with the most inspiring quote I could think of.