The Microsoft cloud storage platform formerly known as SkyDrive now reaches across desktops, laptops and mobile devices, and will become even more important when Windows 10 arrives later this year. We've gathered together 10 helpful tips to make sure you're getting the most from your OneDrive account and to demonstrate some of its capabilities.
1. Save documents to OneDrive automatically on Windows
If you're saving everything in OneDrive, it's all automatically backed up to the cloud and available from all your machines when you need it. What's not to like? It's also a great reassurance to have should your laptop fall into a pond. That's exactly what Microsoft seems to think too, and if you sign into Windows 8.1 with a Microsoft account then documents are saved to folders in OneDrive by default.
You can find the option from the Settings charm by choosing Change PC settings, OneDrive and then File storage. The way this works has changed several times since Windows 8 first appeared on the scene—and is likely to change again before Windows 10 officially launches—so it's worth double-checking on this setting on a regular basis to make sure you're not sending stuff to the cloud that you don't want to.
G/O Media may get a commission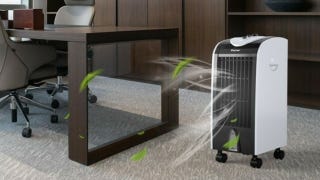 Save $10
Evaporative Portable Air Conditioner Cooler with Filter Knob
2. Get more storage space
Microsoft has borrowed a trick from Dropbox's book and is offering to give some extra storage space to any user who automatically uploads photos from a mobile client. At the time of writing it's 3GB but it changes now and then. If you're an Office 365 subscriber, by the way, then you get an unlimited amount of space under Microsoft's new plan for 2015.
All you need to do is install the OneDrive client for Android or iOS and turn on automatic photo uploading when prompted or from within the app's Settings menu (look for the Camera backup option). You can also do the same trick from a Windows Phone or Windows 8.1 device to claim your additional space. Your extra storage limit may take a day or two to show up.
3. Cache files for offline access in Windows
This is another feature that Microsoft is going to change in Windows 10, but for the Windows 8.1-powered present, most of the files in your OneDrive folder are stored online by default, then downloaded and cached when required. This can cause problems if you suddenly lose internet access for whatever reason.
You can easily store files locally too, although they will obviously then take up more room on the hard drive. Right-click on a file or a folder inside the main OneDrive folder and you'll notice a Make available offline option on the list. Select this if you want to be sure you can access the selected files the next time you're without Wi-Fi. To cache everything, right-click on the OneDrive entry in the navigation pane.
4. Save attachments from Outlook.com
Microsoft added the ability to save Outlook.com attachments straight to OneDrive last month and it saves you going through the intermediate step of saving something to the hard drive and then uploading it again. If something is in OneDrive then it automatically appears on all of your connected devices as well, of course.
You probably don't need our help to work out how to use it once you know it's there: Open an email with an attachment and click the Save to OneDrive link that appears (you can also click on the attachment itself). Files saved in this way are stored in a special Email attachments folder in OneDrive by default.
5. Search inside files and photos
When you run a search in the OneDrive web interface, the text within documents and extracted from images is searched as well; OneDrive actually applies Optical Character Recognition technology to the PDFs and pictures you have saved in your account to help you find any text that you need.
If you want to see evidence of this, open up an image that contains text (like a screenshot) and click on the info button (an "i" inside a circle) in the lower right-hand corner. Text that has been found is listed under the Extracted text heading and you can copy and paste it elsewhere if required. Click on the #Text tag to see all the images where OneDrive has recognized text.
6. Pin folders to your Android home screen
One of the features you might find useful in the OneDrive app for Android is the ability to create widgets on your home screen for particular folders. Find the widgets menu in the normal way (tap and hold on a blank area of the home screen) and then select the OneDrive option. You'll then be prompted to choose a folder from your account.
You might want to give yourself quick access to your photos folder, for example, or a folder where all of your key work documents are stored. Folder shortcuts appear as 1x1 squares so you can fill up a whole home screen of them if you'd like to. You can't stack them on top of each other as you can with shortcut icons, though.
7. Set folder thumbnails
If a folder inside your OneDrive account contains images, you'll see those images as a thumbnail slideshow when you're viewing your folders on the web. If you want to make this slightly neater and stop the live tile effect (or hide some of the picture that are inside), it's possible to specify a particular picture to use permanently as the folder's cover image.
Head into the folder in question, right-click on the picture (or video clip) you want to use and select Add as cover from the pop-up menu that appears. In most cases the images and videos you can use inside a particular folder are listed underneath the documents and other file types it contains.
8. Get old versions back
Another useful feature available on the right-click menu in the OneDrive web interface relates to version history. OneDrive keeps up to 25 different versions of documents in the standard Office formats, together with information about when changes were made and who made them; if you're working on a file with other people, it becomes even more useful.
Right-click on a compatible file from the list and choose Version history to see all of the versions currently available (and switch back to them if required). If you delete a file while you're in the online interface, remember there's a recycle bin that you can access from the links in the lower left-hand corner.
9. Embed presentations anywhere
OneDrive includes a host of different embedding and sharing options, but one of the most useful is the one that lets you embed a PowerPoint slideshow presentation on any other website. Other cloud storage services have similar features, but only Microsoft has the PowerPoint expertise and know-how to make the job as simple as possible.
Select one of the PowerPoint files in your OneDrive account on the web and click Embed from the menu at the top. Select Generate and your HTML code is displayed ready to be copied and pasted. Anyone who comes across the embedded presentation is able to download a copy, save it as a PDF, or embed it somewhere else, so bear this in mind when sharing.
10. Use selective sync on a Mac
In Windows 8,1 OneDrive doesn't include a selective sync feature any more because it's baked right into Microsoft's all-encompassing operating system, but it's still there on the Mac client. It's a handy feature to have if you want to upload or download some OneDrive files without moving everything over to another laptop or desktop computer.
Click on the OneDrive icon on the menu bar, choose Preferences and then switch to the Choose Folders tab. If you select the Choose folders to sync option on the subsequent screen you can untick any folder that you don't want to be synced. The unselected folders, complete with their contents, are still available everywhere else you have OneDrive installed.