Twin Peaks fever is high ahead of the show's return next year, so there's no better time for Twin Peaks FAQ: All That's Left to Know About a Place Both Wonderful and Strange. The book is a damn fine tribute to the show and the movie, full of amazing facts, trivia, and some intriguing insights into the show's many lingering questions.
Written by mega-fans David Bushman and Arthur Smith, who both work as television curators at New York's Paley Center for Media, Twin Peaks FAQ is an insanely detailed, exhaustively researched book. Though it's mostly aimed at the Twin Peaks faithful, even newbies will enjoy its jam-packed pages, which are written with equal parts enthusiasm and knowledge, and are therefore great fun to read. But even diehards will likely unearth some info they were unaware of—for instance...

1) The Twin Peaks actually have names
According to a Lynch-drawn map, they are White Tail Mountain and Blue Pine Mountain—though the actual peaks glimpsed in the show comprise Mount Si in North Bend, Washington, where many of the exteriors were filmed.
2) Twin Peaks, Washington was almost Twin Peaks, North Dakota
Lynch and his Twin Peaks co-creator, Mark Frost, first intended their mystery to unfold amid the isolation of the Great Plains, but abandoned that idea after realizing evergreen forests would offer a more mysterious visual backdrop than barren prairies.
G/O Media may get a commission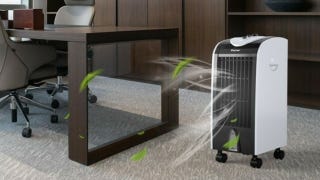 Save $10
Evaporative Portable Air Conditioner Cooler with Filter Knob
3) David Patrick Kelly (Jerry Horne) played Luther in The Warriors
How have I never noticed this before?
Twin Peaks:
The Warriors:
Mind. Blown.
4) The part of Josie Packard was originally conceived for a different foreign actress
And one who'd worked with David Lynch and Kyle MacLachlan before: Isabella Rossellini. Joan Chen ended up playing the femme fatale role instead. (Page 83)
5) David Lynch never liked Windom Earle

Agent Cooper's former partner arrives in town late in Season Two, and he was modeled by Arthur Conan Doyle fan Mark Frost after Sherlock Holmes' nemesis, Professor Moriarty. But Lynch "reportedly found the character unsubtle and uninteresting," and rewrote a lot of the finale to replace Earle with Bob in the final clash with Cooper.
6) This is David Lynch's favorite song
It's "Song to the Siren," by Tim Buckley. It's mentioned by the authors because when Lynch was unable to secure the song's use in Blue Velvet, he collaborated with composer Angelo Badalamenti on a different tune that's sung by Julee Cruise in that movie. A few years later, Badalamenti penned Twin Peaks' now-iconic themes, while Cruise popped up as the ethereal bar chanteuse at the Roadhouse.
7) There's a reason for all those pies, donuts, and cups of coffee
Once again, we look to David Lynch, who apparently has a raging sweet tooth. Authors Bushman and Smith also posit that the sugar and caffeine addictions enjoyed by Agent Cooper and Twin Peaks' other "good" characters are just the flip side to all the coke that's snorted up by all the "bad" ones.
8) Twin Peaks' many connections to classic film noir include this inspired casting choice
Twin Peaks FAQ delves into how films like Vertigo and Laura influenced the show, and also points out that Norma Jennings' crabby mother, Vivian (the secret restaurant critic!), is played by Jane Greer—star of iconic 1947 noir Out of the Past.

9) Harry Dean Stanton's weirdest moment in Fire Walk With Me was improvised
Legendary actor Harry Dean Stanton—who's supposed to appear in the 2017 Twin Peaks revival—turns up in the Twin Peaks movie as the manager of the trailer park where pre-Laura Palmer murder victim Teresa Banks once lived. He's friendly to the FBI agents who are conducting an investigation, but there's a brief moment where he drifts off and murmurs, "I've already gone places ... I just want to stay where I am." According to a source cited in Twin Peaks FAQ, these lines came from an "impromptu on-set collaboration" between director and actor.
10) The show's most embattled episode was ...
Season two, episode 11: "Laura's Secret Diary." This episode has four scripters listed: Jerry Stahl, Mark Frost, Harley Peyton, and Robert Engles. Stahl, who'd worked on ALF and Moonlighting and later chronicled his drug addiction in his memoir, Permanent Midnight, was apparently a terror to work with. Mark Frost described Stahl's time on the show as "an absolute car wreck" but alas, doesn't offer more dish than that.

11) Twin Peaks was referenced on an episode of The Fresh Prince of Bel-Air
During its moment of cultural ubiquity, it also got shout-outs in places as unlikely as Friends and Scooby Doo! Mystery Incorporated, and inspired band names (best: Dale Cooper and the Dictaphones; worst: ArmsBendBack) and songs, including grungy ballad "Black Lodge" by Anthrax. Yep, that's Jenna Elfman as a vaguely Teresa Banks-ish drifter in the video:
Twin Peaks FAQ: All That's Left to Know About a Place Both Wonderful and Strange is now available on Applause Theatre and Cinema Books.