Nothing cuts through a grey winter evening like a cocktail worthy of Toucan Sam. Here are a baker's dozen drinks, photographed and mixed by you.
WINNER: Blue Monday
This is a Blue Monday:
2 oz vodka
¼ oz triple sec
¼ oz blue curacao
Place all of the ingredients together with ice into a cocktail shaker, shake and serve in a martini glass with a lemon twist. The photo was taken with a Canon 7D and EFS 17-85mm @ 30mm. Exposure was 1/250 at f/22, ISO 100. Lighting was a single Alien Bees strobe at around 80% power located above the glass facing into the background. I used Lightroom for some color tweaks & minimal touch up. The glass was placed on a piece of plexi to create the reflection, on top of a sheet of posterboard to give the white color. The background was another sheet of white posterboard, flanked by two black sheets to produce the edges on the glass. Typically when shooting glass on a white background you put the light below the table shooting up into the background to minimize stray light, but I was too worried about splashing it with vodka! I flipped the setup around, and as a bonus was able to create the grey gradient which emphasizes the horizon.
- Adam Reeve
---
Blueberry Gin Blaster
G/O Media may get a commission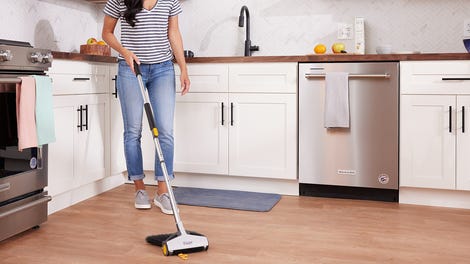 BOGO 50% Off
Flippr - BOGO 50% Off
Blueberry Gin Blaster:
2 oz Gin
1/2 oz lemon juice
2 oz simple syrup
1 oz. St. Germaine
2 oz Blueberry puree (1/2 cup frozen blueberries 4 tbspoons of water)
1/3 cup of club soda
- Mix first 4 ingredients, stir lightly
- add club soda and ice
- slowly drizzle blueberry puree
Camera & Lens:
Canon EOS REBEL T3i
Canon EF 50mm f/1.8 II Lens
ISO 125, 50mm, f/1.8, 1/60
This blueberry inspired cocktail was a creation of mine i made for my mother while she was still alive. She was a huge Gin drinker and loved blueberries and made my own style of drink that incorporates all her favorite ingredients. It looks beautiful and tastes great as a summer cocktail.
- Carolyn Hook / Kyle Hook
---
Fernet Flip
I made a Fernet Flip using that I saw at a local restaurant in Denver. I bugged the bartender for the recipe as well as some tips on getting the proper foam for a flip. He happily obliged me and told me the recipe which I later wrote down. 1.5 oz Fernet Branca 1.5 oz Sweet Vermouth (I used Dolin) 0.5 oz Rich simple syrup (2:1) 1 Whole Egg Combine in shaker and dry shake (no ice). Add only a few large cubes (water dilution hampers foam) and shake. Strain into chilled coupe glass. How I shot it was with a VSD160 with softbox camera right. I tried to keep the aperture wide so that I could blur the background. The camera/lens setup was a Canon EOS 5D Mark II with a Canon EF 100mm f/2.8L IS macro. The flash was trigger with pocket wizards. Specific settings were ISO 100, 100mm focal length, f/4.0, 1/60 second shutter speed, IS turned on.
- Chase Hoffman
---
Bols Deep
Making and drinking tonight: Bols deep. Photo was taken with iPhone 5S. Recipe is 2oz Bols Genever Gin, 1 oz simple syrup, several dashes of angostura bitters stirred and served over a large ice cube. I need to give credit to Booker and Dax for the name and basic recipe for the drink. I loved it there and continue to make it at home.
- Daneil Johnson
---
Martini
Recipe: Lots of Belvedere Vodka, a splash of olive brine, a whisper of vermouth, shake until your fingers are numb, and garnish with three olives. Photo: Shot with a T3i and Sigma lens on my dining room table. The photo shoot was conducted quickly as martinis should never be consumed warm.
- Darrin Robertson
---
Old Fashioned
The contest inspired us to crack open the liquor and make up one of my favorites: the Old Fashioned: 3oz Bourbon 2-3 dashes angostura bitters 1 sugar cube Orange twist and Maraschino cherry to garnish I got up close with my trusty f/2.8 30mm prime on a Sony SLT-A57. The pic was taken at 1/60th f/2.8 ISO 1600 at 30mm. There's something about the vibrancy of the orange twist and the maraschino cherry set against the rich color of the Bourbon that made this picture really compelling for me. I also love exploring shallow depth of field, which is all to easy with a macro lens as f/2.8. The best part was finishing my cocktail at the end - what a perfect way to spend an evening in this cold!
- Grant Beyleveld
---
POV
Drink : Dirty Girl Scout One part Irish Cream Liquor One part Creme de Menthe Liqueur One part Creme de Cacao Liqueur
Shot with a GoPro3+ on burst fire mode.
This is one of my favorite shots. So I wanted to used this as the drink of choice. I wanted to put a different view on what a picture of a cocktail is. So I tried to get it from inside the glass. What its like as the cocktail is being made.
- Jason Gebhardt
---
The Parrot
The Parrot
1 oz Malibu Pineapple Rum
1/2 oz strawberry puree mix
3 oz orange juice

shake with ice
strain into glass
garnish with kiwi slice

Canon T3 EF 50mm f/1.8 II
f/3.5ISO 100Exposure Time: 10 sec.
- Jason Dennett
---
NC-21 Coffee
Adult Coffee
1 cup of chilled coffee with 2 tbspoons of sugar
Take 3oz of coffee mixture
1oz amaretto
1oz whisky
Cream and foam
-Mix all ingredients, top of with cream and foam
Camera & Lens:
Canon EOS REBEL T3i
Canon EF 50mm f/1.8 II Lens
ISO 100, 50mm, f/1.8, 1/60
Sometimes you need a pick me up, and what better way than caffeine, sugar and booze. I was going for the contrast of a raw background and scene with an overly fancy glass.
- Joelle Hook
---
Bourbon
For this weeks photo challenge, the subject of choice is Bulleit Bourbon Frontier Whiskey. No mixers, no garnishes, just whiskey. Don't be a bitch. For the shot, I used my Nikon D40 on the sports setting. I used a bright desk lamp for the lighting. I wanted to get an action shot of a pour and thought this did the job quite nicely.
- Jon Alvarez
---
Gin with Orange Twist
Gin with orange twist
3oz gin
2oz simple syrup
Persian cucumber slices
1/4 tea spoon of grated ginger
squeeze of lemon
- muddle cucumber ginger and lemon squeeze
- add simple syrup and gin
- stir
- add ice and top off with club soda
Camera & Lens:
Canon EOS REBEL T3i
Canon EF 50mm f/1.8 II Lens
ISO 100, 50mm, f/1.8, 1/60
I tried to stage this photo with some natural window light. I wanted to make a drink that was inspired by summer and uses my favorite ingredients.
- Kyle Hook
---
Umbrella on Ice
Puxatawney Phil calling for 6 more weeks of winter called for something a bit stronger. This is simply some Crown XO over ice. I used a home-grown icicle, drilled a hole in it for the umbrella. Shot particulars. Sony A65v 17-50mm lens @ 17mm. f5.6 1/60 sec exposure with 2 flashes. One facing rear of white-box and one bouncing off reflective card in front of glass to the left of the camera back into the glass.
- Marvin Francois
---
Sangria
We made Sangria for the Super Bowl. We generally make a pitcher the day before with 8 parts red wine, 1 part peach schnapps, 1 part triple sec, the juice of half a lemon, half a lime, and half an orange. Then slices of lemon, lime, orange, and strawberries are added to the pitcher to soak overnight in the refrigerator. The photo was taken under ambient light using a Canon 6D with 50mm lens in manual mode 1/80 second exposure, F1.4, ISO 2500. The Sangria was consumed during the first quarter of the Super Bowl. As Badger fans, we were happy to cheer on our former quarterback, Russell Wilson, as he led Seattle to victory.
- Paul Marker
---
Triple Dessert
Triple Dessert 2 parts hot cocoa 1 part baileys 1 part cream Marshmallow garnish - Layer each ingredient, drink slowly Camera & Lens: Canon EOS REBEL T3i Canon EF 50mm f/1.8 II Lens ISO 100, 50mm, f/5.6, 1/250 Being a chocolate lover this was a random mix that i made that ended up tasting delicious. During winter days in NJ theres nothing better than hot chocolate! so why not add some liquor? what a great treat on a cold night
- Robert Hook (Bobby)
---
Dreams of Summer
Dreams of Summer
2oz gin
2oz mango nectar
muddled lemon slice
lavender flowers
herbs (or substitute cucumbers)
- muddle lemon with dash of mango nectar
- add gin, mango nectar, stir thoroughly
- fill with ice
- garnish with lavender and cucumber
Camera & Lens:
Canon EOS REBEL T3i
Canon EF 50mm f/1.8 II Lens
ISO 800, 50mm, f/8, 1/30
My wife loves mango and I thought the lavender added a clean addition to the cocktail. The background was meant to allow the drink to pop and it's a respite on a rare sunfilled winter's afternoon on the east coast
- Stephen Daniele
---
Speyside Scotch
This photo is of an 18yr Speyside Scotch (Kirkland Signature brand), neat. It was shot with a Canon G9, in raw, lit with a blue LED flashlight. I liked the redirection of the light, from the shape of the glass. I warmed it up a bit in ACR prior to opening, due to the blue light from the LED. Other than a crop in Photoshop, and a small amount of post-processing in ACR, this is how it was shot. The glass is from Nambe.
- Steve Everist
---
Absinthe
The recipe for this shot was Absinthe, a Sugar Cube and Fire. Shot at ISO 400, .4 Secs, f3.2, 155mm. I had never tried Absinthe before, but always wanted to. The movies seem to glamorize it a bit, dripping the water over the sugar cube or setting it ablaze. I was stupid enough to use a non-tempered glass for this shot so shortly after this photo was taken the glass cracked, leaking flaming green goo onto the black paper background. I was able to blow out the flame like a big birthday candle, but now i'm out a fancy martini glass.
- Timothy Schubert
---
Axe Bourbon
Inspired by Ron Swanson, I wanted to get a manly picture of my favorite cocktail: bourbon and a single ice cube. Since we just had a nice snow here in Georgia, I thought the brown liquor would be the perfect contrast. Throw in an ax and a pine cone and there you have it! Equipment Used:Nikon D7000 Nikon 85mm 1.8G Ax Pine cone Weller's Wheat Bourbon Settings: Shutter:1/250 f/4.5 ISO 100 Off camera flash Recipe: Pour bourbon into glass, add one ice cube, and enjoy.
- Tyler Upton
---
Wonderful photos and drinks all around. For a more immersive version of the photography, mix your own, or just head over to flickr.
---