It's winter, which means nature has once again ceased to care about our survival for another few months. The good news is that most of us have heat. And cameras. Here are the icy results of this week's Shooting Challenge.
Winner: Pre-Scrape
I recently made the move from android to iPhone, mostly for the camera. For the past month it has been below freezing weather here in Utah, which means that I have to scrape the ice off my windows every morning before I go to work. I realized that with my new macro lens I could probably get a cool shot of the ice crystals on my window before I scraped it off. After nearly freezing my fingers off, it was around 0° F, I finally got one that I thought looked good. Equipment used: iPhone 5, easy-macro lens, from the image details it says f/2.4, 1/30 sec exposure, ISO - 50, 4mm focal length. Processing done in Photoshop.
- Jared Gerlach
Screwed
Just got my new canon 650D body. Then it started snowing and i put on my 100mm macro lens and went outside. The goal was to shoot ice crystals but it was hard to find anything nice. Then i came across this fence with a screw.... without ice it would have been ugly, but now...I shot this in Bilthoven, the Netherlands.
- Rens Roosloot
G/O Media may get a commission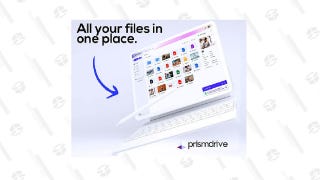 Save 97%
Prism Drive Secure Cloud Storage: Lifetime Subscription
Bubbles
I was fortunate twice over. This Saturday morning, when I went for a hike a came across a water fall. I hadn't been through this park before, so I was pleasantly surprised. It was also freezing out, which wouldn't normally be something I would consider fortuitous. However, a freezing temperature and a water fall can produce very interesting ice formations. A rock at the base of the waterfall had accumulated these droplets frozen and piled one on top of another. I caught the light reflecting off of them, and the blurred waterfall behind them.
- Rob Huber
Thorns
So I took this shot Sunday 20th Jan with a Canon EOS REBEL T3i and Canon EF-S 18-55mm lens (ISO 100, f/5.6, @1/160). Photo was taken right outside the front door of the house. It had been a particularly cold and foggy night and ice crystals had built up on a small bush by the front door looking like faux thorns. With the sun coming up the light was great so thought I would shoot a couple of shots. Turned out not too bad.
- Nicholas Rupp
Water Balloon Winter
I now live in California, so no signs of snow or ice here (except for the very early morning freeze, which I wasn't willing to go to :-)). So I froze some water balloons and took some macro shots through the ice in front of my TV. The back light and colors is actually from previous challenges' pictures. Canon T2i, 100mm
- Diego Jimenez
Once A Puddle
I tested my new Nikon D800 in the Freeze challenge. Braving the cold here in Maine, I explored a frozen puddle in my back yard with a 36mm extension tube, 60mm Nikkor micro lens, and Joby flexible tripod. Air bubbles were trapped under transparent ice, and the golden rays of the rising sun flecked a lower layer of ice. This gave a 60s sci-fi look to the scene, which I loved. Using manual settings and shooting in RAW format, I used 5000 ISO and some underexposure to buy stability at 1/100 second, and depth of field at f/40. In processing with Aperture, I retained the full frame, cranked up the definition and contrast, and added some saturation and vibrancy. I didn't retouch or adjust tonalities. The main problem was fingers stiffening in the cold. Hard to hold equipment with stiff fingers!
- Elizabeth Blackmer
Resilience
My Seattle suburb had a heavy frost Saturday morning. The moss growing on a wood fence was unfortunately only temporarily slowed. Canon 7d with 100mm macro lens. Manual mode: f/13, 1/100 sec, ISO 2000. The exposure was so low the yard in the background was black.
- David Lee
Sunset Storm
Crystals between the glass and the screen of my bedroom window etch in graphic detail the effects of -20 F overnight. Though it's not a good sign for my heat bill, it's a lovely representation of body heat meeting severe cold. Having first noticed and photographed this phenomenon new years day, I wondered if it would happen again within the "window" of this challenge. Come dawn this morning there it was, greeting me just before the deadline! 1/200, f/1.8, 35mm, Nikon 5000.
- Cathy de Moll
White Space
I was at Kruth a little town of Alsace France visiting my girlfriend, I haven't seen the snow for about 5 years, so the next day she got to go to school so I was home alone eventually I took my father in law coat and went in to adventure feeling like Luke searching what to shoot with my camera. Fun Fact. Just before that photo I was walkind down the road and a loud siren started in the middle of nowhere so I kinda feel Godzilla was coming and started filming hahaha but no godzilla was around because of the world war 2 the little town put the siren about 12 am everyday day. French people are weird. And so do I. Canon 60D, 50mm f8, 1/200
- Miguel Novelo
Kudos to those of you who braved the cold to snap these shots. And kudos to winter for once again keeping mankind at bay. But we'll get the last laugh, nature, when a worldwide temperature increase melts your icecaps for good! See the full gallery below and the big shots on flickr.