No one wants a slow phone, but many of us have to settle for one as the hardware grows older, storage space runs out, and the number of bugs add up. The good news is that you don't have to accept a slow Android smartphone. Here are four quick tips for increasing your old phone's performance.

Is AI Moving Too Fast? | Future Tech
As with any Android or iOS guide we run on Field Guide, the step-by-step instructions below refer to the most recent version of the OS (stock Android 6.0.1 Marshmallow in this case). If you're using an older version or a skinned edition from the likes of Samsung or HTC the exact process might differ, but it should be along similar lines.
---
1. Uninstall apps you don't use
G/O Media may get a commission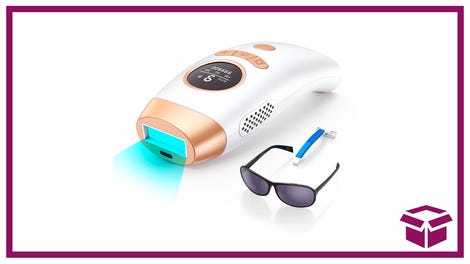 58% Off + Coupon
IPL Hair Removal Device
Any apps that you're not using regularly are just taking up storage space and making life more difficult. Remember you can always install them again if your need them. Tap and hold on an icon in the app drawer then drag it up to Uninstall to remove it.

Not only does this clear out the app's files from the internal storage, it also means it won't be running in the background and taking up memory space and processor cycles that could be used elsewhere. As a bonus, you'll find yourself less distracted by your phone as well...
---
2. Clear out cached data
If you don't want to uninstall apps, clearing out the temporary data they've stored up is the next best thing. From Settings, tap Apps then pick your app of choice. Tap the Storage heading on the next screen then Clear cache to do some digital spring cleaning.
There's nothing inherently bad about this data—it's actually intended to make your apps faster—but over months and years these caches can sometimes become bloated and the cause of some sluggishness on your device. Rest assured, you won't lose any of your important data.
---
3. Scale back animations, widgets and live wallpapers
Navigate to About phone in Settings, then tap the Build number label seven times to activate a hidden Developer options entry in the menu. From this screen, you can turn off some of the animations used across the Android OS (under the Drawing heading lower down).
After that, your phone should be a little snappier. If you spot any bugs, try reducing the animation scale to 0.5x instead. Cut down on the number of home screen widgets, and use a static wallpaper (instead of a live one), to further reduce the strain on your phone's system resources.
---
4. The last resort: a factory reset
The most effective way to speed up your phone is to simply wipe everything and start again. Head to Settings then Backup & reset to do this. The downside is that everything on your device disappears—so you need to make sure you've backed up all your most important data.
With today's cloud-savvy apps, backups aren't the chore they once were, but double-check all your contacts, photos, music and other files are safely stashed somewhere else. Android Marshmallow itself backs up a lot of data as well.