The Hero of Harlem returned last Friday for a new season of Luke Cage that shone a spotlight on the supporting players in Luke's life in the wake of a new threat terrorizing the neighborhood. But while there was a lot to like, there were still a few things that didn't quite ring true for us. Here's what we thought after binging the whole season this weekend.

We Loved...
How it Captures the Vibe of the Public's Thoughts on Luke
Superhero TV and film rarely gets time to put across how the wider community around our heroes actually feels about their presence, outside of a few fleeting moments. At their best, those moments can inform the way these heroes reflect on their own journey; at worst, they can be sentimental claptrap (god, that crane swinging sequence in the first Amazing Spider-Man!). But given the importance of Harlem as a place and as a community in Netflix's Luke Cage, the fact that the show takes time to really dig into Luke's public persona, and how that changes in the wake of season one, really makes for interesting viewing.
G/O Media may get a commission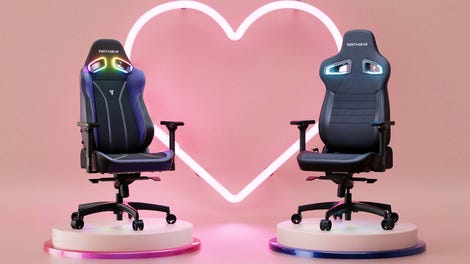 Up to $150 off
Vertagear Gaming Chairs
There's the jokier aspects of it—Luke attempting his own version of swagger with cheeky call-out vids (and dabbing, because 2018), D.W.'s love of merchandising Luke's comic book roots—that give Mike Colter a chance to be a bit more charismatic than Luke's usual default stoicism usually lets him be. But what makes season two's use of public perception so effective is that it plays with how fickle people can truly be. One minute, Luke's taking selfies with passers-by like he's king of the world. The next—after his first bad encounter with the season's new villain, the Bushmaster, is caught on camera—that same public is starving to knock Luke down a few pegs. It's almost like a Greek chorus surrounding Luke's journey, and it really helps hammer home the sense of place that Luke Cage excelled at in its first season, too.
The Phenomenal Supporting Cast
Despite being a self-titled show, Luke Cage relies on and showcases its ensemble in a way than none of its Marvel Netflix siblings manages to accomplish, whether they're on Luke's side or brushing up against him. Luke Cage season two devotes plenty of time to the people that have important roles in Luke's life—arguably more than it does Luke himself.
Simone Missick turns in another fantastic performance as Misty Knight, whose arc sees her haunted not just by losing an arm during the events of The Defenders but because of the ramifications of having worked with the corrupt Scarfe in season one. Meanwhile, the late Reg E. Cathey adds some spiritual pathos as Luke's estranged father, leading to some excellent emotional moments between the two men. On the more villainous side of things, even smaller members of the criminal organizations swirling around Harlem get some great story lines, like Shades' surprisingly heavy arc with Comanche, or the excellent addition of Mariah's daughter Tilda, who steadily gets more entrenched in the seedier sides of the family business as she goes down a tragic path in the back half of the season.
But there's one character in particular that deserves a special highlight...
The Fall and Rise (and Fall Again) of Mariah Dillard
Luke Cage season two is Alfre Woodard's show more than anyone else's. Mariah gets the most complete journey of any other character this season, as she finds herself trying to desperately cut herself from the past of the Stokes family, only to be challenged by the arrival of Bushmaster in Harlem—which forces her to all embrace her family's legacy in her bid for true power. The reason it works is Woodard's remarkable, nuanced performance.
Mariah darts between the political intrigue she honed in season one and a raw, insecure anger as her empire and personal life crumbles around her, to eventually reveal the traumatic reasons why she's so desperate to forget her past in the first place. This comes through mostly in her relationship with Tilda—steadily growing more distant until the heartbreaking reveal of the younger woman's true parentage comes out in episode nine, a moment that sets both Mariah and Tilda on a destructive path that culminates with Mariah's death in prison at her own daughter's hands. It's almost a shame that Mariah's arc is so final, because we wouldn't have minded even more time with Woodard after the events of this whirlwind season.
The Luke Cage/Danny Rand Combo Finally Works
The writing team on Luke Cage loves its supporting characters so much that they actually made us vaguely like Danny Rand, who was insufferable in his own show, and then only slightly less insufferable (but in at least in an enjoyably acknowledged way) in The Defenders. Not only does Luke Cage, intentionally or otherwise, lean on the fact that other characters can find Danny as cornily irritating as anyone who endured Iron Fist does, but it really plays up a good repartee between Luke and Danny.
The Defenders tried to force the Luke Cage/Danny Rand partnership, and it felt much more manufactured than real. But when Danny shows up in Luke Cage, we finally get a sense that these two are friends because they've developed a relationship, rather than because some dusty old issues of their Heroes For Hire comics mandated that they had to. It makes for some really fun moments, and on top of that, we're rewarded with an excellent team-up fight when the two hunt down a nightshade-growing facility in Brooklyn in episode 10, that utilizes Luke's impenetrability and Danny's magical powers in some really fun ways. It shows just how goofy and good the Power Man and Iron Fist can be together.
The Intriguing Place It Leaves Luke
Community—and the way a community can inspire or change you—sits at the heart of Luke Cage season two, so one of the final chess pieces the season lays ahead of season three makes for a fascinating set-up for the future. Upon her untimely death in jail at Tilda's poisonous touch, Mariah makes one last play to bring Luke down, even if it's a move from beyond the grave: She gives him the Paradise club, the seat of Stokes power, in the hopes that it corrupts Luke in the way it corrupted her, Cottonmouth, and many before them.
Given the role the fickle court of public opinion played this season, it raises some really intriguing questions about where a third season of the show could take Luke. Will power compromise the Power Man? Will essentially being put at the head of the criminal game in Harlem change the way Luke goes about servicing the community? If he does, who will pull him back from the brink?
---
We Didn't Love...
The Abrupt End to Luke's Biggest Stories
Luke's relationship with both his father and Claire are important parts of the first few episodes, and neither get to reach a really satisfying conclusion thanks to the fact that they, well... just kind of disappear from the show for huge stretches.
Claire's relationship with Luke, which begins to explore how the dangerous side of his anger is starting to come out, gets the shortest of shrifts. After an argument that turns intense early on leads to Rosario Dawson just vanishing from the season altogether (save for a few name drops later on), the questions Claire interrogated Luke with about his relationship with his dad and his own anger issues are left to linger, but don't really get addressed later. His rebuilding of his relationship with his dad gets a bit more run time—and there are some beautifully touching moments between the two men—but even that suddenly peters off as the show starts setting up its final conflicts. It's weird given that this season also still feels like it's a few too many episodes longer than it needs to be, but somehow these two arcs for Luke feel like they just don't quite get the time they deserved.
That Luke Can Feel Like a Supporting Character in His Own Story
The abrupt end to Luke's most personal storylines and the show's wider focus on the characters around him also mean that at times this season Luke feels like the catalyst for other characters to bounce off, instead of the star of his own series.
Luke's beef with the arrival of the Bushmaster pales in comparison to the conflict between Bushmaster's Yardie gang and Mariah's operation, for example—because while there's rich, personal history between Bushmaster and Mariah that's mined for great drama, to Luke, Bushmaster is just another criminal to punch (or attempt to punch, since Bushmaster's got the tricks and abilities to go toe-to-toe with him in some great fight scenes). The additional time spent giving characters like Misty and Tilda their fleshed-out subplots also comes at the expense of the leading man, too. These storylines are all very well done, but still, hopefully Luke can get a little bit more focus in season three.
The Pacing is Still a Bit Off
Pacing has been a perennial problem for Marvel's Netflix shows, but thankfully Luke Cage season two is not as dogged with the issue as its brethren; it doesn't have the mid-season slump that often befalls these shows. But it still has a few episodes that are designed mainly to awkwardly slow down the story, even if they're fewer and further between this time around. Episode 11 in particular feels like a drag, as it's laden with flashbacks to how Bushmaster eventually became the nightshade-addicted, super-powered criminal he is in the present. Bushmaster had already revealed his past motivations much earlier on in the season, so spending so much time showing them just feels like unnecessary filler.
It's the same problem we've been annoyed by in virtually all the Netflix Marvel shows. Shortening the 13-episode season would help tighten the focus and the story, so people will be watching the show instead of wondering how much longer the episodes will be.