How are you going to be spending your 2015? More work and less play? More time outdoors and less time on the couch? With such a broad range of time-tracking apps and services now on the market, you can monitor where all of your hours, minutes and seconds go like never before. Here's our pick for some of the leading options currently available for web, desktop and mobile.
Is AI Moving Too Fast? | Future Tech
1. Reporter
Reporter is an iPhone app that asks you a preset list of questions on a regular basis: Who are you with? What are you doing? How many coffees have you drunk today? How did you sleep? You can augment these default questions with ones of your own, and as the days and weeks go by you can start to build up a comprehensive picture of how you spend your time. Reports can be saved to Dropbox or CSV and JSON files.
The app will set you back $3.99 but it's a slick option that's worth considering if you want a tracking app that hits the middle ground between manual and automatic activity logging. The fact that you can add in your own queries mean you can easily keep tabs on what kinds of hobbies or projects you're most often engaged in, and with the data exporting abilities built into the app there's a lot you can do with the information you've collected too.
G/O Media may get a commission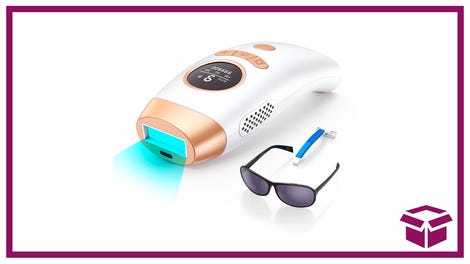 58% Off + Coupon
IPL Hair Removal Device
2. Hours
Hours is one of the newer time-tracking apps out there, but it's more visually appealing and more intuitive to use than most. It also sticks to the basics: Create your tasks (anything from a new client project to a workout at the gym), tap the start button, and away you go, stopping the timer when necessary. There's a nice-looking timeline view to refer to though you won't get anything in the way of fancy charts. You'll need to use the export function and a separate program for that.
At $4.99 on the iTunes App Store Hours might seem expensive for an app that's not as fully featured as some of its rivals but being able to make use of something that's a pleasure rather than a pain to deal with is worth the price of admission on its own. If you need something that can easily and colorfully track whatever you happen to be doing and then get out of the way while you do it then Hours is worth a look.
3. Jiffy
Jiffy has previously made an appearance as one of our apps of the day and it stands out from the glut of other similar time-tracking apps you'll find available for your smartphone: It's intuitive, it's versatile, and it has decent-looking color-coded interface too. You simply tap the relevant entry when starting or stopping a task and Jiffy updates its records; you can go back and make manual edits too, should you forget to log something.
It's free to download for Android but you can pay $2 within the app if you want to go beyond the three project limitation. That should give you enough scope to see if it's actually going to be useful for you, and the ease with which you can look back on how you've spent your time (and export the data elsewhere if necessary) makes it one of our favorite tracker apps from the ones we've come across.
4. RescueTime
RescueTime appears in most time tracking app round-ups, and with good reason. It works across multiple platforms, it logs activities automatically, and it offers a powerful set of reporting and analysis tools for you to take advantage of. The browser extension watches over how long you spend on particular websites and web apps, while the mobile app does the same for Android devices. Desktop apps are also available.
The various apps gather information quietly in the background and can break it down in all kinds of ways. Morning efficiency vs afternoon efficiency, for example, or your time spent on social media sites versus news sites. Upgrade to a premium account and you get deeper levels of tracking, the option to monitoring activities not on your phone or computer, and a special distraction-blocking tool to help you focus on the task at hand.
5. Toggl
Toggl is primarily built for professional time-tracking purposes, complete with tags, multiple projects and client management, but it can be easily adapted to fit different kinds of needs if you want to keep a record of your fitness plan or your social activities instead. A basic Toggl account is free and if you'd like to you can subscribe to an advanced plan for $5 a month (it includes features such as Excel exports, team management and integrated billing).
Alongside the main online interface there are apps for iOS, Android and the desktop to play around with, so you can start and stop your timers from almost anywhere without any hassle, and then get detailed reports about what you've been up to. If you're after something that looks stylish, works across multiple platforms and is straightforward to use, then Toggl should be near the top of your shortlist.
6. Chronos
Chronos is a smartphone app that lets you track what you're doing with your days. The version available for iOS is slightly more comprehensive than the Android equivalent, but they both run in the background and automatically log where you are. You can feed information in about your activities, highlight particularly important events and manually add entries to the log that Chronos misses for whatever reason. In time, you can build up a comprehensive picture of how your hours are spent.
Everything ties together via a web interface where you can dig into some of the data that you've collected about your life: The places that you frequent most often, how much sleep you're getting, how your New Year exercise regime is going, and so on. It's possible to set goals from within the app and even export your data as a CSV file if you want to use it elsewhere; the platform also gives you regular scores on your wellness, spontaneity and work/life balance.
7. ATracker
There's a lot to like about ATracker, although it's only for those of you with iPhones at the moment. It lets you combine work and leisure activities, produces some eye-catching reports on how you're spending your time, and is very easy to pick up as well. You can get started from scratch in just a few minutes. Simply tap on what you're currently doing and the previous task is stopped automatically.
Different activities can be customized with colors and icons, adding to the visual appeal of the app, and if you don't like the pie charts and bar charts that come with the software you can export everything as a CSV file to use everywhere. It's not automated and it's iOS only, but if you can live with those limitations then ATracker is one of the best options for keeping tabs on where the thousands of hours that make up 2015 are going to go.
[Header image: venimo / Shutterstock.com]