Beer might come with some pretty brotastic connotations, but as with everything else in life, it's the nerds who really do it right. Because when the same passion that gave us NASA and Lord of the Rings is applied to booze, the results are phenomenal, delicious, and (most importantly) geeky as hell.
These are eight of the geekiest beers the nerds of the world have wrought thus far. And please, remember, alcohol and calculus never mix—don't drink and derive.
---
Here's a way to numb the pain of not fulfilling your astronautical dreams, and to do yourself one better in the process: Drink this Oktoberfest from Dogfish Head Brewery actually made from moon dust. You'll get to gulp down real, honest-to-god, beer-soaked moon bits and become one with the moon in the most literal sense possible.
---
G/O Media may get a commission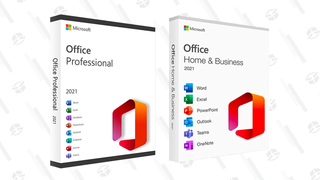 89% off
Microsoft Office Professional 2021 Lifetime License
The folks at Dock Street Brewing Co. really love beer. They also love AMC's The Walking Dead. The only obvious solution? Brain beer, of course. The American Pale Stout includes real, once-live roasted goat brains for a smoky finish and a corpse-lickin' good time.
---
New England Brewing Co. brings you this Star Wars-themed Imperial Russian Stout. Who knew they served beer in the Mos Eisley Cantina?
---
Trekkies everywhere are rejoicing over this new craft beer that boldly goes where no craft beer has gone before. Klingon Warnog is, a "hand-crafted Roggen Dunkel." Tin Man Brewing Co. claims its new brew is "a bold beer suited for the harsh Klingon lifestyle." So drink it up, Scotty.
---
This one's for all you party-loving paleontologists out there. All several of you. Teaming up with Lost Rhino Brewing Company, the nonprofit Paleo Quest went around swabbing tens-of-millions-of-years-old whale bones until they came across the fateful protocetid whale fossil, which played home to some actual, fermentable yeast. The result? A yet-to-be-categorized, fairly sweet beer that's 35 million years in the making.
---
True beer nerds will forgive the unconventional ordering of everyone's favorite key combination, because this nerdiest of nerdy beers is, of course, an Altbier. It's no longer being brewed, but the internet is full of many wonders. There must be one out there somewhere.
---
You can thank the noble drunkards over at Ommegang for this inebriating little tie-in. There are actually three styles of beer in all: Iron Throne (the Pale Ale above), Take the Black Stout, and Fire and Blood (a red ale). Staying warm this coming winter will be a snap. Just pop open a few Iron Thrones, pull your nearest sibling tight—like, really tight.
---
Brewed by Harringtons Breweries all the way over in Christchurch, New Zealand, this was the official beer of the actual Lord of the Rings set—meaning it packs an intentionally low dose. Because the movies are long enough as is without watching the actors' stumble around for an extra 30 minutes. At the very least, it makes for a clever name—do you get it? SobeRing? Sobering? It's because it keeps you sober. SobeRing.
---
But these are just a few! Because if the brainiacs of the world are known for anything—it is most definitely not knowing when to stop. Did we miss anything? Got any better names or nerdelicious beers of your own? Let us know (with photos if you can) down below.