Pacific Rim 2 gets a new title. Tom Holland reveals just how long he's contracted to play Spider-Man. Shawn Levy talks about casting Uncharted's Nathan Drake. Plus, our first look at Joel Edgerton as an orc cop in Bright, new footage from Underworld: Blood Wars, and Legends of Tomorrow goes '80s. Spoilers!
Pacific Rim: Maelstrom
The subtitle of the Pacific Rim sequel has been revealed as production begins, and as you can see above, it's Maelstrom. Here's a teaser from the set, straight from Steven DeKnight. [THR]
---
Spider-Man
Tom Holland says he's contracted for six movies—interestingly he differentiates that as three Spider-Man films and three 'solo' movies, which presumably means films where he could make team-up appearances á la Black Widow in The Winter Soldier or the Hulk in Thor: Ragnarok.
They give you options, and those could be exercised whenever. Like a cameo in Avengers. I'm unclear as to which movies, though. I do know I have three Spider-Man movies and three solo movies contracted. But if you have another movie, Marvel is so good at working around it. They're very respectful of your life, really. They understand that you have to work on other movies, and they try and fix it up so you can work around each other.
G/O Media may get a commission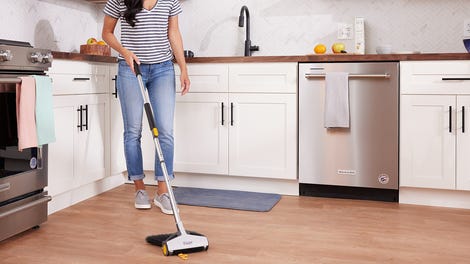 BOGO 50% Off
Flippr - BOGO 50% Off
[THR]
---
Uncharted
Shawn Levy will not be accepting any more unsolicited casting ideas for the role of Nathan Drake. Boooo.
I've been pitched everyone. God bless you, Twitter, but I made a joke that, "You're saving me the money of hiring a casting director, Twitter," because from Nikolaj [Coster-Waldau] to Oscar Isaac, [Nathan] Fillion, everyone that you would, [Chris] Pratt, Chris Evans, Chris Pine, I mean the suggestions are… It's every actor who is ruggedly handsome, which is to say every movie star, and who looks anything like the square-jawed, chiseled-featured Drake. I'm not actually going to base my casting on Twitter suggestions. Maybe I've even said the name in this room; who knows? Eventually, if people keep suggesting ideas and actors, one of them will prove to be true. We're very hard at work on the script right now.
[Collider]
---
Bright
The Daily Mail has set pics of Will Smith and Joel Edgerton in his patchy Orc make-up from the movie that is still unfortunately not called Orc Cops.


---
Underworld: Blood Wars
There's some new footage in this Japanese-language trailer for the fifth Underworld movie.


---
Moana
Dwayne Johnson introduces the movie (and his character Maui) in two new TV spots for the the film.
---
Transformers: The Last Knight
A "Making Of..." featurette on the film's special effects sequences has been released.
---
Supergirl
Andrew Kreisberg confirms, following the reveal that Cyborg Superman will appear in the series, that he will not be portrayed by Tyler Hoechlin, who has played non-cybrog Superman on the show..
We'd love to have him back, but right now, we're still trying to figure out what we're going to do for the rest of the season. We loved working with him, he's amazing in the part and we'd be lucky to get him back.
Given that Hank Henshaw was the original alternate identity of Cyborg Superman in the comics, could it be David Harewood, who plays Hank Henshaw to hide his identity as Martian Manhunter? Or will be played by another actor entirely? [TV Line]
---
Arrow
The cast spoke to TV Line about the season's latest villian, Prometheus. Here's Stephen Amell's take:
We begin to explore why Prometheus is doing what he's doing. To that end. We actually have to go back in our story, which is interesting and something that I'm very proud that we're doing in a fifth season. We're calling back to a lot of familiar parts of our early days in the show.
...and David Ramsey's take:
He's the guy you can count on to cut straight to the chase. Oliver's the one that kind of struggles with, 'Oh, well, maybe this. Maybe that.' Diggle's always the one that's like, 'Listen, he's a criminal. We need to take him out. Don't necessarily kill him, but he needs to go.' … So his reaction to Prometheus is the same as it was with [Damien] Darhk, the same as it was with all our other villains: He needs to be taken out, that simple.
---
The Triangle
Ryan Murphy is developing a Bermuda Triangle TV series at NBC about two former lovers investigating the phenomena to find someone close to them. The synopsis is below:
Triangle is centered around ex-lovers Wes Fallon and Marti Estevez, who are under the authority of the US government, investigating the bizarre phenomena associated with the Bermuda Triangle while searching for clues to the fate of Wes's brother and Marti's new husband, Tom Fallon, who mysteriously disappeared there.
---
Legends of Tomorrow
Neal McDonough and Matt Letscher gorge on scenery and the Legends go '80s-style in a new preview of tonight's episode, "Compromised".



---
Ash vs Evil Dead
Finally, here's a new featurette discussing the roles Ruby, Kelly, and Linda II will play in the second season.
---
Additional reporting by Gordon Jackson. Banner art by Jim Cooke.