Doctor Strange will be dark and psychedelic, according to its Director of Photography. Sleepy Hollow will try to bring the focus back on Abbie and Ichabod this season. Plus, Clark Gregg teases Coulson's prosthetic hand on SHIELD, and the new Nightmare on Elm Street reboot gets a writer. So many spoilers!
Is AI Moving Too Fast? | Future Tech
Doctor Strange
Director of Photography Ben Davis teases the crazy aesthetic of the film:
It has a very psychedelic grounding, and it's not your typical Marvel action movie … Most of the work within it is about other dimensions. And I described it, I think, when I was talking to Marvel, as Marvel's Fantasia, in a way, because it's so sort of out there and different to everything else that they've done.

It's a very dark movie, I'm pleased to say … DPs always love the word 'dark'. The trouble is that most producers don't like dark. Mostly you get into DI [Digital Intermediate process] and people don't seem to like dark anymore!

There's a lot of pre-visualisation, and there's a lot of work which is very hard – you look at it and you see the imagery that they've created for it and you think, 'Well how the hell do we shoot that!?' because it's all sort of Escher stuff. It's all very out there. I can't really say much more about it, I'm afraid. But I think it'll be really interesting.
[/Film]
---
Skull Island
Samuel L. Jackson is allegedly in talks to replace JK Simmons, while John C. Reilly may replace Michael Keaton in the film. [CBR]
G/O Media may get a commission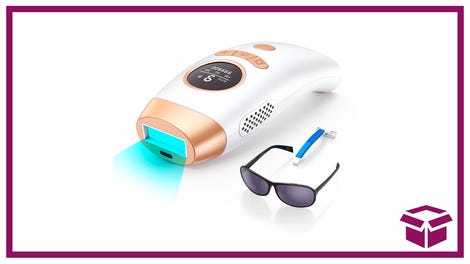 58% Off + Coupon
IPL Hair Removal Device
---
Passengers
Laurence Fishburne has joined the Chris Pratt/Jennifer Lawerence space romance. [CBR]
---
A Nightmare On Elm Street
A second reboot is in the works from David Leslie Johnson, the writer of the recent Poltergeist reboot. [Coming Soon]
---
X-Men TV Series
Speaking at the TV Critics association press tour, Fox co-chairman Dana Walden confirmed that the network is pursuing a "long-running" live-action X-Men project that could be announced in the near future. The project would leverage Fox's ownership of the movie rights to the mutant characters, so there would not be any characters still owned by Marvel and Disney appearing. [TV Line]
---
X-Files
At the same tour, Walden also briefly touched on the return of X-Files:
As you may recall, the mix of episodes we did was mythology episodes, episodes that dug deeper into the conspiracy of the X-Files, and then there were great spooky standalone episodes. That's still the mix we'll be exploring in this run.
[/Film]
---
Sleepy Hollow
Walden once again, this time on the show trying to bounce back from a weak season two:
We're still proud of the episodes of last season. But our observation was that a lot of the show had moved into the fantastical world, where it used to be a show that was weighted very evenly between Abbie in the real world and Ichabod in the fantastical. We're trying to shift it back to a more even-handed storytelling engine.
[TV Line]
---
iZombie
Robert Knepper has been cast as Blaine's dad Angus, a "rich, accomplished businessman who has financially supported his disappointing son for years". [TV Line]
---
Agents Of SHIELD
Clark Gregg teases a variety of different attachments for Coulson's replacement hand. Give him a hand, everyone:
The thing about the Marvel Universe is, even if you don't have a hand, you can rest assured, you're going to get one… I do know that he starts off with a kind of prosthetic, and I have a feeling it's not the last prosthetic you'll see.
[CBR]
---
Galavant
Executive Producer Dan Fogelman has confirmed that John Stamos will reprise his role as Galavant's rival, Jean Hamm. [Spoiler TV]
---
American Horror Story: Hotel
Madchen Amick has been cast in an undisclosed guest role. [TV Line]
---
Teen Wolf
TV line are reporting that Marisol Nichols cast has been cast as Malia's mother Desert Wolf.
---
Minority Report
Here's a new poster for the series. [Coming Soon]
---
Fear The Walking Dead
Finally, the cast and crew tease what's to come on the show in a new featurette.
---

Additional reporting by Gordon Jackson and Charlie Jane Anders. Top image: X-Men: Days of Future Past.